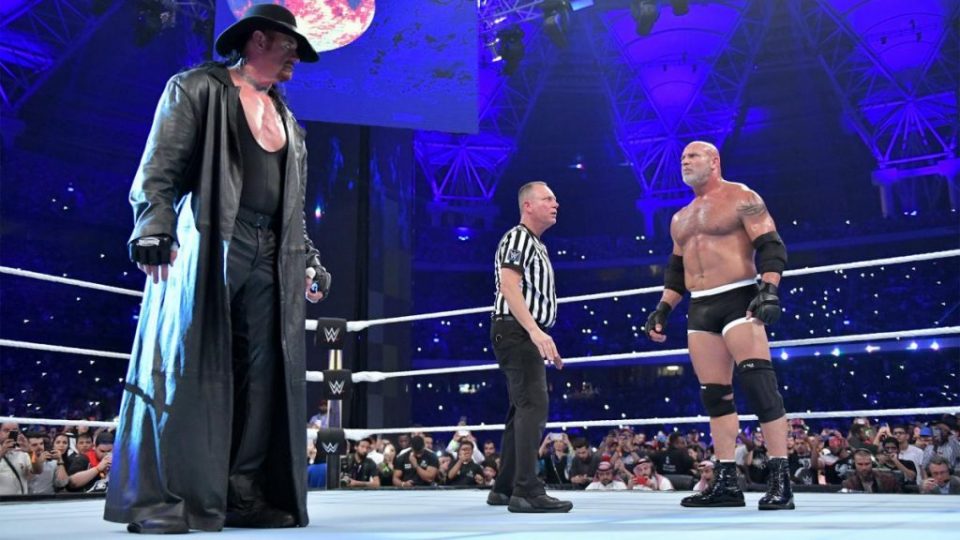 As previously reported, the next guest on Steve Austin's Broken Skull Sessions will be Hall of Famer Goldberg, who will discuss his long and illustrious career in wrestling.
One of the things Austin and Goldberg did on the show was a quick word association game, in which Austin would say a name and Goldberg would reply with the first thing that came to mind.
For example, when Austin said "Vince McMahon", Goldberg replied "thank you", and when Austin said "Sting", big Bill replied "mentor".
Things got interesting however when Austin said "The Undertaker", because Goldberg then replied "I owe him a receipt".
Taker and Goldberg had what many feel was the worst WWE match of 2019 at Super ShowDown in Saudi Arabia. Goldberg left the match with a bleeding face and a concussion, and the match itself was just terrible as the two veterans struggled to cope with the debilitating heat in the stadium.
.@steveaustinBSR gets to the bottom line with @Goldberg on some of the biggest names in sports-entertainment ahead of #BrokenSkullSessions streaming THIS SUNDAY after #WWETLC! pic.twitter.com/HKtdYGCCmV

— WWE Network (@WWENetwork) December 12, 2019
Personally I'd rather WWE stayed away from trying this one again, but then it's amazing what two big bags of money will do.
Does anyone want to see them try this match again? Let us know in the comments on Twitter and Facebook.