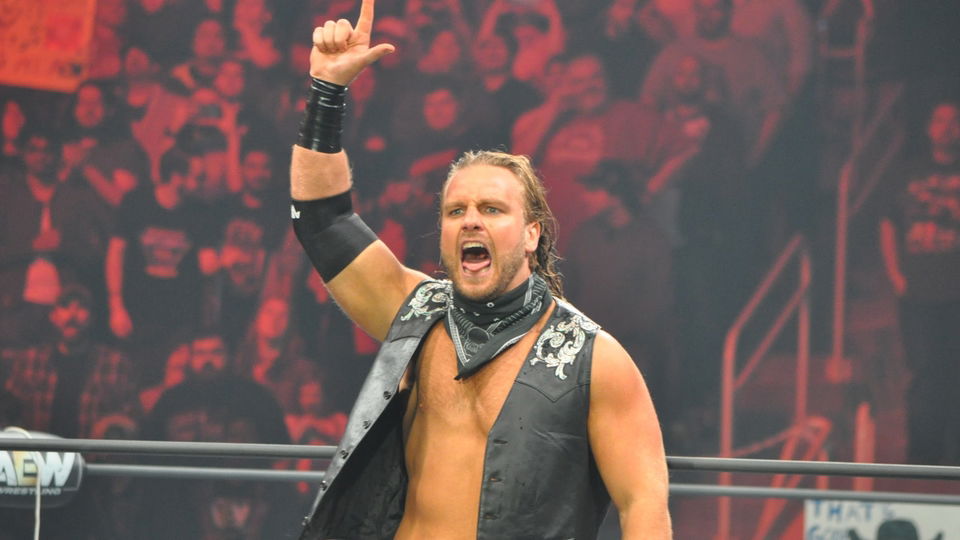 In what is becoming one of the subtlely entertaining moments of AEW: Dynamite, Hangman Page's entrance nameplate has caused a bit of a stir.  This week, Hangman Page didn't appear too happy with the production team.
If you didn't watch AEW (because you were watching NXT with a lot of others), this week's message said:
"IDK make it say something like Happyee Hawlidays."
I'm sure he actually just meant for it to say "Happyee Hawlidays" and not the full sentence.  It was most likely just an oversight, but it could be someone was having a bit of fun with Hangman.
The week before the nameplate made reference to the fact Hangman Page was at home alone drinking whiskey instead of appearing on Dynamite.
Whatever caused the odd message, Page took to Twitter to share his reaction.
smdh pic.twitter.com/iqe57nvphn

— HANGMAN PAGE (@theAdamPage) December 19, 2019
Well, I'd be shaking my head as well, Hangman.  It looks like AEW asks each wrestler what they want their message to be.
On one hand, it does show AEW is committed to allowing wrestlers to truly get themselves and their characters over.  On the other hand, it also shows a lack of quality control.
When you look at last night's show and the last few weeks for that matter, there are some glaring issues with AEW's show.  Segments that feel a bit too similar and not focusing on the guys that are already over have been some of the most common complaints.
However, there are a lot of positives about AEW too.  Hopefully, we won't have to be shaking our collective heads at mistakes in the future.