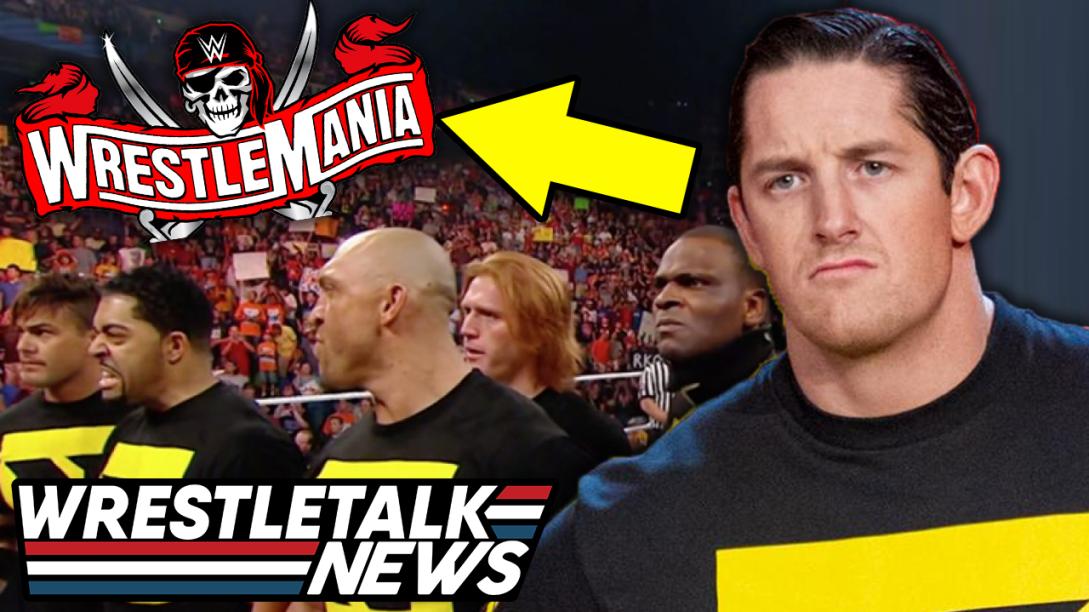 The chaos-causing faction Retribution debuted in WWE last August, where they ran roughshod over both Raw and SmackDown like, petrol bombing a generator – that's serious – throwing a concrete brick through a door window – ok, that's less troublesome – signing themselves exclusively to Raw  yeah, this is getting lame now – and losing all their major feuds – ok, they're buried.
But a whole decade before WWE booked Retribution badly, we had the OGs of missed main event potential: The Nexus.
The Nexus were a legit main event faction that was poised to create 8 brand new stars in the Summer of 2010 – with names like Wade Barrett, Daniel Bryan and Ryback. Using the entire cast of Season 1 of NXT back when it was more of a talent show format, they invaded an episode of Raw and tore up the ring in one of the most memorable wrestling angles ever. Just two months later, John Cena beat them all in the main event of SummerSlam and they never recovered.
All of the original 8 members were either fired or left in the years that followed, but Bryan and Barrett did return to the company. And, what, David Otunga is also still there? He's the only one that was never fired?! What the hell is wrong with this compa-
Anyway, in a new interview with the Dropkick Podcast, former Nexus member Darren Young, who was released by WWE in 2017, has claimed the faction will make their return in just a few months time.
"Yeah, well most likely at WrestleMania in Tampa, again with the crowd, we're gonna come back… The Nexus.
Him being on commentary he's gonna rise up from the table and we're gonna show up and, we're gonna defeat Retribution. So, er, letting you guys know that right now, I shouldn't have dropped the news…but, oops!"
The 'him' on commentary Young is referring to there is Wade Barrett, who returned to WWE last August after four years out as the colour announcer for NXT. 
Young's 'oops' delivery at the end there makes it seem like he was just trolling us wrestling marks, as WWE wouldn't like him spoiling a big storyline like that. But it does reiterate what Young himself claimed on the same podcast last year, where he revealed The Nexus was "scheduled to come back for WrestleMania" – but the pandemic forced WWE to change plans.
Interestingly, Ryback – no stranger to trolling wrestling fans – confirmed Young's claim at the time, saying he'd spoken to Stu Bennett – Wade Barrett's real name – who had told him WWE was indeed planning a Nexus return for last year's Mania, but:
"Whatever it was, it wasn't to bring the group back for an angle. That's not to say if they did bring them back and it got a great reception, they [wouldn't] do something to follow-up on RAW. If it was going well, maybe they would bring everyone back. That is a very real possibility, but what was explained to me was Axxess."
Do you want to see a Nexus return to WWE and feud with Retribution in a failed promise match? Let me know in the comments down below, because I'll be replying to people FROM OUTTA NOWHERE.
New Wyatt Family Members Pitched
The great WWE factions of the early 2010s all suffered a similar fate. The Nexus were beaten into oblivion. The Shield have split up, with one third of them now in AEW. And The Wyatt Family was booked so poorly, Bray Wyatt created a whole new gimmick based entirely on its post-traumatic stress.
But now Arn Anderson has revealed a very interesting backstage idea before the faction broke up, while speaking on his ARN podcast.
Apparently Arn pitched an angle in a WWE creative meeting where Bray's real life father Mike Rotunda – the former IRS in the mid-90s – would come down to break up a Wyatt Family beatdown. Brodie Lee or Erick Rowan would knock him out, but then Bray would stop them saying 'not him, not him' – as a way to establish Rotunda as Bray's dad to the audience.
This would set the stage for Bo Dallas to be re-introduced as Bray's real life brother – a literal Wyatt Family – where Arn wanted Bo to be the only literally clean shaven babyface amongst "these monsters with these foot-long beards". Which would provide so many heel/face dynamics to play off.
Dallas, unfortunately, hasn't been used by WWE for almost two years on TV. His last match was at October 2019's Crown Jewel show in Saudi Arabia.
But Bo wasn't the only WWE star pitched to join the Wyatt Family. And no, it isn't Paige as Sister Abigail. It's Viktor of The Ascension.
Talking to WrestlingInc, Viktor himself has revealed that down in NXT, before the Wyatt Family were called up to the main roster, he got injured – prompting a "kind of a weird scramble where I was almost in The Wyatt Family for a little while." This was, of course, shot down, and Triple H and Norman Smiley put him in The Ascension faction, which was eventually whittled down to just him and Konnor as a tag team.
It's hard for young wrestlers to properly make it in the WWE. So it's nice to see up and comer Edge win the Royal Rumble last week at the sprightly age of 47.
Edge Responds To Rumble Win Criticism
While I personally very much enjoyed Edge's Royal Rumble win, setting him up for a reported WWE Blueniversal Championship match against Roman Reigns at WrestleMania 37, I am very aware of my own hypocrisy. I've criticised Goldberg plenty for fighting for, and winning, the top title over the last four years. Build someone new, give a wrestler who's there day in, day out a chance. Goldberg doesn't need the title, and it undermines the rest of the roster's quality that someone can come in, over 50 years old, with loads of ring rust and beat them all?
But now it's Edge, it's all ok because Christian came back too!!!
But a lot of people have, understandably, heavily criticised him for winning the Rumble match. An idea that was apparently his that he pitched backstage, not just a case of Vince McMahon thinking 'ratings'.
Edge has now responded to the criticism on After the Bell with Corey Graves:
"I can't control people's opinions, I can't control if people have ageism issues. What I want to do is come back and tell how the story [is told] and tell it with multiple dance partners. If those dance partners can take something from it, that's my goal."
Edge specifically mentioned Cesaro, Damien Priest, Finn Balor and Matt Riddle as people he wants to elevate as part of his run, while also sharing his experienced wisdom with them.
One of Edge's detractors is AEW star Dax Harwood…
FTR's Dax has tweeted about Edge and Christian:
They wouldn't have been able to keep up with us in 2001, much less 2021.

And tbh, in my opinion, E&C were pretty overrated. https://t.co/97rys2BHsx

— Dax FTR (@DaxFTR) February 3, 2021
And then explained Christian was great, past tense. 
Speaking of, Edge told Sporting News that Christian was actually cleared "a few months ago" ahead of his WWE return in the men's Rumble match – making it incredible all involved actually kept that a surprise.
But while Edge sees himself as someone who can make new stars like Cesaro. WWE sees Cesaro as someone who can make new stars like, I don't know, Edge.
Nakamura & Cesaro WWE Plans
According to last Friday's Wrestling Observer Newsletter, Cesaro has either signed or verbally agreed to a new WWE deal last month, likely meaning he'll be with the company for a long time. Apparently Cesaro was Daniel Bryan's original pick to run the gauntlet on SmackDown a few weeks back, but because he hadn't signed at that point, WWE went for Shinsuke Nakamura instead. There were hopes that Nakamura might then face Roman Reigns at a B-pay-per-view like Elimination Chamber or Fastlane, but Meltzer writes "the plan wasn't to follow up much" on Shinsuke's gauntlet run. And either him or Cesaro have been told their role moving forward is "to make new stars."
And Cesaro isn't the only person who's not going to be in AEW anytime soon. Neither is their Women's Champion.
AEW Champion No Longer In US
Hikaru Shida has tweeted that she's just landed in Japan for the AEW Women's Tournament. Because of quarantine rules, that means she won't be able to appear on anything taped in Japan for at least two weeks. 
The Women's Eliminator tournament is split into two brackets, with one in the US and the other taking place in Japan. The winner of the Japanese side will then travel to the States for the final. There's no word yet on how Shida will be involved in the Japanese tapings, but it's speculated those matches won't be broadcast fully on Dynamite because they won't have the same production standards TNT is used to.
Elsewhere in AEW, Fightful Select is reporting that Kip Sabian is actually injured right now, which is why he hasn't wrestled since early December's Winter is Coming special. There are currently no details on what the injury is.
And speaking on his ARN podcast, Nightmare Family member and Cody's trainer Arn Anderson has teased 'life-changing' news coming soon for him in AEW. He spoke about wanting to manage FTR for a long time, because they're such a throwback to his days as the Brainbusters, but his former tag partner Tully Blanchard has them covered.
Instead, "there's something that's going to be happening I hope pretty soon on AEW. I will keep that close to the vest until that does happen, but it will change my life 100% and it will change that individual's life 100% as far as building a new tag team for the future. That may be the first building block and we'll just sit on that for now, but there are some plans in the works."
Who do you think Arn will be managing as a team in AEW? Let me know in the comments down below!
ROH Re-Sign Top Stars
It won't be an ROH defecting Foundation faction – which might be one of the only promotions currently not working with AEW. 
Ring of Honor have announced they've re-signed two top stars, the Pure and Tag Team Champion Jonathan Gresham and his Tag Team Champion partner Jey Lethal.
What are your thoughts on the above story? Let us know in the comments on Twitter or Facebook.