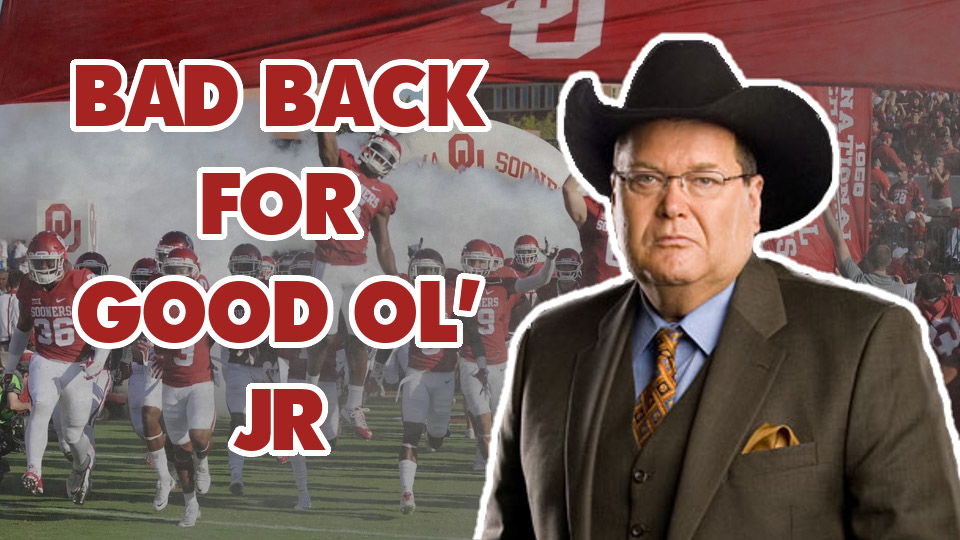 It's not often we report on the injury of someone known primarily for their commentary skills, but it appears that 'Good Ol' JR', Jim Ross, has a fractured vertebra.
This injury occurred in September '17 and I finally got around to getting a MRI Tuesday.

Results: I've been diagnosed with a fractured vertebrae.

Worry not about the mules, just load the damn wagon! ? pic.twitter.com/RdRStRmGTu

— Jim Ross (@JRsBBQ) April 13, 2018
The injury, which occurred on the sideline of a football match between the university teams of Oklahoma and Tulane back in September, has really left its mark on the wrestling legend.
He hasn't given much information about his condition, but as this happened back in September it is at least not debilitating. Less severe cases of vertebral fractures can be cured with immobilization therapy  – which involves wearing a brace for around 12 weeks to help the body heal naturally. In more severe cases, surgery can also be an option.
There was a spell, following his departure from WWE in 2013, where we didn't see much of Jim Ross – however, he has been making more frequent appearances of late, returning as a commentator during several landmark events, such as RAW 25. He also recently relaunched his Podcast through Westwood One, as well as appearing in several live events around WrestleMania.
We at WrestleTalk send all our support and best wishes to Jim Ross in his recovery and hope he's pain-free soon.