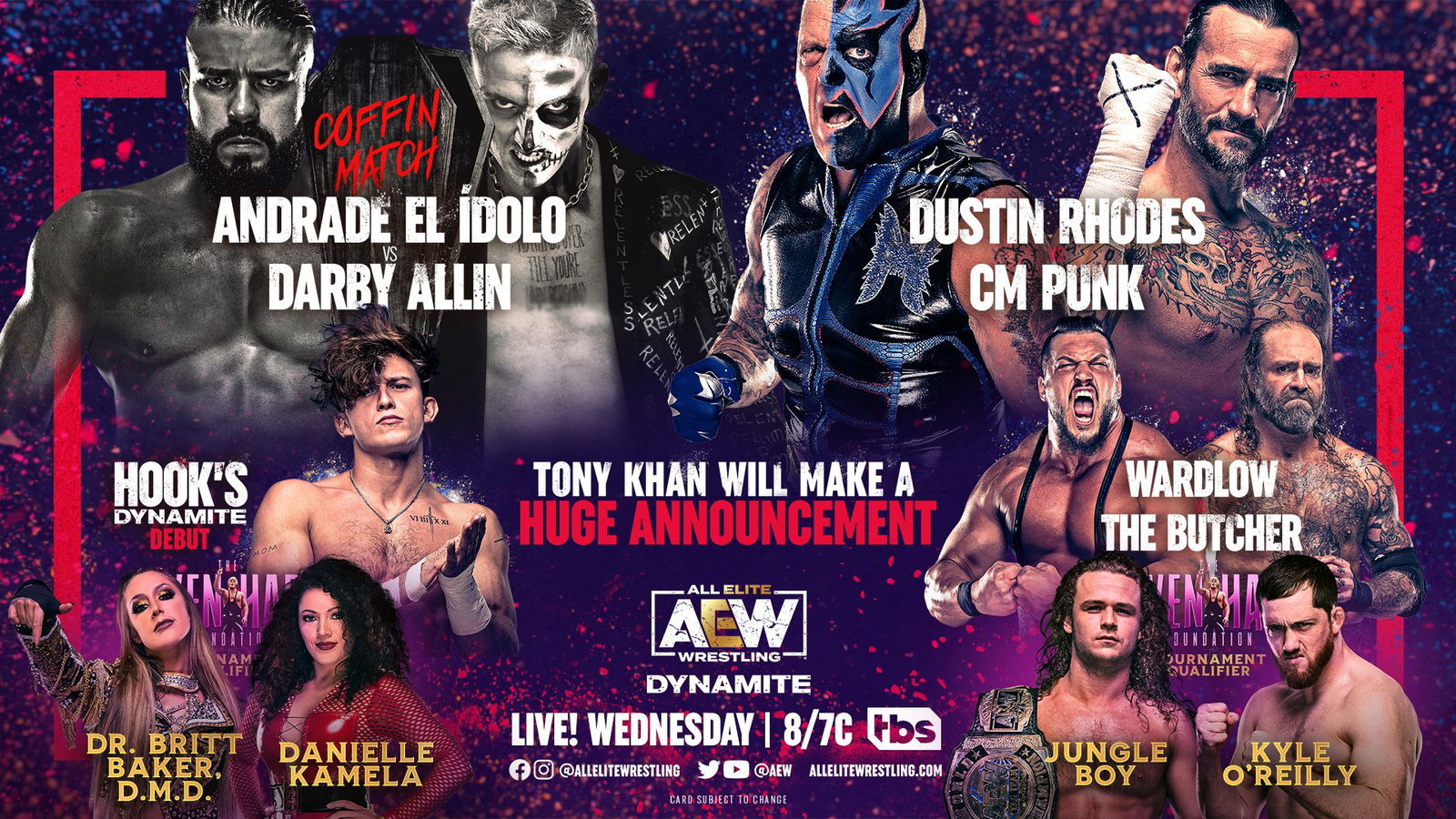 It's Wednesday night and you know what that means. WrestleTalk will be providing live coverage and breaking news from AEW: Dynamite. Hook makes his Dynamite debut tonight. Tony has a big surprise. CM Punk is teasing a special guest. It should be a fun night.
Here is what is advertised for tonight:
CM Punk vs. Dustin Rhodes
Wardlow vs. The Butcher
Coffin Match – Darby Allin vs. Andrade El Idolo
Jungle Boy vs. Kyle O'Reilly – Owen Tournament
Britt Baker vs. Danielle Kamela
Hook wrestles
Tony Khan and his huge announcement
Blackpool Combat Club vs. Lee Moriarty, Dante Martin, and Brock Anderson
Darby vs. Andrade
Darby Allin has lost a little steam in this feud with Andrade. Hopefully, this is the end of this feud. Although, it doesn't look like it from the opening moments. Before the two even lock up, Blade gets involved. Blade and Marq Quen jump Darby. Now the AFO is on the attack.
The battle goes into the crowd. They encounter a guy in a Sting mask. Guess what, it's Sting. I've seen that trick somewhere before. Now, it's Sting fighting AFO's cronies while Andrade and Allin follow.
Sting no sells a chair shot. He sends Quen off the stands into Andrade and Blade. Sting then takes the stairs up to the landing over the hallway to the locker room. He hits a diving cross body from the stands onto all the other guys.
As always, Darby takes some big hits. He gets dropped on the ramp. He hits a suicide dive on Andrade that sends them both into the coffin. He gets up to slam the lid when Jose comes down. The top of the coffin has thumbtacks. Darby slams Jose into the tacks and then closes the lid on Andrade. He and Sting stand tall. Out come the Hardys and do the delete motion until the show goes off the air.
If we're heading towards the Hardys vs. Sting and Darby, then I'm not looking forward to that one. It sure feels like we're wasting Darby in these feuds involving Sting.
Until next time…
.@DarbyAllin sacrificing his own skin by preventing the thumbtack-lined coffin from closing in on him! It's #AEWDynamite LIVE on @TBSNetwork! pic.twitter.com/ObZM3DNQSZ

— All Elite Wrestling (@AEW) April 21, 2022
Britt Baker is back
There's no doubt who is the fan favorite in this one. Britt Baker is cheered like no other. She has a pop quite possibly bigger than CM Punk's. She's wrestling Danielle Kamela. Kamela is the former Vanessa Bourne. Baker has two Pittsburgh Steelers with her.
The match was never in doubt. Britt Baker wins. After the match, Baker grabs a mic. She says the women's division is a mess without her. She runs down all the women. She turns her focus to Toni Storm. She says if she thinks getting cake in the face is bad, wait until Jamie Hayter mops the floor with her. She says she'll want to leave this company too. She then runs down Jade Cargill and her baddies. She promises to win the Owen tournament.
We get a recap of Serena Deeb and Hikaru Shida's feud. Is that still going? Next week, we get a street match between the two. Up next, the coffin match.
No one is safe when @RealBrittBaker is on the mic #AEWDynamite pic.twitter.com/zwMonY5cv1

— AEW on TV (@AEWonTV) April 21, 2022
Sammy is here to speak...
Sammy Guevara is a heel now I guess. He comes out and says that all the people who boo him can just be mad.  He says it's because his girlfriend is hotter than theirs. Sky comes out and seems to be more face tonight as well.
After some not so terrific trash talk, Sammy agrees to a rematch with Sky. He wants a mix-tag match. Then he says next week Ladder Match. That was weird and not great. Sammy does not need a microphone.
We get a promo from House of Black. They threaten to kill Fuego Del Sol. Yay, murder.
#MenOfTheYear @ScorpioSky & @OfficialEGO, with #DanLambert respond to Sammy and Tay's antics, and present the TNT Champion with a challenge! #AEWDynamite is LIVE on @TBSNetwork! pic.twitter.com/QLMuar0RHw

— All Elite Wrestling (@AEW) April 21, 2022
Hook is Dynamite
Hook is out and the crowd is pumped. He is wrestling Anthony Henry. Henry is one of my personal favorite guys. He wrestled a lot on my local indie circuit.
During the match, the camera cuts to Tony Nese and Mark Sterling taking notes at ringside. During the match, Danhausen appears. He tries to curse Hook and is unsuccessful. He grabs a mic and is furious. He goes in the ring and says he's had enough. He says if he won't be cursed then he will fight Danhausen. Danhausen puts his finger in Hook's chest. Hook gives the camera a handsome stare and then cracks. He kind of smiled like he was trying to hold in a laugh. He walks out of the ring and puts his shoulder into Danhausen.
Backstage, Tony Schiavone is interviewing Frankie Kazarian. He starts to challenge Sammy Guevara, but Scorpio Sky stops him. Sky uses their past history in SCU to convince Kaz to wait. Sky is going to challenge Sammy to a rematch. How many times are we going to get this one?
Oh yeah, Hook beat Henry with the Redrum. It was a squash.
#HOOK @730Hook, seemingly impervious to the presence of @Danhausen, finishes @Antnyhenry with #REDRUM! #AEWDynamite is LIVE on @TBSNetwork! pic.twitter.com/fquqrgobdX

— All Elite Wrestling (@AEW) April 21, 2022