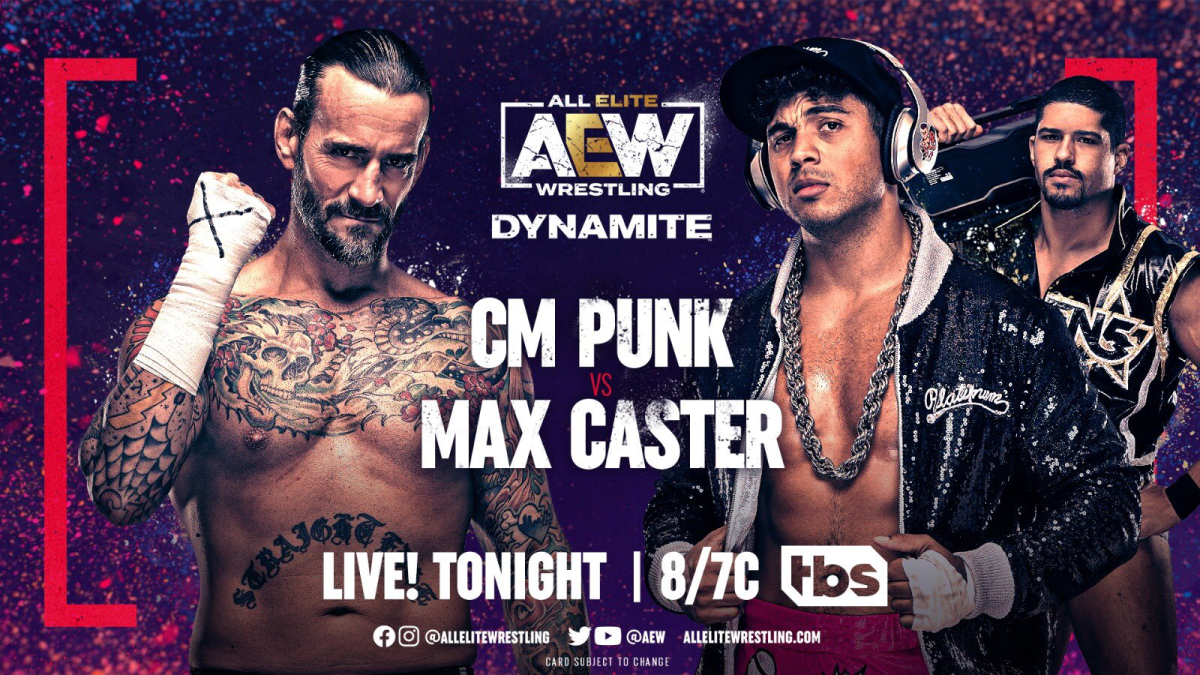 It's Wednesday and you know what that means. It's time for another AEW: Dynamite and WrestleTalk will have all your live coverage right here on the site. Tonight's show will have a debut for the women. It should also have some awesome wrestling as always.
Here is the card for tonight:
FTR vs. Gunn Club
Andrade vs. Darby Allin
Jay Lethal vs. Jon Moxley
Wheeler Yuta vs. Daniel Bryan
CM Punk vs. Max Caster
The Bunny vs. TBD
Championship Celebration for Undisputed Elite
Jericho Appreciation Society promo
The Main Event
Darby and Andrade are going at it in the main event. Andrade doesn't wait. He goes right after Darby as the match starts diving to the outside. The battle continues on the outside for several minutes before the bell ever rings.
Eventually, they make it in the ring. Andrade is really working over Darby. The announcers put over the fact that Andrade is 245 pounds and is bigger than he's ever been before. The idea there is because he's so much bigger than Darby. Nice touch.
Darby getting killed is a pretty solid plan of attack. He's very good at getting beaten up. At one point, they just start slapping the heck out of each other. They both fall to the ground after Andrade delivers one of the roughest slaps I've seen in a wrestling ring.
Darby and Andrade are back up. Darby hits some kind of tornado stunner. However, his advantage is short-lived. Andrade puts him in a backbreaker. Darby hits a top rope crucifix. He locks in the arm bar. Jose comes down. Sting makes the save. Butcher and Blade come attack Sting.
Darby saves Sting with a huge cross-body. Darby is back in the ring. He gets hit with a huge buckle bomb. Andrade hits El Idole and gets the win. That's Andrade's biggest win in AEW so far. Good night for AFO. Another solid episode of AEW.
The show ends with AFO attacking Sting. The Hardys make the save. Matt and Jeff will be fighting Butcher and Blade in a tables match next week. Until then…
? What an attack off the top by @DarbyAllin! #AEWDynamite is LIVE on @TBSNetwork right now! pic.twitter.com/Fr6iOwxpWD

— All Elite Wrestling (@AEW) March 31, 2022
Who will face the Bunny?
Oh wow, it is Toni Storm. The crowd is going crazy for this debut. Storm is here and she is in incredible shape.
Bunny gets in her face, but Storm quickly takes control. The announcers don't talk about Storm's WWE run. They instead talk about her time in Stardom. I wonder if that is a Storm request. Storm was terrific in Stardom and that background makes her more formidable than her WWE main roster run.
I guess based on AEW's roster The Bunny makes a lot of sense to be Toni Storm's opponent. She's a veteran and she can afford a loss. She's one of the more sound workers in the division.
Bunny carried a lot of the offense at points during the match. Eventually, Storm hits the Storm Zero. She gets the win. Toni Storm is in tears after winning. You can tell how much she wants it.
Backstage, Nyla Rose wants to kill Thunder Rosa.
Hip attack by #ToniStorm! Watch #AEWDynamite LIVE on TBS right now! pic.twitter.com/lEF9nzyxLp

— All Elite Wrestling (@AEW) March 31, 2022
Thunder Rosa talks?
It seems Thunder Rosa is going to get to talk. Rosa points out she is the first-ever Mexican-born champion in history. I'm not sure if she meant women or everyone.
She says she wants to be the face of women's wrestling in AEW and the entire industry. She says she doesn't want to be a pillar of AEW. She says pillars get knocked down. She's going to be the foundation.
The promo was solid. It did feel a bit rehearsed and memorized. However, she delivered it very well. She called out Nyla Rose and said she'd face her for the title.
Backstage, FTR cuts a promo about winning the ROH titles on Friday Night. Then, they challenge the Young Bucks to a match to determine who is the best team.
Up next, it's Bunny vs. a new wrestler.
Your #AEW Women's World Champion @thunderrosa is here to make a statement, after being rudely interrupted last week! #AEWDynamite is LIVE on @TBSNetwork right now! pic.twitter.com/xKrFnc1M2m

— All Elite Wrestling (@AEW) March 31, 2022
Undisputed Elite's Championship Celebration
Adam Cole and ReDRagon are here to celebrate the fact that they took the championships from them. They've taken the belts and put athletic tape over the nameplates. Cole says AEW needs a new era. He says they need a new group of guys in charge.
They say ReDRagon may not be in the rankings or have enough AEW wins, but their resumes say they are better than anyone. Strangely, Hangman Page pulls up in a Tesla with horns on the hood. ???
I guess paying $5 a gallon is not cowboy Sh*t. He's gone electric. He comes down to the ring and chased off Cole and the boys. As they retreat, Jurassic Express sneak out behind them. Page and Jurassic Express stand tall.
They grab their belts and leave the Undisputed Elite lying on the floor. JR calls Luchasaurus a giant lizard. C'mon JR. Know the guy's gimmick for crying out loud.
Three men that totally believe their own hype just made their way to the #AEW ring here at #AEWDynamite and we are LIVE on @TBSNetwork right now! It's @adamcolepro, @KORCombat and @thebobbyfish here for the #UndisputedElite's Championship Celebration! pic.twitter.com/Iz6dL0Mxvj

— All Elite Wrestling (@AEW) March 31, 2022
Yuta and Danielson
William Regal is out with Danielson. He did not come out with Moxley. Regal is on commentary. During the match, he really puts over Yuta and his talent.
No shocker here, this one is very technical and very good. It seems clear at this point that Yuta is going to be in this group at some point. Then, we're going to get the Blackpool Combat Club vs. The Best Friends. Talk about a clash of styles.
Yuta locks in a reverse figure four. Danielson couldn't get out and had to grab the ropes. Bryan goes to his striking game to take out Yuta.
Wow. Danielson goes for Cattle Mutilation. Yuta reverses it. He then hits the repeated elbows to Danielson's neck. The crowd is going nuts. Yuta goes for a roll-up win but Danielson kicks out at two.
Danielson is up. He hits the knee. He then hits the foot stomps to the head. That's not enough. He hits a gotch style piledriver. Then locks in a crossface with a nose grab. Danielson is vicious in the end. Holy cow.  That was brutal at the end. That was terrific.
Great exchange by @WheelerYuta and @bryandanielson! Watch #AEWDynamite LIVE on TBS right now! pic.twitter.com/YGu6lInaPd

— All Elite Wrestling (@AEW) March 31, 2022