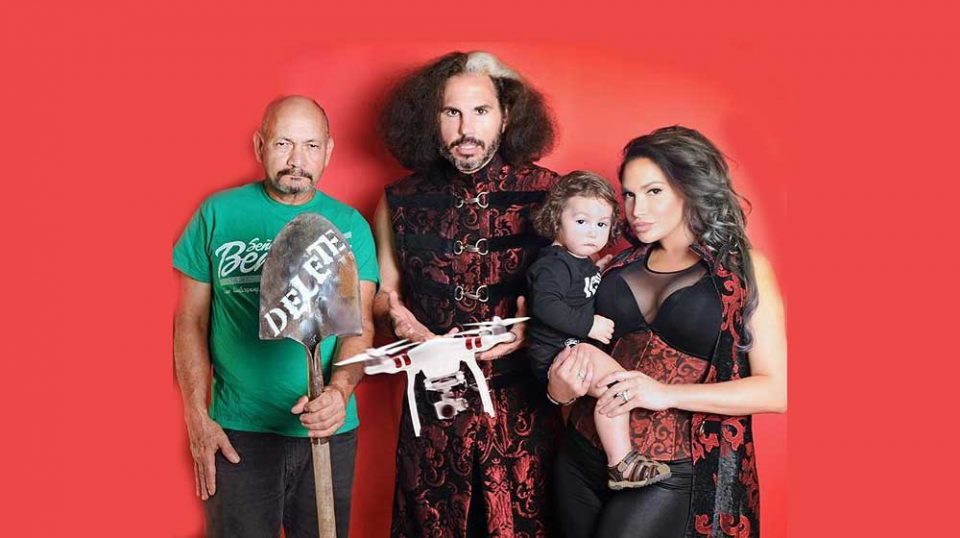 WWE is one weird place, but you likely won't read today that is as strange as this. Matt Hardy's wife Reby has revealed on Twitter that her husband Matt was very weirdly asked at this year's WWE Hall of Fame ceremony if he was attracted to Reby because she looks somewhat like his brother Jeff Hardy…
AND THEN PROCEEDS TO TURN TO MY HUSBAND & ASKS IF HE'S ATTRACTED TO ME BECAUSE I LOOK LIKE HIS BROTHER pic.twitter.com/ec0YTMy77v

— Reby Hardy (@RebyHardy) April 26, 2019
Reby shared this cringe-worthy moment on Twitter and said she believed that the red carpet nterviewer asked Matt the question as Reby's hair somewhat resembled the unique hair that Matt's brother Jeff had over ten years ago.
So now I have no choice but to smile & nod through an interview with the man who just inquired if my husband was only sexuallly attracted to me because (presumably ?!) my hair reminded him of his REAL LIFE BLOOD BROTHER from like 10 years ago ?? pic.twitter.com/sVhRfP8vBu

— Reby Hardy (@RebyHardy) April 26, 2019
Reby provided this image of her and her Matt husband where you can see her 'Jeff-like hair' for context.
This is what we looked like, btw. For context. It's important. pic.twitter.com/ZZ5ajDrwlF

— Reby Hardy (@RebyHardy) April 26, 2019
Speaking of Jeff Hardy, it has been reported that the Smackdown Tag Team Champion is dealing with a serious injury that has seen him "limping significantly".
Issue 9 of WrestleTalk Magazine is available NOW worldwide. Order your print or digital copy or subscribe to the next six issues at this link