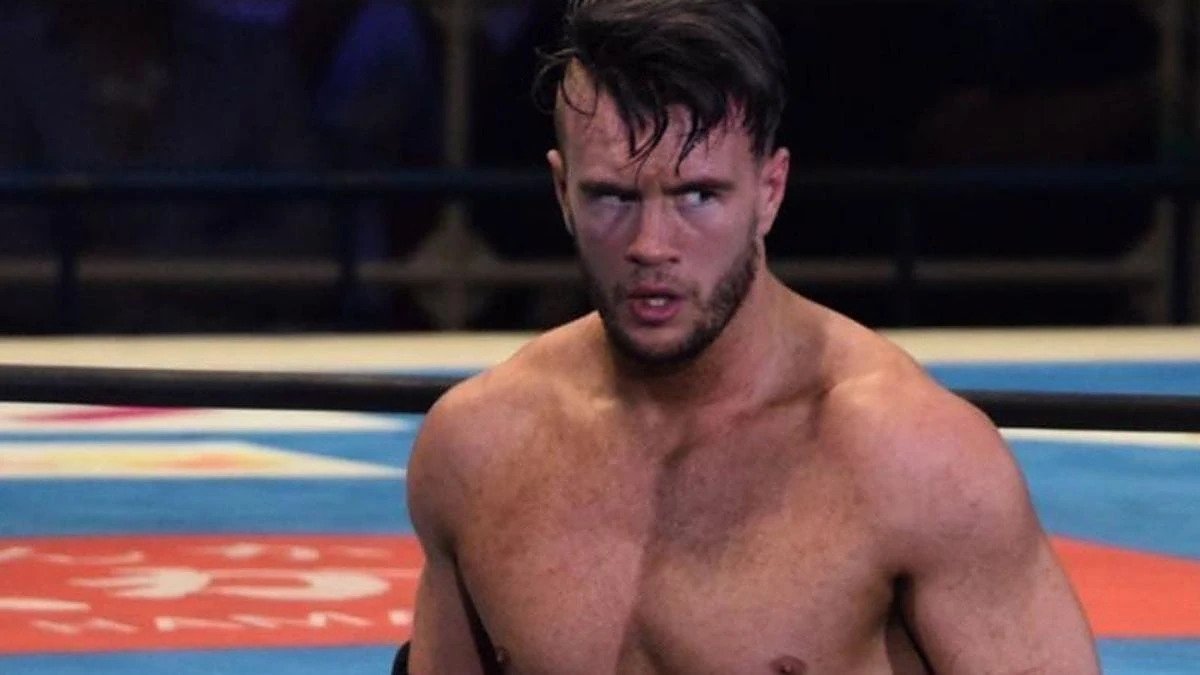 Will Ospreay has opened up about his current health and future as a wrestler as he prepares to return to in-ring action.
The NJPW star sustained a shoulder injury in his match against Mark Davis on March 13 and was only recently cleared to compete in his upcoming match at 1PW All or Nothing on April 22 at Doncaster Dome.
Speaking about medical clearance, Ospreay has cast doubts on his future in wrestling, though has promised to enjoy the ride.
Speaking in a video on Instagram, Ospreay said:
"I got medically cleared two days ago and it's a weird one.
"I've seen my physio now for about five weeks. I've got the range of motion back in my arm. The strength is there, somewhat.
"Because I was able to complete four strength exercises apparently I'm medically cleared.
"It does feel a lot better, but I still feel like there is a lot of weakness in my arm.
"Obviously, the sensible answer is to take a little bit more time off but over the last forty-eight hours, I've been… reminiscing and thinking about my eleven-year career.
"It's been incredible but the one thing that has been constant, especially in these last few years is that the injuries have stacked up a lot more recently.
"It's because I'm getting older, as well. It's because I'm getting heavier.
"Because of that, the moveset I started when I was 22 years old has kind of vanished and disappeared, not out of choice but because my body can't do it anymore.
"I can't perform a shooting star press safely anymore, so I've decided that it's best to cut it out.
"I'm not going to lie to you guys, I feel like my body and me personally I'm deteriorating in front of everybody's eyes.
"It's upsetting, but I chose to do this style. I understand the risks that come with this style but it's the one that suits me down to a tee and I think everyone enjoys it.
"So, having said that I don't know if this ride is going to be a long one if everyone understands what I mean.
"Having said that, I'm from Essex. I didn't think I'd reach this far in my career anyway.
"So, I am going to enjoy myself and hope for the best. I am going to have to change things up a lot, but I am going to compete, I am going to come back, I'm going to do the best of my abilities to do this as much as I physically can.
"But, I don't know how long this ride is going to be, I'll be honest with you guys.
"I hope you guys enjoy the ride, that's all. Much love guys."
If you use this transcription or any portion of it please credit WrestleTalk.com and link to this page.
He is set to face Bobby Fish in the first round of the 1PW tournament to crown a new 1PW World Champion at Doncaster Dome on April 22.
Introducing the brand new 1PW World Championship

Who will be crowned champion at ALL OR NOTHING on April 22nd?@WillOspreay @theBobbyFish @strongstylebrit @CaraNoirPW @ThisIsHaskins #UlfHerman @LanceHoyt @Nathan_Cruz90 pic.twitter.com/2MyoiD4vux

— 1PW – One Pro Wrestling (@1ProWrestling) April 14, 2023
If you want to stay fully updated on all the latest wrestling news, click the red bell in the bottom right of your screen to receive notifications from WrestleTalk.com straight to your device!