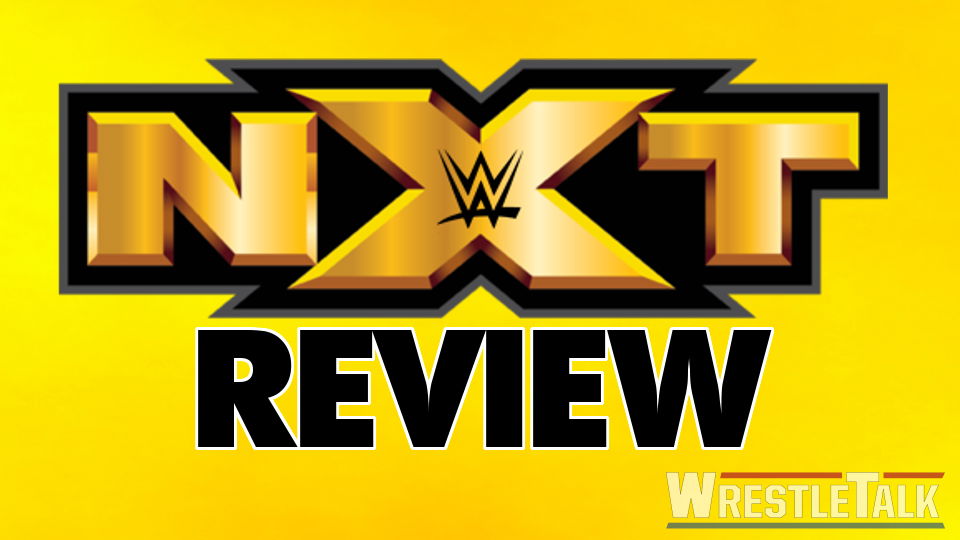 We have brand new NXT Tag Team Champions! The wonderful Moustache Mountain captured the gold from The Undisputed Era at the Royal Albert Hall and this week's NXT kicks off not only with a celebration of that fact – but the welcome news that the new champs will be in action TONIGHT!
The NXT individual champion, though, gets matters under way on the first post-Takeover NXT proper, looking sharp in a dark waistcoat, suit trousers and tie. They sure dress well halfway between the lightness and the dark. The commentators bang on about Aleister Black's mystique which, as I've documented on many occasions, he certainly used to possess in abundance – but something has been lost ever since he opened his mouth. Black starts talking about conquering adversity by beating Lars Sullivan in Chicago and the promo is developing along familiar lines, until "BOOOO!" Tommaso Ciampa rocks up and informs an unusually rattled Black: "You stood face to face with adversity…now it's time to stand face to face with the devil!" Gloating about his Takeover victory over Johnny Gargano achieved with his hands tied behind his back, Ciampa makes it clear he's now gunning for the NXT Title. He then sits cross legged – a la Punk – and gives his trademark goodbye wave. Aleister is seriously losing his cool, here. Very unusual.
Mauro then reveals that Lars Sullivan fought half of his Takeover match against Black with a broken jaw. They even have X-rays to prove it. Nice touch to restore some of the Freak's own mystique after his clean loss to Aleister – and THAT sell job from the Black Mass that missed by three feet.
The Hands of the Assembed Press are back! I wonder if these are The Hands that Braun Strowman keeps going on about?
Vanessa Borne tells The Hands that Kairi Sane looks stupid dressed as a pirate. So we're getting Sane vs Borne. NXT is excellent at always doing something to set up matches, even the throwaway ones.
'The Finest' Kona Reeves returns. Is this new theme music? It's rather grandiose. I approve. The commentators reveal that Reeves trained with the Magnificent Muraco – that's a blast from the past. Nigel McGuinness also seems obsessed with pointing out how much Kona has worked on his physique. He beats somebody called Max Umberto (far too good a name for a jobber) with the Middle Rope Back Elbow That Never Misses Unlike When Ted DiBiase Did It followed by the Hawaiian Drop.