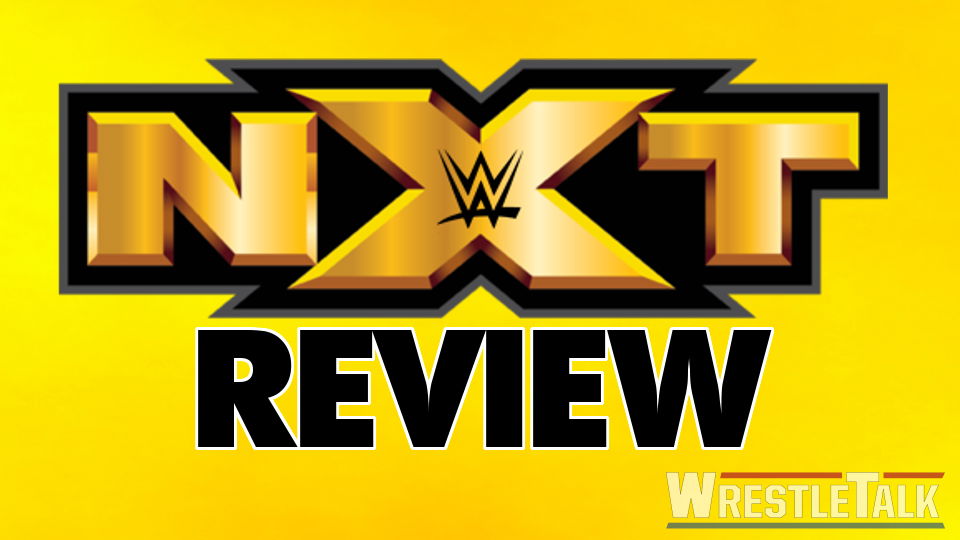 I missed last week's NXT. I haven't had chance to catch up either. So news that Lars Sullivan ruined Velveteen Dream's bout with Ricochet, setting up a two-on-one handicap match, was a welcome start to this week's edition. I love the continuity on NXT.
Mauro Ranallo informs us that Lars is a 'Leviathan'. I thought that was Batista?
Full Sail loves Heavy Machinery. But what on earth is Jonathan Coachman doing in the crowd? He's wearing an NXT shirt. "These are my guys!" he beams, as the Steaks and Weights-lovers arrive for the opening contest. Yay, Coach loves Otis Dozovic just as much as I do. Meanwhile wrestling's answer to Ram Man is his usual self – gurning, blinking, sweating, arms carried three feet from his waist because he's so WIDE. Tucker Knight might as well not be there, I just can't take my eyes off The Dozer. He's unique.
Full Sail doesn't love TM61. In fact, they don't CARE about TM61. Zero reaction to the Aussies. One of TM61 has the number '2' on his back. The other member has the number '5'. I am confused by their obsession with numbers. Are they auditioning for Countdown?
The match starts. Otis is providing his own commentary, growling every time he bulldozes through thingummy and his mate. "THAT'S A TAGGG!" he growls. As he makes a tag. Genius.
Knight likes to bounce off the ropes before delivering a splash in the corner. That's a bit different.
TM61 are wrestling as heels. Remember how they used the ropes to beat the Street Profits the other week? They're nefarious.
Tucker Knight reminds me of Mark Canterbury, pre-slop bucket. Just thought I'd throw that out there.
Dozovic gets the tag and just starts tossing Australians around. Then he stops, growls, and does THE WORM.
It's early morning as I watch. I rub my eyes. Am I still asleep? Surely I'm dreaming.
Otis Dozovic just did THE WORM. Not only that, he did THE WORM into an elbowdrop.
I now love this man even more than I did before.
Unfortunately Dozer then takes a kick in the face while attempting a Vader Bomb. Otis falls hard. And he's so WIDE he can't get up. TM61 gang up on him and score another pin using the ropes.
Heavy Machinery looked great in this match. Credit, I guess, to TM61. But they're still vanilla.
We're getting a sit-down interview with Bianca Belair.
"Why am I the EST of NXT?" she asks.
Hurray, she's finally going to tell us what this means!
"Find out next week."
Oh. She's not going to tell us what this means.
EC3 is poolside again. He must have had a match last week because he's talking about wrestling three times in NXT.
Young Carter calls himself "the best here, the best there, the best anywhere" – which is a nice twist on an old Bret Hart catchphrase – and once again vows to turn NXT into NX3. I believe that's exactly what he'll do.
Yoho! Yo hoooo! It's Kairi Sane. She's not in her usual perky piratey good mood. She spins her wheel more aggressively than usual. That's because she's angry at that Lacey Evans cheap shot a couple of weeks ago.
Lacey comes out, twirling her way down the rampway with elegance. She's a Lady! So the angry Pirate Princess charges across the ring at the first bell – a la Pete Dunne – and drop kicks her in the mush. "That's a shot across her bow!" I see what you did there, Mauro.
Kairi and Lacey take it in turns to chop each other viciously. I love the way this match has started. It's captivating. Sane is almost maniacal. She's inSane, if you will, but Lacey's holding her own. Evans hits a Skyscraper Knee, and Sane retaliates with a Flying Kabuki Elbow. I'm sure Ranallo is making up names of moves again.
Lacey gets awesome height on a turnbuckle handstand into a Bronco Buster. But Kairi is a woman possessed this week. Sadly her fury backfires. She jumps off the top rope into a hefty Evans right forearm shot – the Woman's Right. The Southern Belle scores the stunning pinfall! The Marine's biggest win so far in NXT! I'm enjoying this feud.
Mauro informs us we're going outside Full Sail to Cathy Kelly.
"I'm outside Full Sail," she begins. No kidding.
Johnny Gargano, wearing a neck brace, arrives with Candice LeRae. They just emerge out of the darkness, looking like they've walked to the arena. Surely it's dangerous to be on foot with Tommaso Ciampa lurking?
"There's something I have to do," says Johnny. What, rent a car? That would be advisable.
Here's another welcome recap from last week. Flipping heck, Oney Lorcan and Martin Stone, sorry, Danny Burch ACTUALLY WON! They and Pete Dunne beat the Undisputed Era in a six-man and now Oney and Martin (sorry, Danny) are getting an NXT Tag Team Title shot at Takeover!
The Era do one of their quartet promos with their theme music playing in the background. Regular readers of the NXT Review will know I don't usually approve of Cole, O'Reilly, Fish and Strong ALL talking. But this promo worked, because instead of talking to the camera or the audience, they talked to EACH OTHER. It came across really spontaneous, natural and entertaining. Especially when Kyle O'Reilly called Pete Dunne 'Peter Doon'. I have no idea what that's all about.
Roddy says he's going to be facing Stone (sorry, Burch) one-on-one soon, and he'll prove last week's loss was a fluke. So Danny's winning then.
HERE'S LARS! He lives in the Rocky Mountains. I wonder if he's neighbours with Vader?
This handicap match will be quite a challenge for Ricochet. Sullivan ain't no Ospreay, that's for sure. We get the usual cool entrances for Ric and Velveteen Dream, who I can already visualise debuting on the 2019 Raw after WrestleMania to a reaction akin to the gods.
Dream and Ricochet work almost the entire match like a cohesive unit. They even fist bump at one point. But you just KNOW the turn is coming. The question is when?
Stellar storytelling here, with the unlikely pair unloading their full arsenals to try to take down the Freak, while Ranallo works overtime putting over Sullivan like he's Godzilla. Slic Ric hits a springboard missile drop kick. Velveteen can't quite match that, but a pair of flying axehandles will have to do. Then Lars gets bored of being an unstoppable monster and tries a spot of aerials himself, hitting a top rope headbutt on VD for a two count. Back come Velveteen and Ricochet with a flying cross body and a standing shooting star press respectively. They're actually a really good team! And there's a Dream swanton, and a springboard shooting star press from Tricky Trev.
Maybe they can work together after all! Maybe they can put their problems behind them! Maybe an NXT Tag Team Title reign is in their future…!
Don't be silly. I told you the turn was coming.
Velveteen Dream hits a rolling Death Valley Driver on his partner, wanders off, and Lars polishes off Ricochet with the Freak Accident.
Handicap matches are usually a bit meh. Not this one. I thoroughly enjoyed it. It also advanced the Velveteen-Ricochet issue and moved Lars Sullivan one step closer to an NXT Title shot.
Then Mauro compares Lars to all-conquering UK football team Manchester City. I have visions of Sullivan eating Raheem Sterling. We can but hope.
Next week it's going to be Shayna Baszler vs Dakota Kai for the NXT Women's Championship. Will Dakota even show up? Well she seems to be growing in confidence. When The Queen of Spades confronts her during a backstage interview and gloats "You know you don't stand a chance, right?" the Team Kicker responds "We'll see about that." But I still have mixed feelings about this. On one hand, I want to see Kai stand up to the bully. On the other, she's supposed to be a sympathetic underdog, but there are times when I don't feel the New Zealander comes across as likeable as she needs to be for this storyline to be fully effective.
Aleister Black will be on the show next week. I really feel his aura has been destroyed since he became champ.
Here comes the golden couple of the moment. And I don't mean the Duke and Duchess of Sussex. Having said that, Candice does look at Johnny with a similar kind of Meghan-Harry adoration. It's true love. And Johnny Wrestling gets that love from the NXT Universe too. Or does he?
Gargano is teasing retirement. He's injured. He needs to put his family first. His feud with Ciampa is taking its toll on his loved ones. He's thinking about jacking it in. "NOOOOO!" screams the crowd. They pretend to love this man, yet they'd rather see him crippled and his friends and family left devastated? Of course they would. Heathens.
"Is it worth it?" asks an emotional Johnny. "YES! YES! YES!" Bloody wrestling fans.
Gargano agrees. He rips off the neck brace and calls out the Sicilian Psychopath with gusto. Candice is worried. She's in danger of heeling herself here as she tries to talk her hubby out of it.
Meanwhile Ciampa arrives and says he's coming down to the ring to finish it. Refs get between them. Candice pleads with Johnny to back off. "DON'T LISTEN TO HER!" bellows one apoplectic fan in a green T-shirt. It's real in Full Sail. Gargano gets on the apron but Ciampa knocks him off and he lands on LeRae. She falls hard, cracking the back of her head on the steel rampway. She's out cold. Tommaso leaves. Everyone is worried for Candice. She's not moving. Even Nigel McGuinness leaves the commentary desk. So you know it's SERIOUS. The show goes off air with Johnny and officials surrounding the fallen Candice as the fans watch on in shock.
YOU ANIMALS! THIS IS WHAT YOU ASKED FOR!
That's what I'd have said to the fans if I was Mauro.
What a great angle.
What a great show.
Did you love this week's episode of NXT as much as I did? Please comment below or tweet us at @WrestleTalk_TV.