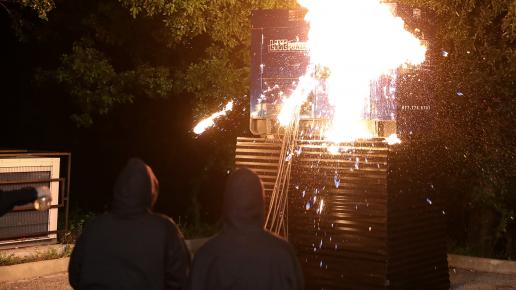 Tonight on WWE SmackDown, mics began to cut out and lights flickered. The announcers made reference to RETRIBUTION which made a slightly disappointing debut on Raw after being advertised to debut.
Many were expecting an invasion or attack of sorts. They didn't get it Monday, but for those watching SmackDown, you got what you wanted a few nights later.
After the main event, which was ended when Mandy Rose attacked Sonya Deville, there were about 5 minutes left of the show. The show cut to the announcers and the lights went out.
RETRIBUTION HAS COME TO #SmackDown! pic.twitter.com/BBaL3ANvDg

— WWE (@WWE) August 8, 2020
We then cut to 5 hooded figures carrying bats and pipes. They ran into the ring and jumped around. However, they soon turned their attention to the WWE employees ringside.
They chased off Cole and Graves. They then attacked all the camera and ring crew. After chasing all of them off, they went after the people watching behind the plexiglass.
What's going on!!?!?! #SmackDown pic.twitter.com/HOockNuLVR

— WWE (@WWE) August 8, 2020
It appears the group is made up of 2 women and 3 men. The 3 men attacked a male wrestler ringside. The 2 women attacked a woman.
One of the women in the group's hair popped out of her hood. From just the look of her hear, it appears it could have been Vanessa Bourne from NXT. Many others are predicting Chelsea Green is one of the other ladies.
The men appear to be a bit harder to decipher. None of them are very tall. Many are hoping Tomasso Ciampa is involved.
RETRIBUTION IS TEARING THE PLACE APART!#SmackDown pic.twitter.com/d7UyDD4I6b

— WWE (@WWE) August 8, 2020
Whatever the case, someone in WWE will have some cleaning up to do and repairs to make. RETRIBUTION spray painted everything around the ring and the ring itself. Then one of the hooded figures pulled out a chainsaw and cut all the ropes off the ring.
If this group is going to be carrying chainsaws, then they certainly are going to be a bit more dangerous than expected.