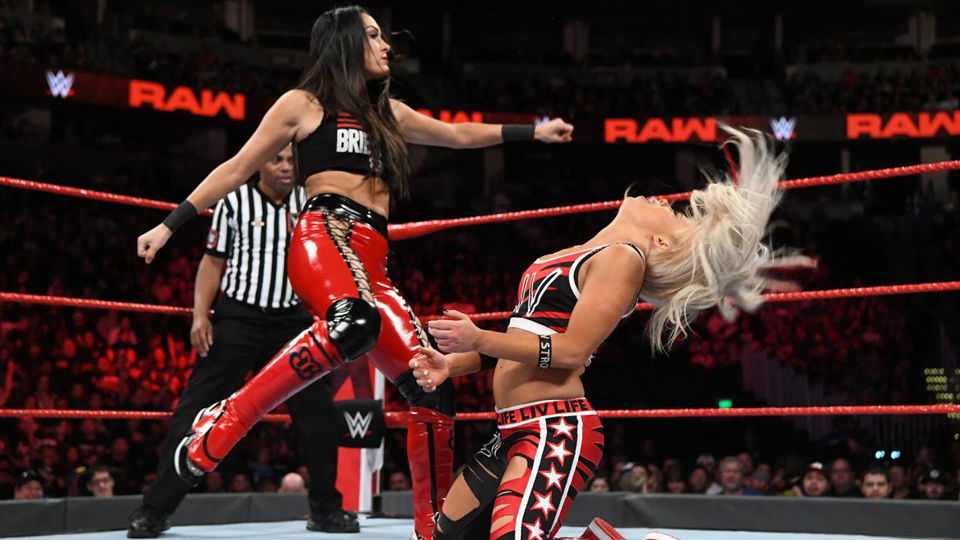 Liv Morgan suffered a concussion after a botched Brie Bella kick caught her square in the face during Monday's episode of RAW.
Everyone and their grandmother has now had their say on the matter, with some labelling Brie as dangerous, and others calling it a simple mistake which came as a result of ring rust.
Mostly, critics have focused on the kick itself, but former WWE star Taz has put the focus of his criticism on the company itself.
Oops. Brie Bella just legitimately kicked Liv Morgan in the face#RAW pic.twitter.com/XWH0Zxv7Ab

— GIF Skull (@GIFSkull) September 25, 2018

In the latest episode of his podcast, Taz suggested that WWE had not acted in a way to best ensure Brie's safety immediately after the incident.
"Liv got caught on what you call the 'button' — on a part of her chin, and that's basically what ended up knocking her out. It was scary seeing that happen to her. I have to say, I do think that WWE, I think that their intentions — I always talk about that they're big into safety.

"I think that this was a bang-bang situation, and I think that things could've been handled a little bit better, in my professional opinion. Just as an observer watching it, and someone who has been knocked out in the ring, someone who's knocked people out in the ring — I just have to be honest in these comments,"
He went on to say that the match should have been stopped the moment Liv was knocked out.
"That match has to stop, and that girl needs to be taken out of that match ASAP. Once she's knocked out, she should not have tried to get up, no one should have touched her neck. Brie Bella was concerned about her, so she was checking on her — everything needs to stop.

"She should not be involved in a spot later on, she should not have to lock up and push — you can see she's falling down … once Brie kicks her with that button-shot on the jaw and goes for a cover, you could see Brie is concerned."
Taz is one of few people connected with the company to refuse to criticise Brie Bella in the aftermath, but may be the first in a line of people angry with WWE's immediate reaction to the unpleasant incident.