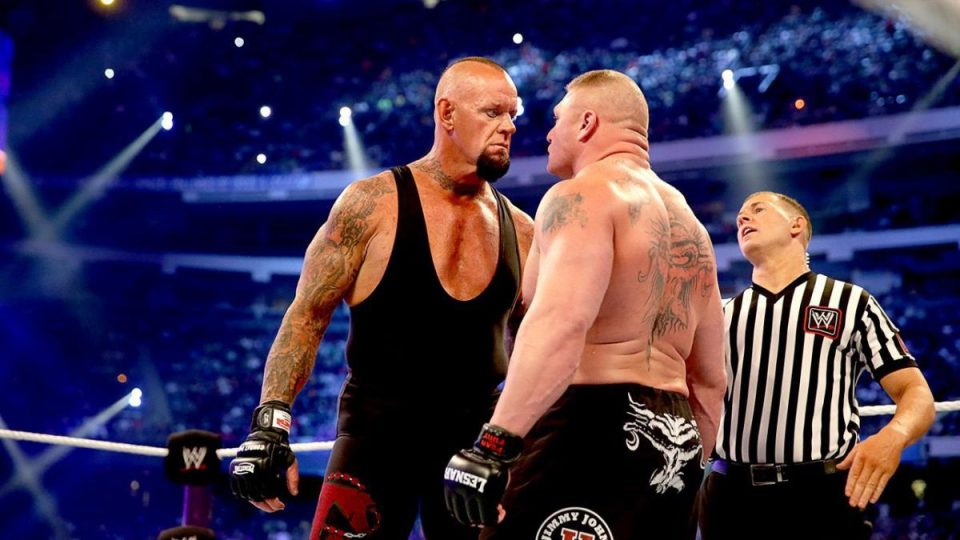 At WrestleMania XXX in 2014, the wrestling world was shocked when Brock Lesnar became the first man to ever defeat the legendary Undertaker on the "grandest stage of them all".
While names such as Edge, CM Punk and Randy Orton had been thrown about as options to end the streak, not many people thought that Brock Lesnar would be the man to finally defeat 'Taker at WrestleMania.
In an interview with CBS Sports, The Undertaker has opened up about whether or not Brock Lesnar was the right choice to break the streak, suggesting that perhaps "The Beast" didn't need the moment:
"Obviously, in Vince's mindset, if it's not Brock, then who? My biggest concern was I just wanted to make sure that [McMahon] was sure and that's what he wanted to do. I didn't feel like Brock needed it. Brock was already a huge star, and it wasn't going to help him one way or another. My only concern was there might have been someone down the line that could have benefited from it more and that probably would've been Roman later on.

"That's with hindsight being 20/20. But if I was going to get beat by someone, Brock was a guy who had the credentials, I think, to do it and people would be like, 'Um, OK, s–t, that's Brock Lesnar.' That was my biggest deal. I just wanted to make sure that's really what [McMahon] had wanted to do."
During the same interview, The Undertaker also revealed that filming has not yet finished for his awesome documentary series on the WWE Network, the final episode of which drops on 06/21. As such, many have speculated that it is building towards the announcement of Taker's final match.