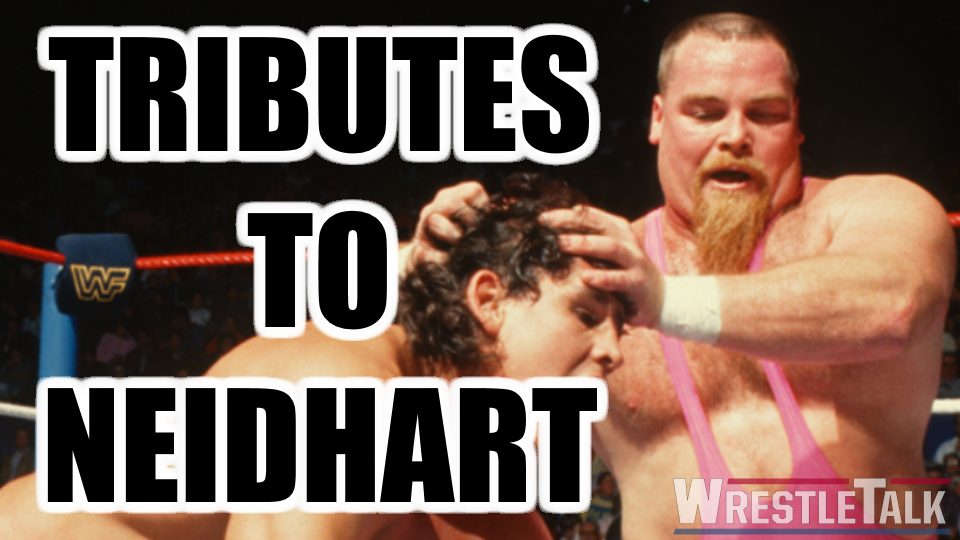 Earlier today the wrestling world learned of the gutting news that Jim Neidhart had passed away at the age of 63.
Since then, legends, current performers, and pro-wrestling alumni from all over the globe have been sending their tributes and condolences to Neidhart's family and friends.
The passing has shaken the entire wrestling world, but not many more so than the 'Anvil's own brother-in-law, Bret Hart.
Early in his career, Neidhart worked for Stu Hart's Stampede Wrestling, and in 1985 married Stu's daughter and Bret's sister, Ellie. Jim and Bret later formed the Hart Foundation in WWF and became two-time Tag Team Champions, once in 1987, and once in 1990.
Bret briefly summed up his emotions on Twitter soon after the sad news had come to fruition:
Stunned and saddened. I just don't have the words right now. pic.twitter.com/fcO8Skuuhz

— Bret Hart (@BretHart) August 13, 2018
Brian Blair, who claims to have wrestled the Hart Foundation between "300 and 600" times in WWF, was first to break the news, tweeting:
So sad to announce the passing of my friend and longtime colleague, Jim "The Anvil" Neidhart. Your thoughts and prayers for the family are deeply appreciated! @CACReunion @JimValley @allan_cheapshot @mattfarmer93 @WrestlingIWF @davemeltzerWON @SlamSports @jumpinjbrunzell

— B Brian Blair ?? (@Killerbee1B) August 13, 2018
Current NXT commentator, fellow Canadian, and close friend of the Hart Family, Mauro Ranallo, stated the following:
https://twitter.com/mauroranallo/status/1029020516101672965
The tributes continue to pour in from all those affiliated with the wrestling family, legends and current stars alike.
Here are just a few more examples:
My Good Friend Jim Neidhart, A World Class Athlete And A Man Among Men. Rest In Peace. pic.twitter.com/JSmdpZ9YZ1

— Ric Flair® (@RicFlairNatrBoy) August 13, 2018
Sorry that hear about the passing of Jimmy The Anvil Neidhart. Prayers to @NatbyNature @TJWilson and their entire family. Jimmy is, and will always be, a true Legend. #itstrue

— Kurt Angle (@RealKurtAngle) August 13, 2018
Jim Neidhart was a great athlete
He was the power & strength of
The Hart Foundation
I loved their finishing maneuver
Celebrate his life
Watch his matches today
My heart hurts for his daughters, wife & @TJWilson
There is only one#Anvil pic.twitter.com/pFvfDHtN8S

— Tommy Dreamer (@THETOMMYDREAMER) August 13, 2018
I'm heartbroken to hear of the sudden passing of my 30+ year friend, Jim Neidhart.

We met in the 80's when Bill Watts booked 'The Anvil' in Mid South & Jim even coached Cowboy's son Micah on how to shot put.

We lost a damn, good man. #RIPAnvil
?

— Jim Ross (@JRsBBQ) August 13, 2018
My deepest condolences to my Friends @NatbyNature @TJWilson and their family during this very tough time of loss of a family member not only to you all, but to all of the @WWE Family as a whole??❤️

— Titus O'Neil (@TitusONeilWWE) August 13, 2018
My heart breaks?for my generational sister @NatbyNature and her family at this time. My prayers and condolences?. We all love you and I'm here for you when you need me.

— Tamina Snuka (@TaminaSnuka) August 13, 2018
I'd like to take this time to send my condolences to Nattie and her family. There's a special bond between father and daughter. My heart hurts with and for her. Jim was one of the best, and one of my dear friends. He will be missed,I love you Nattie, God bless you and your family

— WWE R-TRUTH (@RonKillings) August 13, 2018
What a sad last few weeks for the Wrestling World…another great taken way too soon. My thoughts and prayers go out to the family of Jim "The Anvil" Neidhart. R.I.P. pic.twitter.com/oE5mbaaSur

— Jerry Lawler (@JerryLawler) August 13, 2018
I am overwhelmed with grief, love and sympathy by the passing of Jim Neidhart. Love and prayers to his family. He was always with me and a real friend through the good and bad. Love and miss you already, Jim. RIP my brother. HH

— Hulk Hogan (@HulkHogan) August 13, 2018
The Anvil's physique , athletic ability and charisma always inspired me! Thank you and goodbye for now. #RIPJimTheAnvilNeidhart

— Miro (@ToBeMiro) August 13, 2018
The only thing bigger than his on-screen character was his heart.
Jim "The Anvil" Neidhart loved performing with & spending time with his family…and he made us all smile while doing it.
Thinking of @NatbyNature, @TJWilson, & the entire Hart family during this difficult time. pic.twitter.com/ahWuWGXInv

— Triple H (@TripleH) August 13, 2018
We are deeply saddened to learn of the passing of Jim Neidhart. Our thoughts are with his family today. pic.twitter.com/3ZL4XKZDcn

— IMPACT (@IMPACTWRESTLING) August 13, 2018
Reflecting on the life and legacy of Jim "The Anvil" Neidhart today. My thoughts and those of the entire @WWE family are with @NatbyNature and the Neidhart family. pic.twitter.com/d3zl9uyKkn

— Vince McMahon (@VinceMcMahon) August 13, 2018
We at WrestleTalk would like to join the wrestling world in sending our thoughts and prayers to everyone affected by this loss. We implore you to celebrate the career of one of the greats by sharing your favorite Jim Neidhart moments with us via Twitter or Discord.