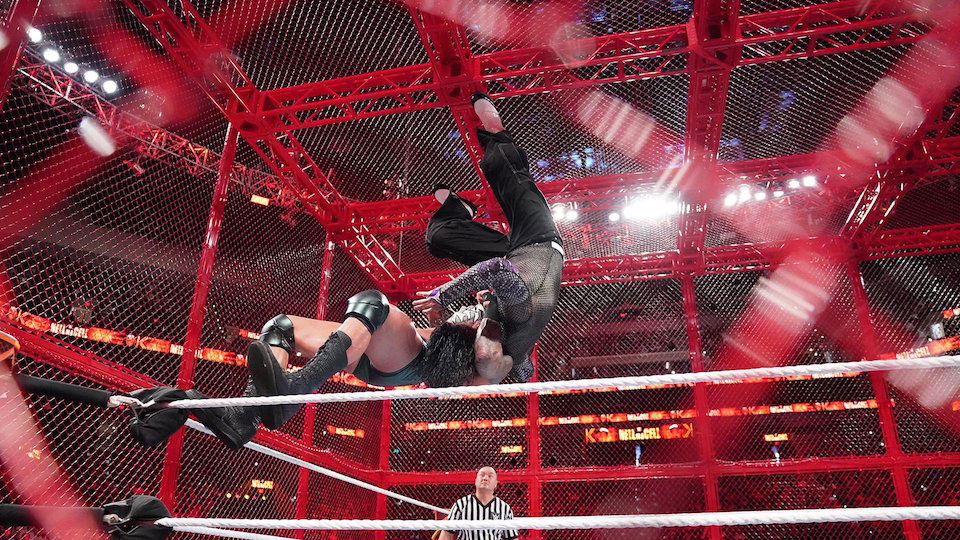 As some of you eagle-eyed viewers out there may have noticed, the Hell in a Cell structure underwent a makeover of sorts for its 10th annual event. Instead of the standard steel surrounding the ring, we were treated to a definitely not distracting blood red cell to match the logos, designs, Universal Championship, and general lighting of the entire pay-per-view.
The real reason for this change, however, has now been reported by Twitter account WrestleVotes, who have broken several stories in the past. According to the user, Vince McMahon himself was behind the change as a way of freshening up the event.
This is not too dissimilar to how the chairman of the board removed the roman numerals and general numbering of each WrestleMania in order for the events to not become dated. Because legacy and longevity are so not "in" anymore. We are a one and done society now.
Asked about the Red Cell… source said "honestly, w/ all this 20 yr talk about Taker & Foley, I think Vince forgot how old the match was. So he changed it up. Like when Mania lost its roman numerals. Just something new." Also, they did test for visibility and it's OK. #WWEHIAC

— WrestleVotes (@WrestleVotes) September 16, 2018
It's also worth noting that, according to WrestleVotes, WWE did perform a visibility test for the new edgy cell and it passed. Admittedly, I'm not quite sure how but I supposed it was never that great to see through in the first place.
Whether the new coat of paint will stick or if it was simply a treat for the pay-per-view's 10th edition is yet to be seen. Maybe when NXT TakeOver: WarGames II rolls around, they'll incorporate a splash of yellow for their dual-ring cage as well.