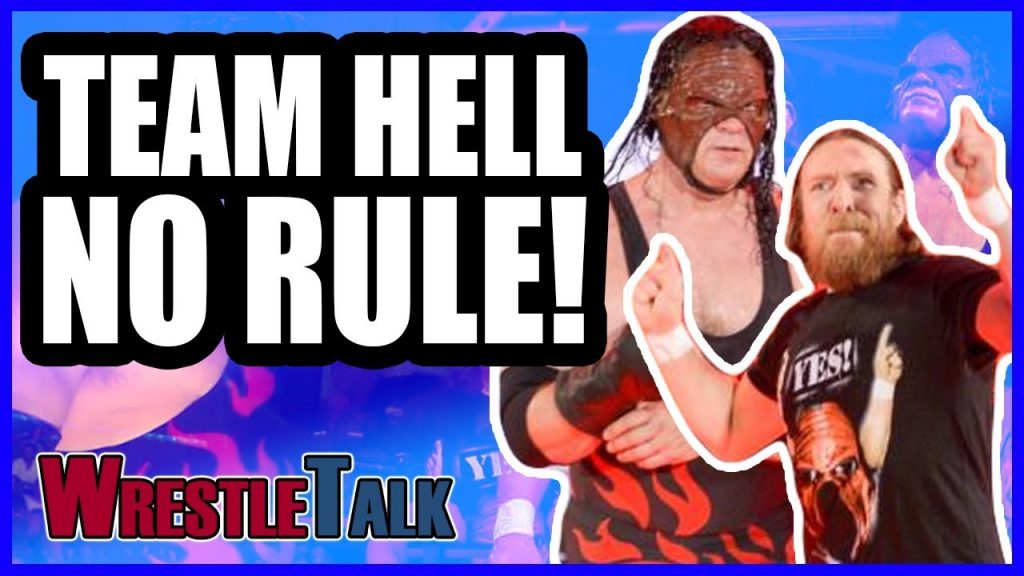 TEAM HELL NO RULE!
AJ Styles and Shinsuke Nakamura wrestle again! A wild Andrade "Cien" Almas appears! And Kane really likes N'Sync. Who saw that new side to his character coming?
MizTV With Team Hell No
The Miz kicked off this week's episode of Smackdown Live, promoting his new reality show before bringing out Team Hell No – complete with Daniel Bryan wearing their new horrible t-shirt. It really is s**t. Miz compared Team Hell No's reunion to Justin Timberlake re-joining N'Sync, but Kane pointed out that is never going to happen. Team Hell No rule. The story of this segment though was that Bryan wanted to punch Miz in the face but Kane kept calming him down. That was until Miz insulted Kane and then he also wanted to punch him in the face. The Bludgeon Brothers came down and SANitY's music hit with the trio attacking Team Hell No in the ring. New Day ran out for the save but Brothers Bludgeon and SANitY stood tall. It was announced that New Day and Team Hell No would take on SANitY and Bludgeon Brothers tonight. This was a good opening segment, balancing the comedy of Team Hell No with the serious threat of The Bludgeon Brothers. And SANitY looked dominating and threatening after a shaky start on the main roster. Boy, I sure hope they don't lose again tonight.