Botchamania
1. MOVE (please) GET OUT THE WAY (please) GET OUT THE WAY
New champ Drew McIntyre showed off his politeness as the cameraman doesn't give him the required social distancing.
Drew McIntyre having to ask the cameraman to kindly move pic.twitter.com/YGsyiNsFkk

— Maffew (@Maffewgregg) April 14, 2020
I think this was left in to make sure people were watching.
---
2. Back And To The Nothing
Akira Tozawa showed up on Raw which meant he was losing.
He put up a hell of a fight against Austin Theory though, managing to knock him off the apron without hitting him.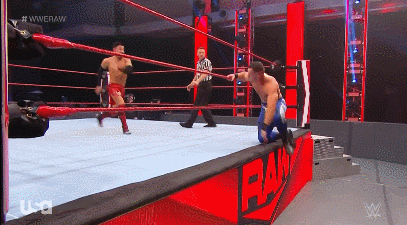 ---
3. Frankensteiner's Monster
It's a good week for Akira as we travel to NXT for his Cruiserweight Title Tournament match with Swerve Scott.
Actually wait no it's a bad week as Swerve attempted his No Hands Frankensteiner but barely made contact with his opponent but he took it anyway because he's a good sport.