Botchamania
1. Tagging & Baddin'
On Raw this week, we happened to return from break at the exact moment Charlotte Flair accidentally ended up too close to Nattie in a tag match.
Charlotte was expecting to be cut off a lot sooner so we got an awkward pause.
here's the fake tag that made people think nattie was teasing a heel turn

(she wasn't) pic.twitter.com/qRVacP3sEA

— Maffewhausen (@Maffewgregg) November 5, 2019
Or maybe Charlotte has got a fake arm along with everything else and is still getting used to it.
2. I Love How We Finish Each Other's (sandwiches)
I didn't think this was *that* bad but my twitter timeline says different. On Smackdown this week, The Revival defended their tag titles against The New Day and set up Big E for the tribute-to-daddy Orton DDT on the ropes but their timing wasn't 100%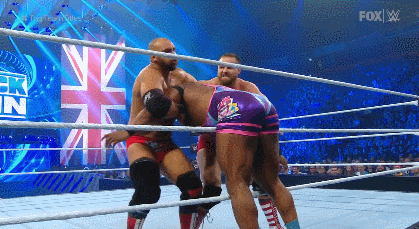 No biggie (not him) right? Well this slightly-mistimed DDT caused Scott Dawson to delete his entire Twitter history.
Or maybe Big E's head landed on his phone.
3. NXT STP DRVR
I think this one's a bit harsh out of context because they were keeping the pace well but you're not reading this if you're pure of heart so what the hell.
This week's episode of NXT didn't impress everyone watching the Taynara Conti vs. Santana Garrett which really stepped into first gear near the end.
lmfao what the hell is this slow and awkward going through the motions bullshit on my professional wrestling television program?omit_script=1 yikes! pic.twitter.com/nCs4mLTCSF

— emil (@TheEmilJay) November 7, 2019
4. Boom Goes The Dynamite
Fans are so used to coming to events bringing Final Fantasy signs that they forget to get out of the way of angry men throwing other angry men.
This is why you don't stand too close to the barricade#AEWDynamite pic.twitter.com/rH6tSZKYqY

— GIF Skull – Sami Zayn, Lord of Metal #SmackDown (@GIFSkull) November 7, 2019
5. Beyond The Mat
Strikeforce Africa hosted a big show last weekend, headlined by Rob Van Dam vs. PJ Black and with all the eyes of the world on them, they made sure they used their best ring.
6. german for table is *shouting* DAS TABLE AHHH
On the wXw Shotgun title match between Emil Sitoci and Avalanche, Emil finds out the only thing harder than his abs was German efficiency.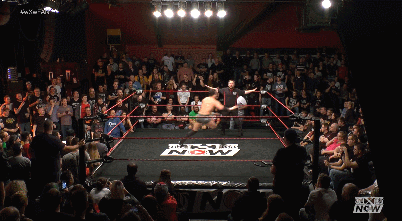 7. ex-PAC
AEW Dynamite has continued to deliver such high quality matches and action it was only a matter of time something terrible would go wrong.
And go wrong it did, with PAC landing his impressive finishing move on Trent? and the referee…stopping the count.
well something must have happened last night, why are my mentions all….oh pic.twitter.com/S2VjaPpbsF

— Maffewhausen (@Maffewgregg) November 7, 2019
Why the ref stopped when barely anyone kicks out of that move is anyone's guess but hey if Bryce Remsberg can make a mistake then anyone can.
8. (radio edit)
AEW Dark Episode 5 was late uploading to YouTube this week and the reason was revealed on twitter later that it was due to the extra-editing needed to remove MJF's less-than-sensitive commentary, giving the world this weird audio and silence.
no idea what happened to the editing or audio here pic.twitter.com/ai8xWuR2fE

— Maffewhausen (@Maffewgregg) November 6, 2019
9. Your Own Personal JEEEEZUS
CZW had their latest show so DJ Hyde could keep the copyright on a company long-thought dead and the main event featured a wonderful moment with champ Joe Gacy getting too excited for his springboard RKO and Jimmy Lloyd getting distracted.
10. And Finally
Oh boy, a free match courtesy of Beyond Wrestling! Nothing can ruin this!


That's your lot, take care and drink lots of water this weekend if this gets posted in time.