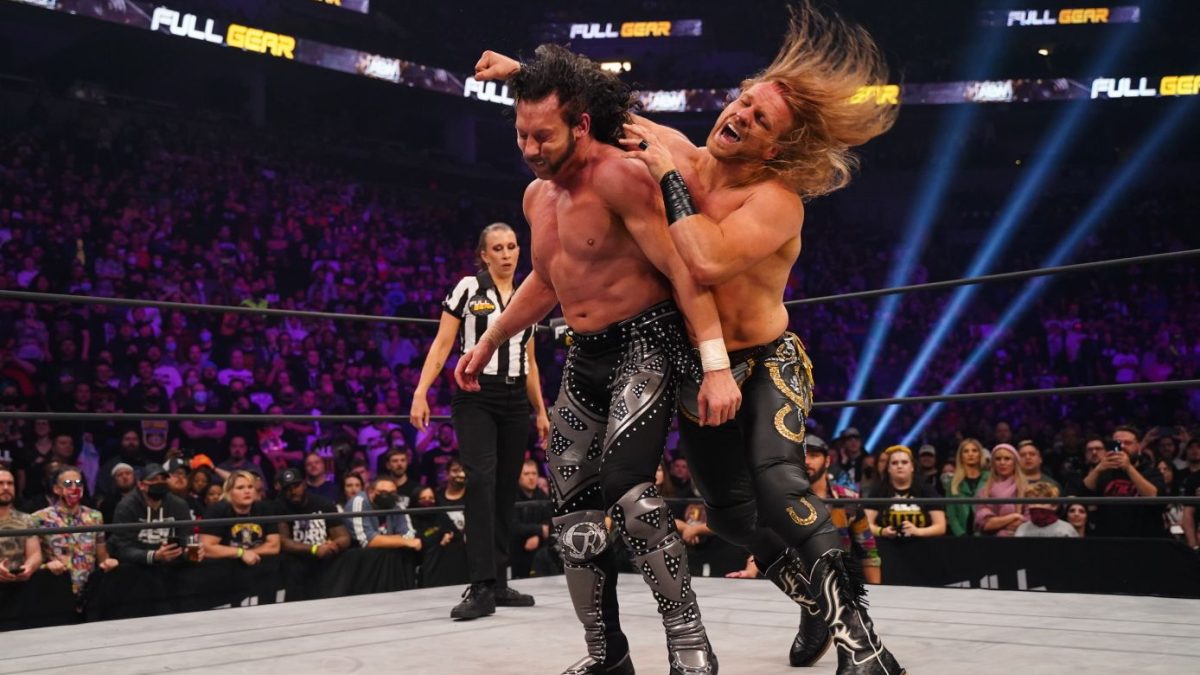 We've put together an ongoing list of every single championship match that has taken place in AEW in 2020, including details of each match.
We'll be updating this constantly as the year goes on so be sure to keep checking back so you don't miss any!
If you scroll down to the very bottom of the page, there's a big breakdown of stats e.g. how many title matches there have been on a specific show, how many for each title etc.
You'll also see the same breakdown but for 2020, so we can compare how the two years end up.
---
Hikaru Shida (c) vs. Abadon
Title: AEW Women's World
Winner: Hikaru Shida (retained)
Date: January 6
Show: Dynamite (New Year's Smash Night 1)
---
Kenny Omega (c) vs. Rey Fenix
Title: AEW World
Winner: Kenny Omega (retained)
Date: January 6
Show: Dynamite (New Year's Smash Night 1)
---
Serena Deeb (c) vs. Tay Conti
Title: NWA Women's World
Winner: Serena Deeb (retained)
Date: January 13
Show: Dynamite (New Year's Smash Night 2)
---
Darby Allin (c) vs. Brian Cage
Title: AEW TNT
Winner: Darby Allin (retained)
Date: January 13
Show: Dynamite (New Year's Smash Night 2)
---
Darby Allin (c) vs. Joey Janela
Title: AEW TNT
Winner: Darby Allin (retained)
Date: February 10
Show: Dynamite
---
Young Bucks (c) vs. Santana & Ortiz
Title: AEW World Tag Team
Winner: Young Bucks (retained)
Date: February 17
Show: Dynamite
---
Young Bucks (c) vs. Chris Jericho & MJF
Title: AEW World Tag Team
Winner: Young Bucks (retained)
Date: March 7
Show: Revolution
---
Hikaru Shida (c) vs. Ryo Mizunami
Title: AEW Women's World
Winner: Hikaru Shida (retained)
Date: March 7
Show: Revolution
---
Kenny Omega (c) vs. Jon Moxley – Exploding Barbed Wire Deathmatch
Title: AEW World
Winner: Kenny Omega (retained)
Date: March 7
Show: Revolution
---
Darby Allin (c) vs. Scorpio Sky
Title: AEW TNT
Winner: Darby Allin (retained)
Date: March 10
Show: Dynamite
---
Brian Cage (c) vs. Brandon Cutler
Title: FTW
Winner: Brian Cage (retained)
Date: March 23
Show: Dark
---
Darby Allin (c) vs. John Silver
Title: AEW TNT
Winner: Darby Allin (retained)
Date: March 24
Show: Dynamite
---
Darby Allin (c) vs. JD Drake
Title: AEW TNT
Winner: Darby Allin (retained)
Date: April 7
Show: Dynamite
---
Darby Allin (c) vs. The Butcher
Title: AEW TNT
Winner: Darby Allin (retained)
Date: April 9
Show: House Show
---
Young Bucks (c) vs. PAC & Rey Fenix
Title: AEW World Tag Team
Winner: Young Bucks (retained)
Date: April 14
Show: Dynamite
---
Darby Allin (c) vs. Matt Hardy – Falls Count Anywhere
Title: AEW TNT
Winner: Darby Allin (retained)
Date: April 14
Show: Dynamite
---
Hikaru Shida (c) vs. Tay Conti
Title: AEW Women's World
Winner: Hikaru Shida (retained)
Date: April 21
Show: Dynamite
---
Darby Allin (c) vs. Jungle Boy
Title: AEW TNT
Winner: Darby Allin (retained)
Date: April 21
Show: Dynamite
---
Darby Allin (c) vs. Pres10 Vance
Title: AEW TNT
Winner: Darby Allin (retained)
Date: April 28
Show: Dynamite
---
Jon Moxley (c) vs. Yuji Nagata
Title: IWGP United States Heavyweight
Winner: Jon Moxley (retained)
Date: May 12
Show: Dynamite
---
Young Bucks (c) vs. Christopher Daniels & Frankie Kazarian
Title: AEW World Tag Team
Winner: Young Bucks (retained)
Date: May 12
Show: Dynamite
---
Darby Allin (c) vs. Miro
Title: AEW TNT
Winner: Miro (title change)
Date: May 12
Show: Dynamite
---
Serena Deeb (c) vs. Red Velvet
Title: NWA Women's World
Winner: Serena Deeb (retained)
Date: May 19
Show: Dynamite
---
Young Bucks (c) vs. Varsity Blonds
Title: AEW World Tag Team
Winner: Young Bucks (retained)
Date: May 19
Show: Dynamite
---
Miro (c) vs. Dante Martin
Title: AEW TNT
Winner: Miro (retained)
Date: May 28
Show: Dynamite
---
Serena Deeb (c) vs. Riho
Title: NWA Women's World
Winner: Serena Deeb (retained)
Date: May 30
Show: Double Or Nothing (Pre-Show)
---
Young Bucks (c) vs. Eddie Kingston & Jon Moxley
Title: AEW World Tag Team
Winner: Young Bucks (retained)
Date: May 30
Show: Double Or Nothing
---
Miro (c) vs. Lance Archer
Title: AEW TNT
Winner: Miro (retained)
Date: May 30
Show: Double Or Nothing
---
Hikaru Shida (c) vs. Britt Baker
Title: AEW Women's World
Winner: Britt Baker (title change)
Date: May 30
Show: Double Or Nothing
---
Kenny Omega (c) vs. Orange Cassidy vs. PAC
Title: AEW World
Winner: Kenny Omega (retained)
Date: May 30
Show: Double Or Nothing
---
Miro (c) vs. Evil Uno
Title: AEW TNT
Winner: Miro (retained)
Date: June 11
Show: Dynamite
---
Kenny Omega (c) vs. Jungle Boy
Title: AEW World
Winner: Kenny Omega (retained)
Date: June 26
Show: Dynamite
---
Miro (c) vs. Brian Pillman Jr
Title: AEW TNT
Winner: Miro (retained)
Date: June 30
Show: Dynamite
---
Young Bucks (c) vs. Eddie Kingston & Penta El Zero Miedo – Street Fight
Title: AEW World Tag Team
Winner: Young Bucks (retained)
Date: July 7
Show: Dynamite (Road Rager)
---
Jon Moxley (c) vs. Karl Anderson
Title: IWGP United States Heavyweight
Winner: Jon Moxley (retained)
Date: July 14
Show: Dynamite (Fyter Fest Night 1)
---
Brian Cage (c) vs. Ricky Starks
Title: FTW
Winner: Ricky Starks (title change)
Date: July 14
Show: Dynamite (Fyter Fest Night 1)
---
Britt Baker (c) vs. Nyla Rose
Title: AEW Women's World
Winner: Britt Baker (retained)
Date: July 21
Show: Dynamite (Fyter Fest Night 2)
---
Jon Moxley (c) vs. Lance Archer – Texas Deathmatch
Title: IWGP United States Heavyweight
Winner: Lance Archer (title change)
Date: July 21
Show: Dynamite (Fyter Fest Night 2)
---
Lance Archer (c) vs. Hikuleo
Title: IWGP United States Heavyweight
Winner: Lance Archer (retained)
Date: July 28
Show: Dynamite (Fight for the Fallen)
---
Miro (c) vs. Lee Johnson
Title: AEW TNT
Winner: Miro (retained)
Date: August 4
Show: Dynamite (Homecoming)
---
Good Brothers (c) vs. Evil Uno & Stu Grayson
Title: IMPACT World Tag Team
Winner: Good Brothers (retained)
Date: August 11
Show: Dynamite
---
Kenny Omega (c) vs. Christian Cage
Title: IMPACT World
Winner: Christian Cage (title change)
Date: August 13
Show: Rampage
---
Miro (c) vs. Fuego Del Sol
Title: AEW TNT
Winner: Miro (retained)
Date: August 13
Show: Rampage
---
Britt Baker (c) vs. Red Velvet
Title: AEW Women's World
Winner: Britt Baker (retained)
Date: August 13
Show: Rampage
---
Young Bucks (c) vs. Jungle Boy & Luchasaurus
Title: AEW World Tag Team
Winner: Young Bucks (retained)
Date: August 18
Show: Dynamite
---
Miro (c) vs. Eddie Kingston
Title: AEW TNT
Winner: Miro (retained)
Date: September 5
Show: All Out
---
Britt Baker (c) vs. Kris Statlander
Title: AEW Women's World
Winner: Britt Baker (retained)
Date: September 5
Show: All Out
---
Young Bucks (c) vs. Lucha Brothers – Steel Cage Match
Title: AEW World Tag Team
Winner: Lucha Brothers (title change)
Date: September 5
Show: All Out
---
Kenny Omega (c) vs. Christian Cage
Title: AEW World
Winner: Kenny Omega (retained)
Date: September 5
Show: All Out
---
Lucha Brothers (c) vs. The Butcher & The Blade
Title: AEW World Tag Team
Winner: Lucha Brothers (retained)
Date: September 17
Show: Rampage
---
Miro (c) vs. Fuego Del Sol
Title: AEW TNT
Winner: Miro (retained)
Date: September 17
Show: Rampage
---
Britt Baker (c) vs. Ruby Soho
Title: AEW Women's World
Winner: Britt Baker (retained)
Date: September 22
Show: Dynamite 'Grand Slam'
---
Miro (c) vs. Sammy Guevara
Title: AEW TNT
Winner: Sammy Guevara (title change)
Date: September 29
Show: Dynamite
---
Sammy Guevara (c) vs. Bobby Fish
Title: AEW TNT
Winner: Sammy Guevara (retained)
Date: October 6
Show: Dynamite
---
Lucha Brothers (c) vs. The Acclaimed
Title: AEW World Tag Team
Winner: Lucha Brothers (retained)
Date: October 8
Show: Rampage
---
Ricky Starks (c) vs. Brian Cage
Title: FTW
Winner: Ricky Starks (retained)
Date: October 8
Show: Rampage
---
Lucha Brothers (c) vs. FTR
Title: AAA Tag Team
Winner: FTR (title change)
Date: October 16
Show: Dynamite
---
Sammy Guevara (c) vs. Ethan Page
Title: AEW TNT
Winner: Sammy Guevara (retained)
Date: October 27
Show: Dynamite
---
FTR (c) vs. Aero Star & Samuray Del Sol
Title: AAA Tag Team
Winner: FTR (retained)
Date: November 3
Show: Dynamite
---
Lucha Brothers (c) vs. FTR
Title: AEW World Tag Team
Winner: Lucha Brothers (retained)
Date: November 13
Show: Full Gear
---
Britt Baker (c) vs. Tay Conti
Title: AEW Women's World
Winner: Britt Baker (retained)
Date: November 13
Show: Full Gear
---
Kenny Omega (c) vs. Adam Page
Title: AEW World
Winner: Adam Page (title change)
Date: November 13
Show: Full Gear
---
Sammy Guevara (c) vs. Jay Lethal
Title: AEW TNT
Winner: Sammy Guevara (retained)
Date: November 17
Show: Dynamite
---
Sammy Guevara (c) vs. Tony Nese
Title: AEW TNT
Winner: Sammy Guevara (retained)
Date: December 3
Show: Rampage
---
Lucha Brothers (c) vs. FTR
Title: AEW World Tag Team
Winner: Lucha Brothers (retained)
Date: December 10
Show: Rampage
---
Adam Page (c) vs. Bryan Danielson
Title: AEW World
Winner: Draw (retained)
Date: December 15
Show: Dynamite (Winter Is Coming)
---
Sammy Guevara (c) vs. Cody Rhodes
Title: AEW TNT
Winner: Cody Rhodes (title change)
Date: December 25
Show: Rampage
---
2021 Stats/Breakdown
Total championship matches: 67
Total championship changes (including inaugural champions crowned): 10
Total championship retentions: 57
AEW World Championship matches: 7
AEW World Tag Team Championship matches: 13
AEW TNT Championship matches: 24
AEW Women's World Championship matches: 9
FTW Championship matches: 3
IMPACT World Championship matches: 1
IMPACT World Tag Team Championship matches: 1
IWGP United States Heavyweight Championship matches: 4
AAA World Tag Team Championship matches: 2
NWA Women's World Championship matches: 3
Championship matches on pay-per-view (including Pre-Shows): 15
Championship matches on Dynamite (including special editions): 40
Championship matches on Rampage: 10
Championship matches on Dark: 1
Championship matches on House Shows: 1
---
2020 Stats/Breakdown
Total championship matches: 59
Total championship changes (including inaugural champions crowned): 11
Total championship retentions: 48
AEW World Championship matches: 10
AEW World Tag Team Championship matches: 16
AEW TNT Championship matches: 16
AEW Women's World Championship matches: 9
FTW Championship matches: 2
AAA Mega Championship matches: 1
NWA Women's World Championship matches: 4
Championship matches on pay-per-view (including Pre-Shows): 14
Championship matches on Dynamite (including special editions): 44
Championship matches on Dark: 1