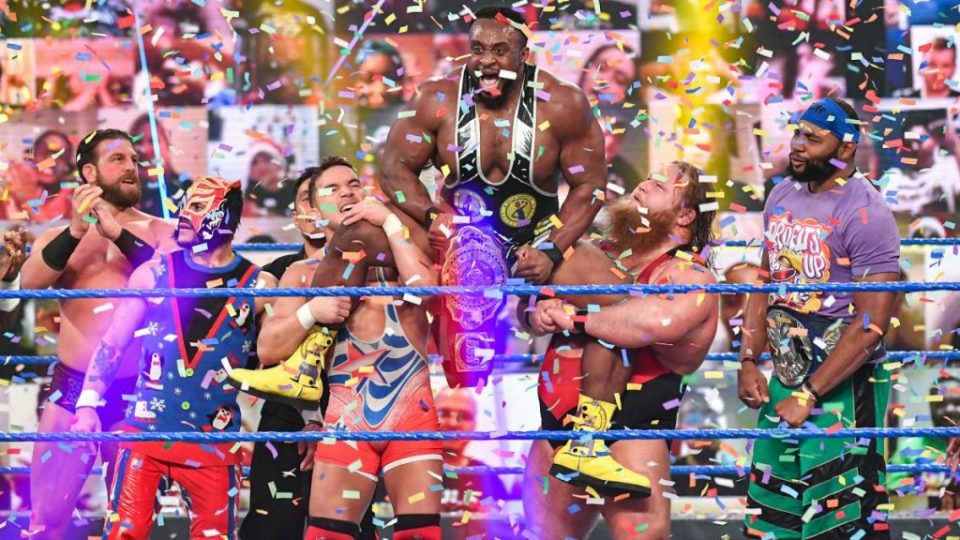 It can sometimes be hard to keep up with who has title gold in WWE nowadays, due to a combination of champions either not being used regularly, titles changing hands all the time, and the product just being hard to follow at times.
Here, we're going to keep track of every WWE title change of 2020. The 24/7 Championship will not be included here, but NXT and NXT UK titles will be.
We also have the same tracker for AEW, which you can check out here.
---
1. January 20
Title: Raw Tag Team
New Champion: Buddy Murphy & Seth Rollins
Defeated: The Viking Raiders (Erik & Ivar)
Reign Number: 1
Where: Raw
Reign: 42 days
---
2. January 22
Title: NXT North American
New Champion: Keith Lee
Defeated: Roderick Strong
Reign Number: 1
Where: NXT
Reign: 182 days
---
3. January 25
Title: NXT Cruiserweight
New Champion: Jordan Devlin
Defeated: Angel Garza (c), Isaiah Scott, Travis Banks
Reign Number: 1
Where: WWE Worlds Collide
Reign: Ongoing
---
4. January 31
Title: Intercontinental
New Champion: Braun Strowman
Defeated: Shinsuke Nakamura
Reign Number: 1
Where: SmackDown
Reign: 36 days
---
5. February 16
Title: NXT Tag Team
New Champion: The Broserweights (Pete Dunne & Matt Riddle)
Defeated: Undisputed ERA (Kyle O'Reilly & Bobby Fish)
Reign Number: 1
Where: NXT TakeOver: Portland
Reign: 87 days
---
6. February 27
Title: SmackDown Tag Team
New Champion: The Miz and John Morrison
Defeated: New Day (Big E & Kofi Kingston)
Reign Number: 1
Where: Super ShowDown
Reign: 50 days
---
7. February 27
Title: Universal
New Champion: Goldberg
Defeated: The Fiend Bray Wyatt
Reign Number: 2
Where: Super ShowDown
Reign: 37 days
---
8. March 2
Title: Raw Tag Team
New Champion: The Street Profits (Montez Ford & Angelo Dawkins)
Defeated: Seth Rollins & Murphy
Reign Number: 1
Where: Raw
Reign: 224 days
---
9. March 8
Title: Intercontinental
New Champion: Sami Zayn
Defeated: Braun Strowman
Reign Number: 1
Where: Elimination Chamber
Reign: 65 days
---
10. April 4
Title: Women's Tag Team
New Champion: Nikki Cross & Alexa Bliss
Defeated: The Kabuki Warriors (Asuka & Kairi Sane)
Reign Number: 2
Where: WrestleMania
Reign: 62 days
---
11. April 4
Title: Universal
New Champion: Braun Strowman
Defeated: Goldberg
Reign Number: 1
Where: WrestleMania
Reign: 141 days
---
12. April 5
Title: NXT Women's
New Champion: Charlotte Flair
Defeated: Rhea Ripley
Reign Number: 2
Where: WrestleMania
Reign: 63 days
---
13. April 5
Title: WWE
New Champion: Drew McIntyre
Defeated: Brock Lesnar
Reign Number: 1
Where: WrestleMania
Reign: 202 days
---
14. April 19
Title: SmackDown Tag Team
New Champion: New Day (Big E, Kofi Kingston & Xavier Woods)
Defeated: The Miz & John Morrison (Big E def. The Miz (c) and Jey Uso in a three-way singles match)
Reign Number: 6
Where: SmackDown
Reign: 92 days
---
15. May 10
Title: Raw Women's
New Champion: Asuka
Defeated: Nia Jax, Shayna Baszler, Lacey Evans, Dana Brooke and Carmella in Money in the Bank as Becky Lynch had to relinquish the title due to being pregnant
Reign Number: 1
Where: Raw
Reign: 78 days
---
16. May 13
Title: Intercontinental
New Champion: Vacant – Sami Zayn was stripped of the title due to not travelling to shows during coronavirus pandemic
Defeated: Sami Zayn
Reign Number: N/A
Where: N/A
Reign: 31 days
---
17. May 13
Title: NXT Tag Team
New Champion: Marcel Barthel & Fabian Aichner
Defeated: Matt Riddle & Timothy Thatcher (Thatcher replaced Pete Dunne who couldn't travel due to coronavirus pandemic)
Reign Number: 1
Where: NXT
Reign: 105 days
---
18. May 25
Title: United States
New Champion: Apollo Crews
Defeated: Andrade
Reign Number: 1
Where: Raw
Reign: 96 days
---
19. June 3
Title: NXT Cruiserweight (interim)
New Champion: El Hijo del Fantasma
Defeated: Drake Maverick (Fantasma beat Maverick in a tournament final to crown an interim champion while Jordan Devlin is unable to travel)
Reign Number: 1
Where: NXT
Reign: Ongoing
---
20. June 5
Title: Women's Tag Team
New Champion: Bayley & Sasha Banks
Defeated: Alexa Bliss & Nikki Cross
Reign Number: 2
Where: SmackDown
Reign: 85 days
---
21. June 7
Title: NXT Women's
New Champion: Io Shirai
Defeated: Charlotte Flair (c), Rhea Ripley
Reign Number: 1
Where: NXT TakeOver: In Your House
Reign: Ongoing
---
22. June 12
Title: Intercontinental
New Champion: AJ Styles
Defeated: Daniel Bryan
Reign Number: 1
Where: SmackDown
Reign: 70 days
---
23. July 8
Title: NXT
New Champion: Keith Lee
Defeated: Adam Cole
Reign Number: 1
Where: NXT Great American Bash Night 2
Reign: 45 days
---
24. July 19
Title: SmackDown Tag Team
New Champion: Cesaro & Shinsuke Nakamura
Defeated: New Day
Reign Number: 1
Where: The Horror Show at Extreme Rules
Reign: 82 days
---
25. July 22
Title: NXT North American
New Champion: Vacant – Keith Lee relinquished the title out of 'goodwill'
Defeated: Keith Lee
Reign Number: N/A
Where: NXT
Reign: 38 days
---
26. July 27
Title: Raw Women's
New Champion: Sasha Banks
Defeated: Asuka
Reign Number: 5
Where: Raw
Reign: 26 days
---
27. August 21
Title: Intercontinental
New Champion: Jeff Hardy
Defeated: AJ Styles
Reign Number: 5
Where: SmackDown
Reign: 36 days
---
28. August 22
Title: NXT North American
New Champion: Damian Priest
Defeated: Bronson Reed, Cameron Grimes, Johnny Gargano, Velveteen Dream (ladder match)
Reign Number: 1
Where: NXT TakeOver XXX
Reign: Ongoing
---
29. August 22
Title: NXT
New Champion: Karrion Kross
Defeated: Keith Lee
Reign Number: 1
Where: NXT TakeOver XXX
Reign: 3 days
---
30. August 23
Title: Raw Women's Championship
New Champion: Asuka
Defeated: Sasha Banks
Reign Number: 2
Where: SummerSlam
Reign: Ongoing
---
31. August 23
Title: Universal
New Champion: "The Fiend" Bray Wyatt
Defeated: Braun Strowman
Reign Number: 2
Where: SummerSlam
Reign: 7 days
---
32. August 26
Title: NXT
New Champion: Vacant – Karrion Kross relinquished the title due to shoulder injury
Defeated: Karrion Kross
Reign Number: N/A
Where: NXT
Reign: N/A
---
33. August 26
Title: NXT Tag Team
New Champion: Breezango
Defeated: Fabian Aichner & Marcel Barthel
Reign Number: 1
Where: NXT
Reign: 56 days
---
34. August 30
Title: United States
New Champion: Bobby Lashley
Defeated: Apollo Crews
Reign Number: 2
Where: Payback
Reign: Ongoing
---
35. August 30
Title: Women's Tag Team
New Champion: Nia Jax & Shayna Baszler
Defeated: Bayley & Sasha Banks
Reign Number: 1
Where: Payback
Reign: 112 days
---
36. August 31
Title: Universal
New Champion: Roman Reigns
Defeated: "The Fiend" Bray Wyatt (c), Braun Strowman
Reign Number: 2
Where: Payback
Reign: Ongoing
---
37. September 8
Title: NXT
New Champion: Finn Balor
Defeated: Adam Cole
Reign Number: 2
Where: NXT
Reign: Ongoing
---
38. September 27
Title: Intercontinental
New Champion: Sami Zayn
Defeated: Jeff Hardy (c), AJ Styles – Ladder match
Reign Number: 2
Where: Clash of Champions
Reign: 89 days
---
39. October 9
Title: SmackDown Tag Team
New Champion: Kofi Kingston & Xavier Woods
Defeated: Cesaro & Shinsuke Nakamura
Reign Number: 7
Where: SmackDown
Reign: 3 days
---
40 & 41. October 12
Title: Raw Tag Team
New Champion: Kofi Kingston & Xavier Woods
Defeated: Street Profits (The two teams swapped championships after being drafted to opposite brands)
Reign Number: 3
Where: Raw
Reign: 69 days
–
Title: SmackDown Tag Team
New Champion: Street Profits
Defeated: Kofi Kingston & Xavier Woods (The two teams swapped championships after being drafted to opposite brands)
Reign Number: 1
Where: Raw
Reign: 88 days
---
42. October 21
Title: NXT Tag Team
New Champion: Danny Burch & Oney Lorcan
Defeated: Fandango & Tyler Breeze
Reign Number: 1
Where: NXT
Reign: Ongoing
---
43. October 25
Title: SmackDown Women's
New Champion: Sasha Banks
Defeated: Bayley
Reign Number: 1
Where: Hell in a Cell
Reign: Ongoing
---
44. October 25
Title: WWE
New Champion: Randy Orton
Defeated: Drew McIntyre
Reign Number: 10
Where: Hell in a Cell
Reign: 22 days
---
45. October 28
Title: NXT North American
New Champion: Johnny Gargano
Defeated: Damian Priest
Reign Number: 2
Where: NXT Halloween Havoc
Reign: 14 days
---
46. November 11
Title: NXT North American
New Champion: Leon Ruff
Defeated: Johnny Gargano
Reign Number: 1
Where: NXT Halloween Havoc
Reign: 25 days
---
47. November 16
Title: WWE
New Champion: Drew McIntyre
Defeated: Randy Orton
Reign Number: 2
Where: Raw
Reign: Ongoing
---
48. December 6
Title: NXT North American
New Champion: Johnny Gargano
Defeated: Leon Ruff (c) vs. Damian Priest
Reign Number: 3
Where: NXT TakeOver: WarGames
Reign: Ongoing
---
49. December 20
Title: Raw Tag Team
New Champion: Cedric Alexander & Shelton Benjamin
Defeated: New Day
Reign Number: 1
Where: WWE TLC
Reign: Ongoing
---
50. December 20
Title: Women's Tag Team
New Champion: Asuka & Charlotte Flair
Defeated: Shayna Baszler & Nia Jax
Reign Number: 1
Where: WWE TLC
Reign: Ongoing
---
51. December 25
Title: Intercontinental
New Champion: Big E
Defeated: Sami Zayn
Reign Number: 2
Where: SmackDown
Reign: Ongoing