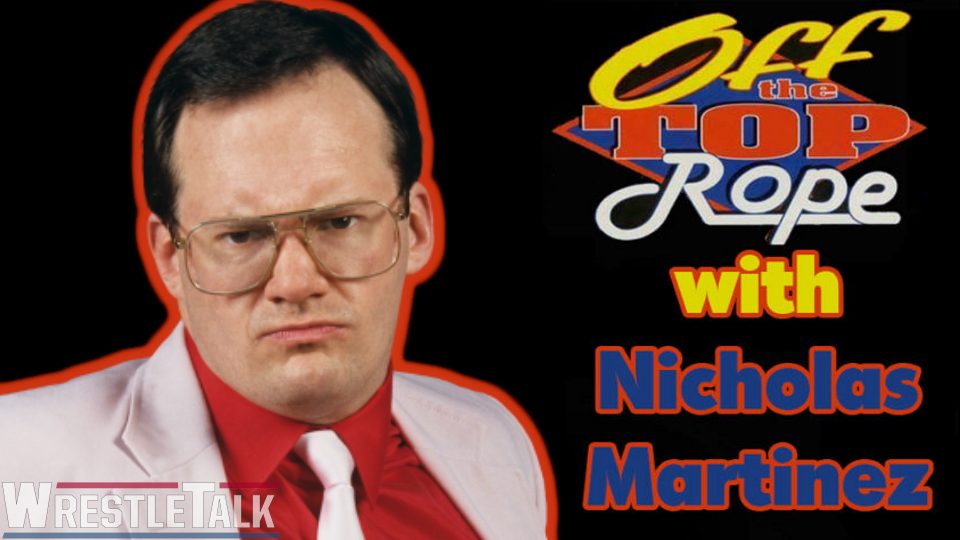 A wise man once said: "Those who do not remember the past are condemned to repeat it."
When it comes to professional wrestling, the adage rings ever more true. There are so many ways in which you can tell a compelling story and there have only been so many promoters, creative talent and executives who have done so successfully within their various wrestling promotions. After all, for every Vince McMahon, Antonio Inoki, and Eric Bischoff, there are also a fair share of Jim Herds, Dixie Carters, and Vince Russos.
And it is through heeding the examples of the past that the next generation of wrestling professionals can truly learn how to successfully navigate this often turbulent industry.
One man has charted his own course over the years, witnessing the rise and fall of major wrestling companies, writing and executing major storylines and watching professional wrestling superstars go from household names to forgotten attractions. And, as we can see from his in-depth commentary for third-party sources and his regularly scheduled podcast, he doesn't shy away from sharing his knowledge with anyone who will listen — for both entertainment and educational purposes.
That man is Jim Cornette.
And while the uttering of his name might induce ulcers in the bellies of some fans, it's hard to deny that — whether you love him or hate him — his massive presence and influence during his almost four decades working in the industry makes him a unique, and perhaps valuable resource to tap into.
Cornette has worn many hats throughout his career — he's been on-screen talent, booker, a color analyst, an owner of a wrestling promotion, and now in his retirement of sorts, an independent commentator on the entire wrestling business. And his efforts in all those roles shaped much of the framework and scope of the modern day professional wrestling business.
Mind you, his opinions can be extreme at times…
(Authors's note: There is very NSFW language in the following videos. Viewer discretion is advised.)
https://youtu.be/tw6CAfEqU9M
Or humorous in others…
https://youtu.be/2p30Scia34s
Or even completely in-step with the consensus of the wrestling world…
https://www.youtube.com/watch?v=5MpGzUzXtRc&ab_channel=JimCornette%27sTalkingSense
Yet, whatever issue, match, historical wrestling moment, or a professional wrestler from the past, present or future Cornette tackles in his podcast, appearances, or interviews, you'll find that his take on the topic is unique, interesting, and downright entertaining. He's old school so to say — not politically correct, not measured and definitely not restrained. And such a voice is refreshing in a time where people are often fearful of sharing honest and transparent opinions on various hot-button topics both within the industry and outside of it as well.
Consider his view on independent wrestling talent and promotions, for example. There are those who take umbrage with his negative opinions on independent star Joey Ryan…
https://youtu.be/djpstHbFLz8
Or his disdain for how smaller promotions like PWG conduct themselves…
https://youtu.be/CGmhDHtfXNo
And how he views former indy darling turned New Japan Pro Wrestling superstar Kenny Omega…
https://youtu.be/x7_qRfhCy5Y
Coming from someone with his background — a stalwart industry professional who's seen the best and worst of this business — such heated and critical viewpoints should not only be expected but desired and encouraged. Fans should always listen to someone like Jim Cornette as he shares his perspective on the current state of the wrestling world for the sheer goal of keeping the industry honest. There is a great need for a dissenting opinion, for it helps to paint a fully realized picture of the landscape and allows those viewing the scene to avoid the same often crippling mistakes made by past promoters or promotions.
https://youtu.be/SWyHaGFL5ds
Consider Jim Cornette to be an independent creative consultant to the wrestling fan and professional. He is someone a company would hire as part of a think tank with the express purpose of determining the future direction of a potentially lucrative property or franchise. There might be those within the think tank who agree with everything planned; but, executives never truly learn anything valuable from that kind of advice because it doesn't present challenges or potential pitfalls to already preconceived theories, proposals or notions.
A man like Cornette helps the wrestling industry see what could go wrong from the eyes of someone who has seen things go wrong more often than not. Remember, this is a man who worked for TNA/Impact Wrestling twice, and both times had to leave because of the massive failures made by both executives and the creative team in place at the company.
https://youtu.be/rVjfAJUXjXo
His viewpoint on wrestling is unique, informed by experience from both his successes and failures, and simply are entertaining to experience. And if you don't agree with his opinion, that's fine — there are no rules saying you have to, nor is this a plea for you do so. However, when it comes to the future of the wrestling business (or the lack thereof, according to Jim) it's invaluable to have Cornette involved in the conversation. Sometimes, the opinions that you don't agree with are the ones that will provide the most constructive and helpful advice when formulating a creative battle plan going forward, especially if the people listening are promoters or executives looking to prevent colossal creative and organizational failures in their companies.
https://youtu.be/ghOR-pQkrBw
After all, as James Madison once said, "A man has a property in his opinions and the free communication of them."
What do you think of Jim Cornette? Leave your thoughts in the comments below or connect with WrestleTalk on Twitter.