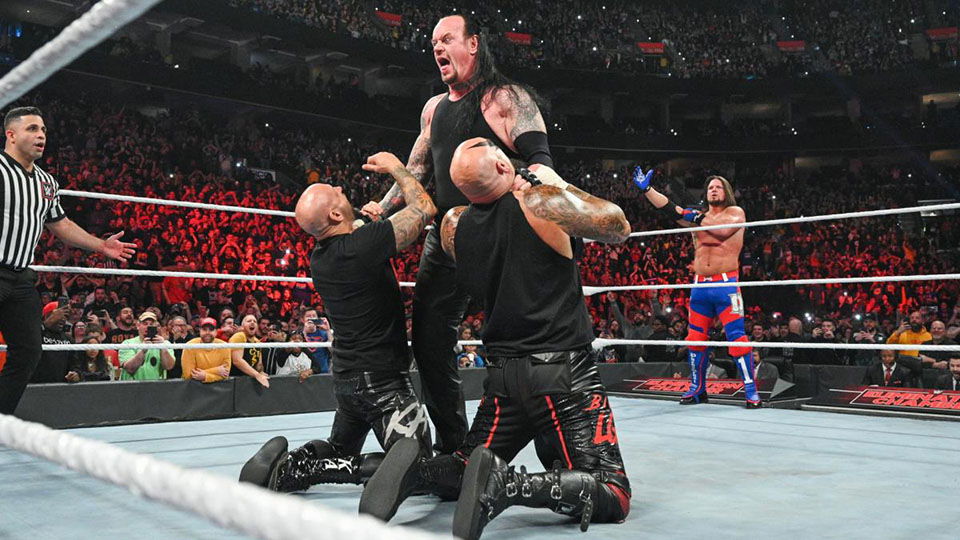 Happening a week after Super ShowDown, Elimination Chamber was fastly booked and had a poor sense of excitement. However, the show actually proved to be quite fun and was definitely better than the disappointment of Super ShowDown.
It still had its flaws, but nothing is perfect and this show actually had more goods than bads.
This featured article is going to take a look at 'Six Biggest Takeaways From WWE Elimination Chamber':
---
1. Shayna Baszler Looked Unstoppable in the Women's Elimination Chamber
The Women's Elimination Chamber – Winner faces Becky Lynch for the Raw Women's Championship at WrestleMania – main evented the show. This brought along criticism and disappointment.
People were unhappy – even leaving the show early – because it was truly the most predictable Chamber in history. Did anyone think anything different from the Queen of Spades winning?
Shayna Baszler was also the first person to eliminate every other person in an Elimination Chamber match.
This again brought hate. People thought this was a total burying of the Raw Women's division. The only top stars being: Lynch, Baszler and Charlotte.
However, there is a positive in this indestructibility. Shayna Baszler looks unstoppable heading into her Championship match with The Man, Becky Lynch. She seems like a threat which has been very rare for Lynch opponents.
Lynch needs challengers which make people believe there is a chance the title will leave her grasp. Yes, we went from this predictable match, but the Raw Women's Championship match in Tampa is certainly unpredictable.
There is even that story about Vince McMahon not being a fan of Baszler. This dominance should defy that, however. Making her unstoppable could have just been done to make Becky feel stronger when she beats her.
---
2. Drew Gulak Has Lots Of Potential
If I told you that Daniel Bryan vs. Drew Gulak was going to be an opening match to a pay per view in 2020, you guys will probably laugh and say "Seriously?"
Drew Gulak hasn't really been on a path in WWE. He won the Cruiserweight Championship, left 205 Live, joined SmackDown and lost to Braun Strowman a few times. He was just a jobber with a name. It was unfortunate because the leader of PowerPoint Presentations has so much talent and potential.
He proved this in his rivalry with Daniel Bryan. It wasn't a deeply booked storyline but was based on Gulak being critical on this new D-Bry after being defeated by The Fiend.
Bryan did show he's "still got it" by winning the match. However, nothing can be taken away from Drew Gulak. He made Bryan look amazing, the match was excellent and Gulak proved he can wrestle with the best of them.
The match was highly technical, with neat holds and different submissions. This was a reminder from some of the best matches of the '90s. Those suplexes were nasty and intense; increased by Bryan's previous neck injuries!
Hopefully, Vince watched this match and decides to further the career of Drew Gulak.
---
3. Otis-Mania Runs Wild On You, Tuckyyyyy
The SmackDown Tag Team Championship Elimination Chamber Match was exciting, entertaining and essential in furthering the blue brand's tag division.
Starting with the Usos and New Day brought back nostalgia to the good days of 2017, in a time were these guys tore the house down every week!
Then Lucha House Party leapt out of their pods. They brought the fast-pace and flipping action to the match; with Lince Dorado hitting a breathtaking Shooting Star Press from the top of the hellish Chamber.
Miz & Morrison ended up retaining at the end of the day. However, this wasn't the most significant factor to come out of this Elimination Chamber. The crowd wasn't really alive for this match until one man entered the fight. That man was Otis.
Heavy Machinery entered 5th and had energy like no other. Tucker jumped around like he was part of Lucha House Party, Otis ran into people like a dangerous bear and the last entrees, Roode & Ziggler watched on in despair.
Otis was awaiting the moment to get his hands on Dolph Ziggler. He stole his girl, Mandy Rose, on Valentine's Day and has being hiding from Blue Collar Solid ever since.
Unfortunately, Otis couldn't catch Ziggler as often as the crowd wanted and focusing on the Show-Off ruined his chances of winning the match as he burst through a pod and to the outside of the Chamber. This allowed Tucker to be pinned for the elimination.
They may have not won, but they were definitely the most over pair in the match. They reminded me of Kofi Kingston's moment last year.
Otis-Mania is about to run wild on Dolph Ziggler as I sense a singles match or a tag match on The Grandest Stage of Them All. It's time for Otis to win his girl!
---
4. Sami Zayn Becomes Intercontinental Champion at Elimination Chamber
In the biggest shocker of the night, Sami Zayn, Shinsuke Nakamura & Cesaro outwitted the Monster Among Men and took his Intercontinental Championship.
It truly seemed like Braun Strowman was going to squash these three guys and move on from this story, however, Zayn had a plan.
Before the match, Zayn said he was needing to do this himself. He had to show the world he can beat Braun Strowman. Then he did the exact opposite.
He tagged out whenever Strowman was on his feet, tagged in whenever Strowman was lying on the mat. He ran, leapt and maneuvered away from the Intercontinental Champion in a fight for survival.
The numbers game got to Braun and brains slain the Monster.
Zayn is also a sly leader. He knew that whoever gained the pin became Champ, so he allowed himself to receive the title.
Furthermore, this has most likely started the path towards a new 'Mania match. Expect Zayn to face Strowman in a singles bout where Braun will squash Sami like a pestering mosquito.
---
5. Aleister Black Involvement in Styles-Taker Feud
Aleister Black suffered a saddening loss to AJ Styles last week after surviving the Gallows & Anderson. Therefore, a rematch was in place for the Elimination Chamber. This time as a No DQ match.
Styles said earlier in the night that the O.C. was going to be ringside, albeit this, they didn't interfere until the end.
Despite the 3-on-1 advantage, Aleister Black hit the black mass on the Phenomenal One with assistance from the Undertaker.
With a win over Styles, some say Aleister Black may get involved in this rivalry. Will he make it a triple threat? Will he be in the corner of the Deadman? Aleister Black has been awaiting a proper feud to sink his teeth into since moving onto the main roster, so it is about time he had a big challenge such as AJ Styles or the Undertaker.
UPDATE: RAW may have shown Black's moved onto a different feud with the Monday Night Messiah. At least he is still gaining something from his win over Styles.
---
6. Excitement Has Been Heightened For WrestleMania 36
Last but not least, WWE succeeded in their intention with the Elimination Chamber event. They have heightened the excitement for their biggest show and storylines have got more intense than before Sunday.
For example, Otis is more over than ever before. Baszler has gone from a chomping maniac to a scary threat for the RAW Women's Championship. Owens & Rollins need to get their hands on each other soon.
WrestleMania 36 is going to be an exciting pay per view and Elimination Chamber has assisted in the build to this Showcase Of The Immortals.
Did you agree with these Takeaways? Let us know on Twitter!