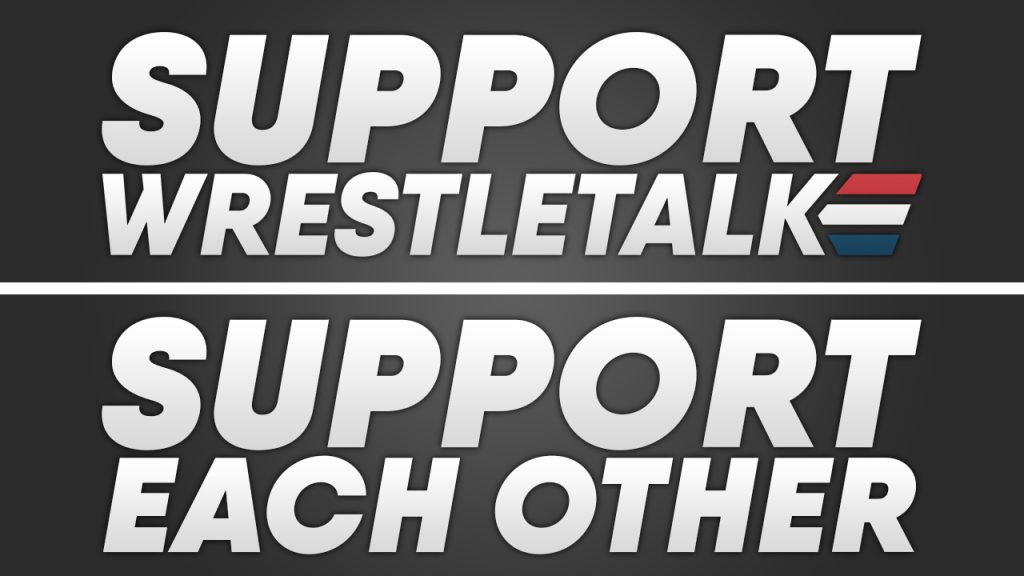 We are sure every single one of us has directly felt the effects of mental health – be it through people we know and love, or from suffering ourselves.
The #SpeakingOut movement has also highlighted the very real and serious issue of sexual, physical and emotional abuse within pro-wrestling, and we fully support anyone affected by this abuse, and commend their bravery.
To help support those affected, all of us in our WrestleTalk family – which doesn't just include WrestleTalk, WrestleTalk.com, Clips, Interviews, and partsFUNknown, but also genuinely every single one of you – are starting our new campaign to Support WrestleTalk, Support Each Other.
With guidance from the UK mental health charity CALM, you can find a list of mental health organisations from all around the world to help support you, no matter where you're based. If you're suffering, please contact one of the below for expert advice and support for whatever worries you may have.
UNITED KINGDOM
UNITED STATES
The Center for Health Care Services 
National Suicide Prevention Lifeline
American Foundation For Suicide Prevention
Body Focused Repetitive Behaviours (such as Hair Pulling)
National Domestic Violence helpline
AUSTRALIA
AUSTRIA
AFRICA
ARGENTINA
AASM – Asociación Argentina de Salud Mental 
Centro De Asistencia Al Suicida
FASAM – Fundación Argentina para la Salud Mental
BELGIUM
Centre de Prévention du Suicide (French)
BRAZIL
BULGARIA
CANADA
Canadian Mental Health Association
CHILE
CROATIA
CZECH REPUBLIC
DENMARK
EGYPT
ESTONIA
FINLAND
FRANCE
GERMANY
German Society for Help with Depression
GREECE
Boro – Online Mental Heath Chat
ICELAND
INDIA
The live Love Laugh Foundation
INDONESIA
IRELAND
ISRAEL
ITALY
JAPAN
KENYA
Africa Mental Health Foundation
KUWAIT
LATVIA
LEBANON
LUXEMBOURG
LITHUANIA
MALAYSIA
NETHERLANDS
NEW ZEALAND
NORWAY
Help Line For Teens and Children
PAKISTAN
PERU
PORTUGAL
POLAND
RUSSIA
ROMANIA
Romanian Alliance of Suicide Prevention
SCOTLAND
SERBIA
SINGAPORE
SLOVAKIA
SLOVENIA
SOUTH AFRICA
SOUTH KOREA
SPAIN
SWEDEN
SWITZERLAND
Swiss Society for Anxiety and Depression 
TURKEY
WORLDWIDE