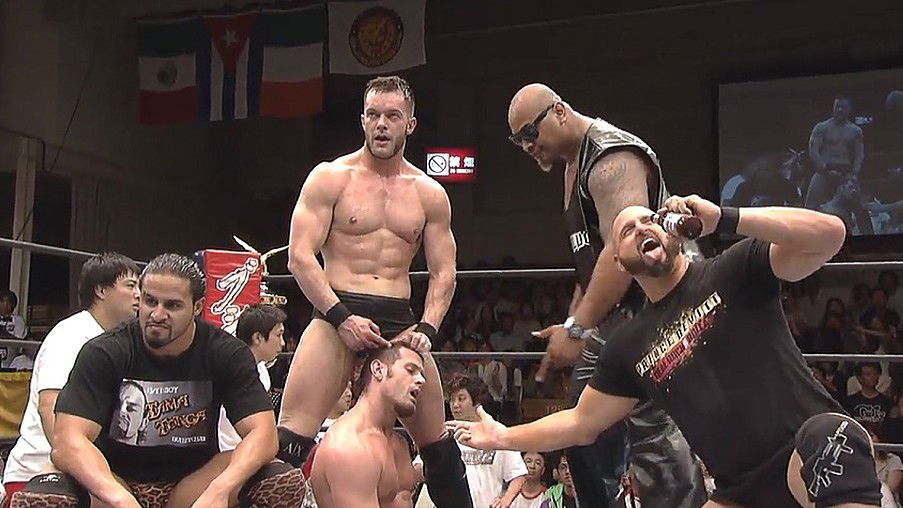 If you could compare professional wrestling to any other form of entertainment, it would be the movies. There's a hero and there's a villain. It's the same in wrestling – you want to support the babyfaces and boo the heels. However, whereas films can survive on heroes alone, wrestling cannot, and New Japan Pro Wrestling is no different.
Heels are integral to the industry and, without them, you're just watching two nice guys fighting for no reason. With heels, there's a reason to fight and a reason to win.
However, these roles are not fixed. Bad guys can become good and good guys can become bad and that happens no matter which promotion you watch. New Japan Pro Wrestling is no exception. The company has some of the best heels in the industry, but many of them weren't always the bad guys we've learnt to hate.
---
10. Takashi Iizuka – 2008
When most New Japan Pro Wrestling fans think of Takashi Iizuka, they'll remember the Suzuki Gun member who was prone to roaming the audiences, biting people and ripping shirts of members of New Japan personnel. However, that was not always the case. At the start of his career, he was a main stable on the mid-card and then, in 2008, started tagging with Hiroyoshi Tenzan as part of Friendship Tag with a series of successive victories.
So, when Iizuka suddenly turned on tag team partner Tenzan with his sleeper hold during an IWGP Tag Team Championship match against Great Bash Heel's (G.B.H) Togi Makabe and Toru Yano, fans were shocked.
Unlike many wrestlers who turned heel, everything about Iizuka changed once he made the move to G.B.H. He shaved off his hair, grew a villain-esque beard and adapted his style to become a lot more hardcore and extreme. It was also the time where he debuted a new, uncontrollable mad man gimmick that many more recent New Japan fans may associate with Iizuka. He would now make his entrances through crowds violently and started utilising his famous iron glove as his main weapon.
This heel turn was a pivotal moment in his career paving way for the final part of Iizuka's wrestling career. G.B.H brought out a new side to Iizuka that made his move to Chaos in 2009, and then Suzuki Gun in 2014, a perfect way to end his wrestling career.
---
9. Kenny Omega – November 2014
Even when Kenny Omega was a full-time member of the DDT (Daily Dramatic Team) Roster, he was well known to New Japan Pro Wrestling fans from 2010. For years, he made appearances in the Jr Heavyweight tournaments and even had a reign as IWGP Jr Heavyweight Tag Champions with Golden Lovers partner Kota Ibushi. He was charismatic, talented and a lot of fun to watch. So, when Omega announced in 2014 that he would be signing a full-time contract, many expected him to be that same person.
However, this was far from the case.
During the November 8th Power Struggle show, the Bullet Club revealed a new addition to their faction. As the masked figure made his way to the ring surrounded by the members in the usual pack mentality, it became a guessing game. However, nobody expected it to be Kenny Omega debuting a new look and being dubbed 'The Cleaner'.
Kenny had made it clear that he had no intention to join the villainous foreigner stable which made this even more shocking. He'd never seen himself as a Gaijin (foreigner) and wanted to wear the Lion Mark with pride. However, with a new attitude, it was the perfect fit for someone with a chip on their shoulder. Soon, the old Kenny was nowhere to be seen and was replaced with a sneaky, cocky and a sudden disregard for the Japanese fans and culture.
It was one of the most dramatic changes during a heel turn and, although the Kenny Omega is now very different from that man, this decision had a major impact on his life and the future of pro-wrestling.
---
8. Zack Sabre Jr. – March 2017
Many fans of the UK British independent scene have known about the Technical Wizard that is Zack Sabre Jr for years. Starting his career at the age of 14, Sabre has won titles across the country and becoming a staple of the British wrestling scene. He then travelled the world, competing in promotions such as Noah, Westside Xtreme Wrestling (wXw) and even a stint in the WWE.
This meant that a lot of people were ecstatic when New Japan Pro Wrestling announced that ZSJ would be making his debut at the 45th-anniversary show. More excitingly, his debut match would be against another technical master Katsuyori Shibata for the Revolution Pro Wrestling British Heavyweight Championship. It was a match that appeased many wrestling traditionalists with a mixture of styles.
However, in the ending moments of the match, when it seemed that Shibata was going to retain his title, Suzuki Gun's leader Minoru Suzuki and member Davey Boy Smith Jr. came out. The duo then proceeded to distract Shibata eventually allowing Suzuki to execute the sleeper hold leading to a Zack Sabre Jr victory. As the match ended and Sabre Jr was handed the title, the rest of the faction made their way to the ring and attacked Shibata. Suzuki then cut a promo welcoming Zack to Suzuki Gun with the official stable photos in the centre of the ring.
Like many entries on this list, there had been no previous evidence that ZSJ's allegiance would ever go to Suzuki Gun. However, in hindsight, it was the right fit for both parties. With his submission-based skills and cocky attitude, he was a perfect addition to Suzuki Gun and has become an integral member of the faction.