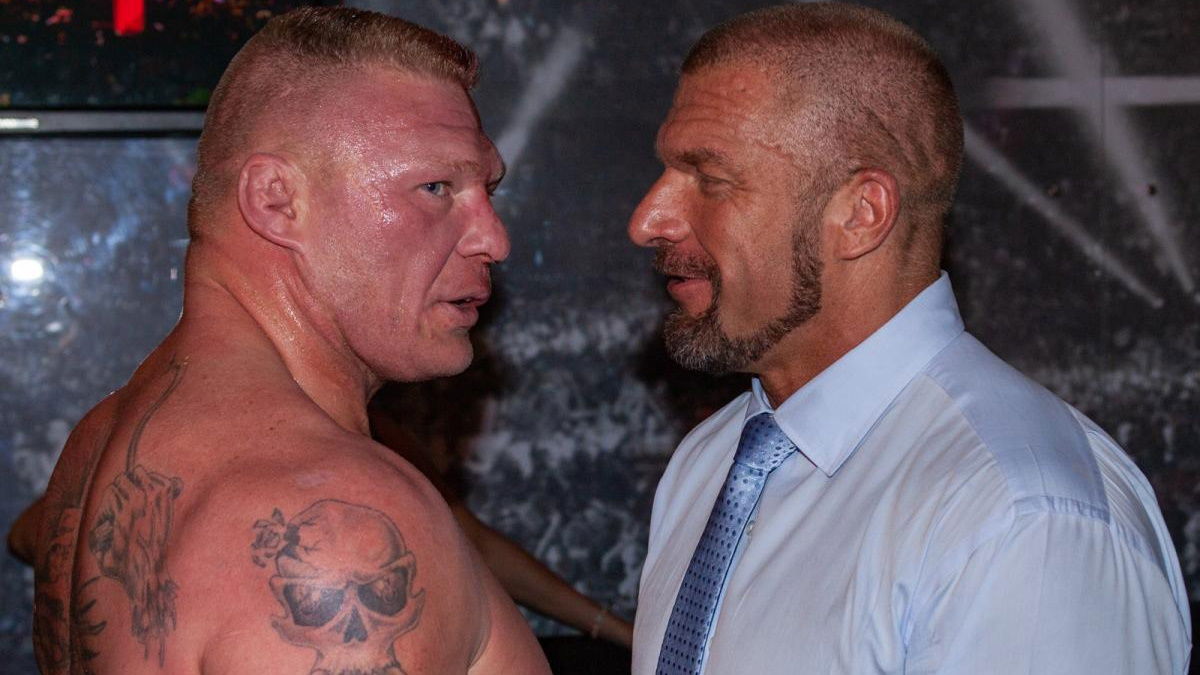 A look at the reported backstage heat on Brock Lesnar and Triple H's reaction, as well as a surprise AEW Title change.
Two of the biggest stories in wrestling right now, so let's take a look at them…
How Does Triple H React To Brock Lesnar Backstage Heat?
Fightful Select reported that an incident involving Brock Lesnar at Royal Rumble led to him having some backstage heat – namely a specific part of the tantrum he had after being eliminated.
Obviously the tantrum itself was planned, but the actual stuff he did during said tantrum was apparently not, including when he chucked some stairs on the announce desk, chucked part of the announce desk in the ring, and chucked a referee over the barricade.
Brock Lesnar chucks things a lot.
It's the latter of those that caused an issue, as the referee in question, Eddie Orengo, potentially suffered a foot injury, and because he had to sell the attack which he didn't know he'd have to do until it happened, he missed out on a big moment as he was supposed to be the one raising Cody Rhodes' hand in victory at the end.
One of the interesting notes in the report though was the mention that backstage heat is a "relative term" when it comes to Lesnar because, you know, he's Brock Lesnar.
Some people backstage were mad, but we don't know if that actually matters – the question is will he be punished and how will Paul Levesque (Triple H) himself react.
At the end of the day, he's Brock Lesnar. If it was some random undercard guy that did that, maybe they wouldn't be fired but probably at least put on the naughty step for a while.
In the Vince days, you could even see someone being publicly buried on TV because of it.
But would Levesque do anything like that? Maybe there'll be some kind of private punishment like a fine, but no, Levesque is too smart to change any of his plans because of something like that. If Levesque's plan was for Lesnar to beat the entire roster in a handicap match at WrestleMania, that'll still happen, regardless of any "heat".
Hopefully that is not Levesque's plan, because that would be bad.
Surprise AEW Title Change On Dynamite
Shifting gears, there was a surprising title change on AEW Dynamite last night as Samoa Joe regained the TNT Championship from Darby Allin just four weeks after Allin had won it from Joe.
Allin's win on January 4 came in his home of Seattle, Washington so that was a nice moment, but Joe winning it back so quick kind of shows that's all it was. It was done for the nice moment.
Which is a massive shame because Allin had been putting on a whole bunch of GREAT matches as champion, which was awesome to see after he was booked so poorly throughout 2022.
It looks like Joe is moving back into a feud with the returning Wardlow, so where does that leave Allin? Is he just going to disappear into the undercard again, because if he does, that's not a good look for Tony Khan.
Allin has a unique charisma that no-one else in wrestling has and is probably the most believable wrestler of his size that can actually compete with those much bigger.
On a roster that has plenty of smaller guys, Allin is the one that stands out. Hopefully he isn't just left on the side of the road from this point forward like he was last year.
Think you're a wrestling mastermind? Well you can prove it by taking quizzes in our brand new quiz section! Don't forget to tweet us your results!