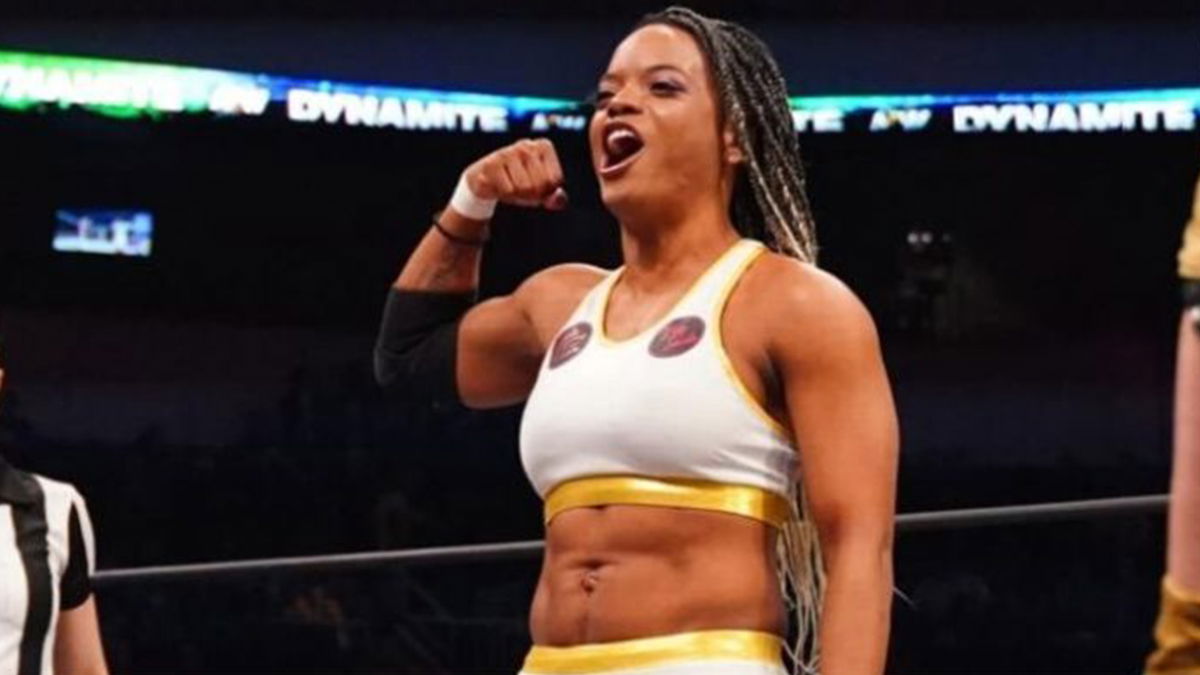 After not being offered a continued contract with AEW, Big Swole spoke out about her experience in the company and was met by an infamous shady Tweet from her former boss Tony Khan.
Now Big Swole has spoken to the Public Enemies Podcast where she reflected on her time with AEW, including her exit interview where she says Khan assured her that her in-ring ability was not the determining factor in whether or not to re-sign her.
About the infamous tweet where Khan noted that Swole wasn't re-signed due to her in-ring ability, Swole said:
"I don't understand that [Tony Khan's remark about her in-ring ability]. I don't understand that. Like it just — I feel like it just wasn't necessary, especially when you're in a position of power and then you know, sometimes, people with power, they do of course make mistakes but however, I feel like you've been in this position of power for a very long time, whether it'd be with different sport organizations and everything so I feel like a certain decorum, you should have it, in a sense and especially, like I said, with the line and I only say this because during our exit interview, I asked him about my skills and about my wrestling.

I literally asked him, I was like, 'Hey –' because I was asking why I wasn't on TV for a year because I wanted to have some closure so that I can move on with my life and I asked him, I was like, 'Hey, what is the reason behind me not being on TV?' I'm like, 'Is it my wrestling skills? Do you think that I am not up to par?' And he blatantly just came out and just praised me and said, 'Oh no, that's definitely not it.' Like he gave me his reason and everything but, my skills were never into question and it sucks because sometimes, you know, you allow people's personal views to seep into yourself when that should be a complete personal issue because you know, what people think about you is none of your concern."
Swole went on to discuss the ensuing controversy around Khan's tweet and the aftermath which saw Twitter users going so far as to make snide comments in reference to her children, she stated that Khan had not directly apologized to her, saying:
"On my end, I feel like we have gone past the point where it was acceptable for you to give me or send out an apology or a retracement or even just, 'Hey, I'm sorry that you're experiencing all this crap.' You know, it's at a point where I'm like, well, I've said my prayers. I've pretty much almost given up on it in a sense because I don't want anything like this having power over me.

Being worried about, 'Oh, is he gonna apologize? Is he gonna apologize?' He can apologize whenever he wants to or even if he feels the need to. I'm just at the point where you have my number, you still follow me on all social medias, you could've been reached out. There's avenues, there's streets, there's boulevards, there's hovels, there's lanes, there's courts [Swole laughed]. There's even forbidden doors because I'm like, you know, people that are close and dear to you are reaching out to me and you know, seeing this so I know you're seeing this."
Big Swole makes her return to the ring at a Black Wrestlers Matter event in St. Louis, Missouri where she will be taking on Tootie Lynn.
Transcription via POSTWrestling
To make sure you stay updated with all the latest wrestling news, add WrestleTalk.com to your Google Discover feed and follow us on Twitter!