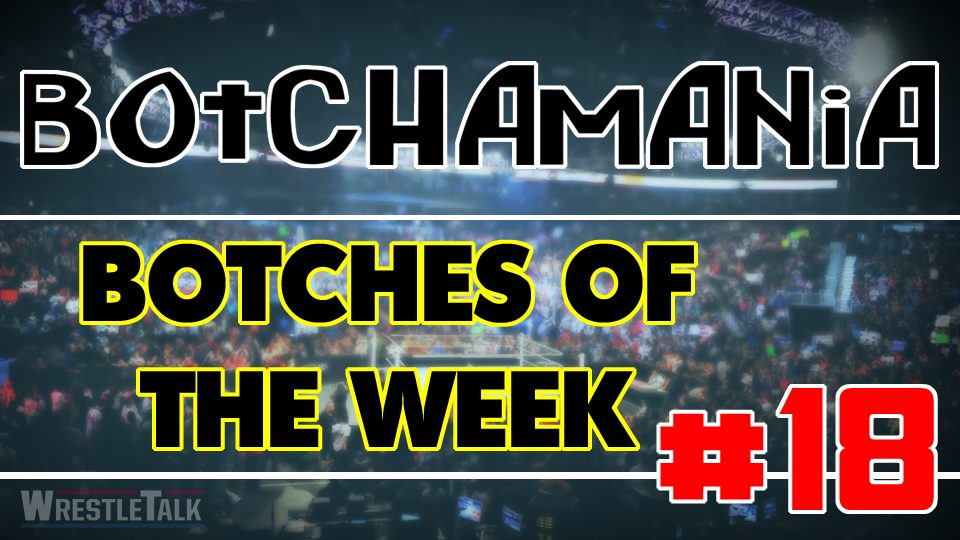 1. Missed It By That Much Lana lost to Vega again but for once it had nothing to do with Aiden English. Maybe if he'd been there he'd have been able to provide some assistance to Vega who was only able to reach the ropes for the Dirty Pin at the last second for the less-than-pretty pin-fall.
2. Blunder Bros. The New Day vs. Bludgeon Bros. match at Summerslam was the equivalent to two clown cars playing chicken with one another. First Harper got bounced on his head, then Rowan bumped into the cameraman, somehow missed catching Xavier and injuring himself in the process before Xavier took a loose Boss Man slam to end the madness. Phew.
3. Charlotte Air Charlotte busted out her ever-impressive twirling moonsault to the outside and managed to connect with Carmella.
Becky Lynch was so shocked by the athleticism that she fell over in amazement.
4. Miztake The differences in styles between Miz and Bryan that kick-started their feud on Talking Smack is still apparent:
When Miz messes up, he makes a bulldog look a bit sloppy. When Bryan messes up, he breaks his spine in half.
5. Smoke Booze Every Day
Some people use Twitter to get through a long Raw session, some people get so carried away with their hatred for Roman Reigns that they end up starting fights with security.
For everyone else, there's GIFs.
The star of #raw tonight was this anti-Roman fan. Before almost getting in a fight and getting kicked out he single handedly hijacked the main event. pic.twitter.com/3R8OgjynyH

— Big B (@BTuckerTorch) August 21, 2018
And Also:
Personally I thought this looked cool but the chair sliding onto Lesnar's face like Paul Goldschmidt on fourth base has made a lot of people smile SO HERE IT IS YAY.
I've been Maffew, don't follow me on Twitter.