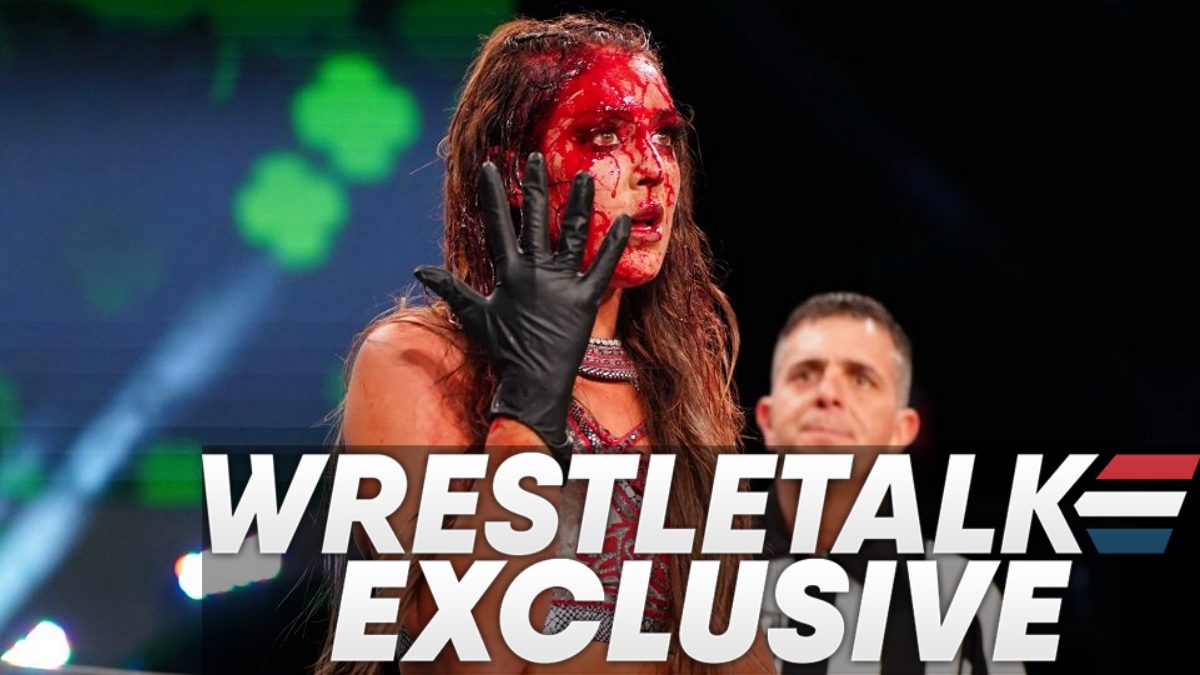 We've already covered several stories from our exclusive interview with Britt Baker, but here are some more quotes from the AEW star.
If you use any of these on your site, please link to this page and also embed the video interview found at the bottom of this page.
You can find the quotes we've already posted as individual stories at this link.
Britt Baker recalls who helped her with Thunder Rosa match:
"There were a lot of people whose brains I was picking all day. Jon Moxley – that's his world right there. I talked to Jericho a lot during the day, I always pick his brain pretty much, he's very involved in me and my character development. I talked to BJ Whitmer. Honestly the crew guys were so wonderful. Chris Dispensa, he's like one of my guardian angels because I'm always about to have a nervous breakdown before I go out, and he's always there to hype me up. But he's one of the main guys helping get everything set up, letting us know we have tables, we have ladders, we have tacks, if you wanna use them, use them. So that was cool. And then Paul Turner, the ref, oh my god, you can't have a match be successful if you don't have a freakin' rockstar kickass referee, and Paul Turner is the GOAT of referees. He's the best. The best of the best."
Britt Baker reflects on Thunder Rosa match and feud:
"That one's always going to be really special to me. There was so much pressure for the match. We knew we had to deliver, we knew the constant criticism of the AEW women's division, we were always under fire, so this was the time to show out. And I'm really, really happy with how everything went, with the reaction from the fans, our co-workers, our bosses, everybody. So I wouldn't change a thing.

"I did watch it live. It's hard to watch because it's always hard to watch my own wrestling matches period, because you're so critical, and this one, this one was like my baby. I put so much of my heart and soul into this that in my head I had the idea that this was a great match, and I didn't wanna watch it and be heartbroken and be like, 'Oh it sucks Britt you should have never watched it'. So I didn't want that to happen but it was everything that I wanted it to be and then some. I'll always nitpick something, but just the raw emotion that you could feel and see from Thunder Rosa and myself was very real. So I was more than happy with it.

"I don't know as far as if (the feud and match) would work with anybody else, but I definitely know we complement each other very well and we need each other, we needed each other for this whole feud for it to work. She's said it and I've said it before too that she's the Batman and I'm the Joker to her Batman and they need each other to survive really, to continue the story going."
Britt Baker recalls backstage praise for Thunder Rosa match:
"As soon as the match was done, one of the first people that came out, I was in the table clutter, and one of the first people that ran out was actually Tony Khan. And he just was screaming, 'That's one of the best things we've ever done, that's one of the best things we've ever done', and I'll never forget that. And then also, Kenny Omega just telling me how proud he was of me, because I'm such a Kenny fan, I always have been, and he's always been kind of like the father of the women's division, so I feel like I'm always trying to impress him or make him happy or make him proud. But there's so many people that went into making the match what it was. Jerry Lynn was our coach and I could go on and on for the rest of this interview about everything Jerry Lynn has done for me, for wrestling today, I mean he's an absolute legend."
What are your thoughts on the above story? Let us know in the comments on Twitter or Facebook.