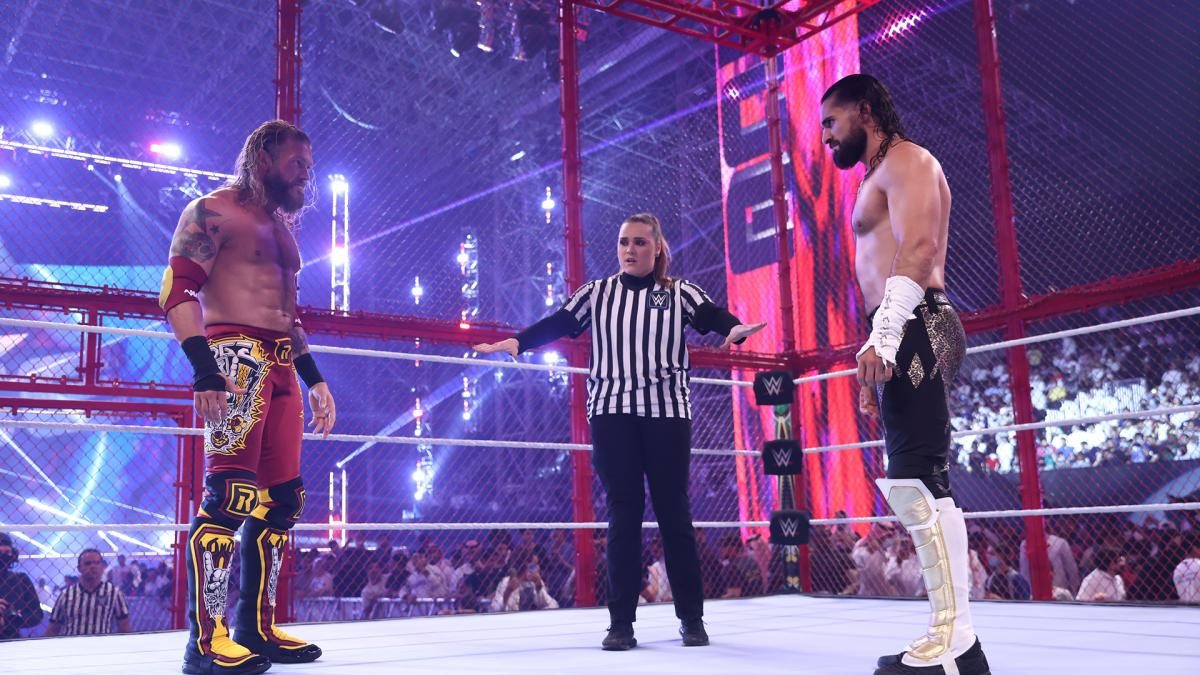 WWE referee Jessika Carr has revealed that Edge asked Vince McMahon to make her the referee for his match at WWE Crown Jewel.
In being the ref for Edge vs Seth Rollins a week ago today, Carr became the first female WWE official to referee a match in Saudi Arabia, as well as the first to referee a Hell in a Cell match.
Speaking on Table Talk, she explained that she got an opportunity to referee Edge vs Rollins at SummerSlam due to Charles Robinson's absence, and then their Madison Square Garden rematch that followed, after which Edge specifically asked Vince McMahon if she could be the official in Saudi.
Jessika Carr said:
"It was something that happened progressively, starting at SummerSlam, to be honest with you. At this point in his career, Edge likes working with people that he's comfortable with in the ring as far as referees are concerned and that person for the longest time, one of them, has always been Charles Robinson. At SummerSlam, Charles wasn't planned to be there so it was a discussion between him and Edge of, 'Hey, do you want to give Jessika a chance? I think Jessika will be a good option'.

"Edge was all about giving me an opportunity to learn, to be in the ring with someone that has gone through all the things he has in his career. That was that first step of doing it at SummerSlam and I stepped up to the plate, obviously, of doing all the things and got a lot of kudos from that and that was amazing.

"The second chapter of that was Madison Square Garden, and that was very shocking because Charles was there and I don't know whose decision that was or what the story was with that, but to then be at Madison Square Garden and have Edge vs Seth was a tip of the hat. I stepped up to the plate at Madison Square Garden and it was literally standing in Gorilla with Edge and Edge asking Vince, 'Can we have her in Saudi Arabia'. Vince was like, 'Yeah, I think we can make that happen'.

"It just paralleled after that and things had to be put in place as far as communicating with who they had to communicate with in Saudi and it has to go through extra steps and layers to make sure everyone is okay with it and the week before I started hearing, 'You have the cage in Saudi'."
After the show, Edge posted a heartfelt message on Instagram, writing:
I'm in the midst of my 22hr travel back home after #crownjewel and Hell in a Cell. More on that in a future post. But I wanted to take a moment to acknowledge something that may have gone unnoticed to some. Last night @wweladyrefjess refereed our match. Many firsts in doing that. The first woman to referee in Saudi Arabia. MASSIVE. Actually trying to move the needle in a positive direction. The first woman to referee Hell in a Cell. MASSIVE. She was in there for every part of this insane trilogy that I'm so proud of. Summerslam. Madison Square Garden. Crown Jewel. She's knocking down barriers and I couldn't be more proud of her. And she got these gigs not because she's a woman. It's because she kicks so much ass at her job. Many more milestones to come. When my daughters watch these matches someday I can't wait to explain how important you were to all of this. Kudos Jess. Keep making us smile.
Quotes via Fightful
To make sure you stay updated with all the latest wrestling news, add WrestleTalk.com to your Google Discover feed and follow us on Twitter!