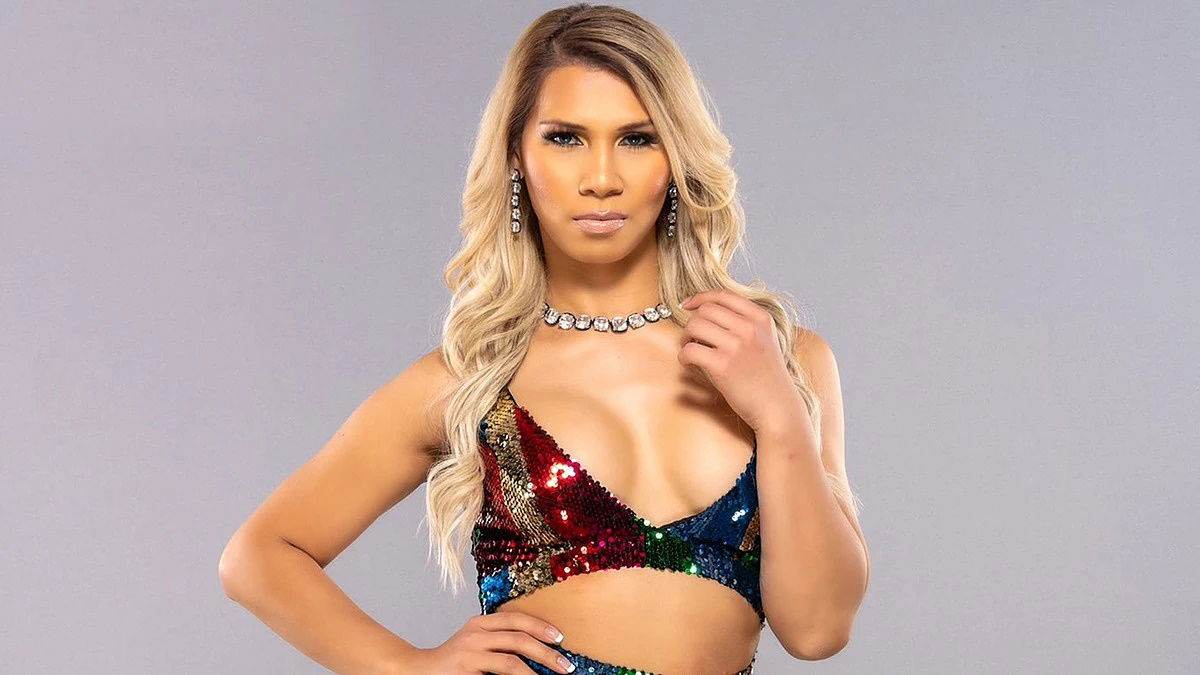 Gisele Shaw has discussed how the past year has been since coming out as transgender.
During Pride month in 2022, IMPACT Wrestling star Gisele Shaw came out as transgender. She has been one of the fastest rising stars in the promotion and one year later, she feels accepted as herself.
Speaking with Denise Salcedo, Shaw reflected on the past year since coming out and how she's happy to have taken that step in her life. She said:
"So much has happened, but I feel like with the year that's passed by, I have had time to really accept myself and be my true authentic self, and just live as happily as I can."
"I've grown, you know, not only personally but also professionally. It's been amazing. It's a new chapter in my life that I didn't know what was going to happen, and I'm just here for the ride and I'm just happy that I took that leap."
On moving past anxiety and experiencing life the way it was meant to be, Gisele said:
"So I did say my in my Diary that before I told my story, and it was such a struggle, you know, waking up every single day thinking like – I would go about my regular day, and then thinking, 'Oh, I can't really enjoy being in a restaurant with people', because I'm constantly thinking, 'Do these people know?'"
"Because they're looking and I'm thinking, 'Oh my God, like, what's going on?' It just gives me such anxiety and even meeting new people. It really stressed me out, too. It's just mentally draining. Then telling my story, it was just such a relief."
"It was like, 'Okay, cool. I can breathe. It doesn't matter what people think now, and I can enjoy my life freely.' Like I said, it's just very liberating to experience life fully the way it's supposed to be. It's been such an amazing journey and just amazing in general that I get to just be me." 
On feeling fortunate to be part of the IMPACT Wrestling family and the positive reaction from the locker room, Shaw said:
"So my parents, they had a hard time accepting it at the beginning. But now they're just so supportive and I love it. And my sisters, they've always been supportive since day one. I'm really fortunate to have that with them."
"At work, I mean, everyone, management, front office, talent, you name it, everyone is just super, super supportive. I'm just fortunate to have that because I don't want to be going to work and be like, 'Oh my God, here I go again. I have to go to work, and now I have to experience bigotry and discrimination and all that stuff from people.'"
"Your workplace is kind of like your second family. For them to just be like, 'Oh my gosh, we're so happy for you, and we just love you,' and just to be accepting, it's been really, really great. And the fans, oh my gosh!"
"So I've always thought, you know, there's always going to be that one person here or there that's gonna say something negative about it, but it's like if you say something negative about me, they're there and they're just like this army that's ready to defend me at all costs."
"I appreciate them so much, and I love them. I'm so fortunate to have that from the fans, from my family, and from my co-workers because not everyone has that support. Hopefully I'm able to support those people that unfortunately don't have that in their lives." 
Gisele Shaw is scheduled to challenge Deonna Purrazzo for the IMPACT Knockouts World Championship at IMPACT Down Under on July 1.
Transcription via Fightful
If you want to stay fully updated on all the latest wrestling news, click the red bell in the bottom right of your screen to receive notifications from WrestleTalk.com straight to your device!