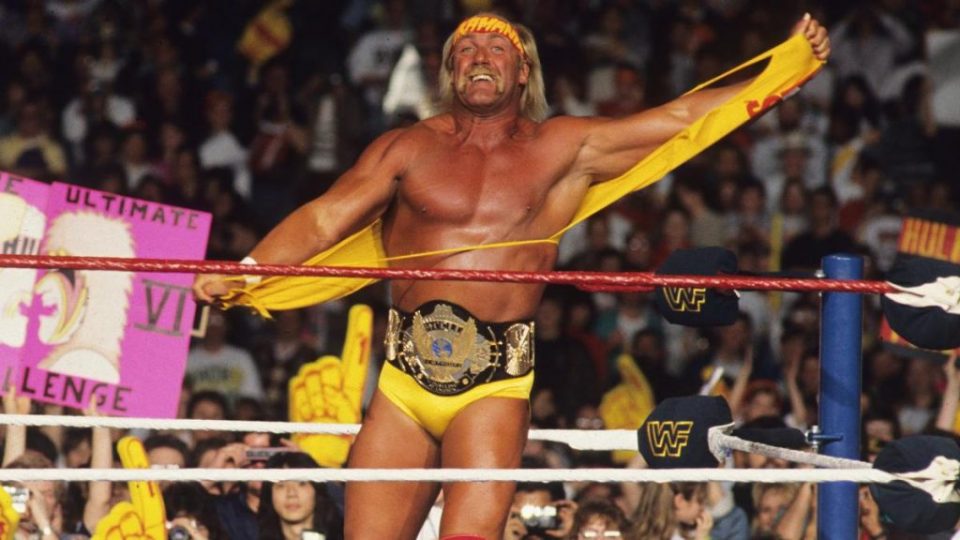 WWE Hall of Famers Hulk Hogan and Stone Cold Steve Austin were reunited last month at the Raw Reunion.
The pair also recently sat down on Stone Cold's podcast to discuss a variety of topics, including why Hulk Hogan joined WWE (then WWF), and what the original plans were for the first WrestleMania.
Speaking to Austin, Hogan revealed how his move to the WWF came to be:
"I was doing really great in Minnesota, it was probably the most fun time of my life, I loved the Twin Cities. I was single, and I lived behind the old Met Center where the stewardesses stayed. When I came in, I thought I was going to be a heel. But the Crusher had just left, and he was their Dusty Rhodes, so I just slid into that role. I was there for three years, doing great, making a lot of money."

"We were at the Rosemont Horizon (Chicago) and it was Hulk Hogan, Greg Gange, and Jim Brunzel in a six-man tag, of course, the place was sold out, against Sheik Adnan-El-Kassy, Sheik Patera and Sheik Blackwell, they were all under the garb. When I got ready to go to the ring Steve Taylor (WWF photographer) saw me, and he says take this card and it said call Vince. I said I'm not calling Vince (Sr.), he said I would never work there again. He took a picture, with the little white headband on, that became the cover photo for the first-ever WWF Magazine. I told him I'm not calling Vince and he said, 'no, Vince Jr.!' One thing led to another, when I get home, I call him and he said he was getting ready to take over for his dad and he wanted to talk with me."
Hogan would go on to explain how he was the first to receive a guaranteed contract from McMahon:
"I didn't want to be seen at the airport with him, so I sent my wife Linda to pick him up. He came to my place, we had a few drinks and at about four or five in the morning we shook hands. He said he wanted me to be the face of his company, to go into other territories and cross lines that had never been crossed.

"I have heard a lot of guys say, 'If it wasn't for us, there would be no guaranteed contracts,' Well, in 1983, I had a guaranteed contract," Hogan revealed. "When I left Verne for Vince, I had a ten-year deal for a guaranteed minimum amount of money, I had the first guaranteed contract. What lured me back was, I'm a mark, I love Madison Square Garden and Vince says he is going to put the WWF title on me? I had just figured this babyface thing out for three years. I knew what it was like to get reactions from the crowd. I knew if things went well, that I could get over."
In the main event of WrestleMania I in 1985, Hulk Hogan teamed with Mr. T to take on the team of Paul Orndorff and Roddy Piper.
However, Hogan revealed to Austin that instead of Orndorff, "Dr. D" David Schultz was slated to appear in the marquee tag match:
"It wasn't a big corporate thing, it was this personal thing, It was like if you, I and our friends talk about starting a new company. When I first got up there it was just Vince and me, Patterson came about a year and a half later. When he started talking about the WrestleMania thing, I was only up there for a year. He started talking about leveraging things, putting up the farm, putting up his house, he pretty much rolled the dice on this WrestleMania thing.

"The match, which was really crazy between me, Mr. T and Piper and Orndorff was Dr. D (David Schultz) idea. All the sudden we started building it up as Piper and Dr. D vs. me and (Mr.) T. David decided to do his own angle. At the Forum, I had T sitting ringside, because he was a friend of mine. And out of nowhere, Dr. D rolled out of the ring and b—h slapped him, a shoot slap. Chief Strongbow had him arrested. Vince was pissed, that was pretty much the bullet that did him in."
Thanks to WrestlingInc. for the transcription.