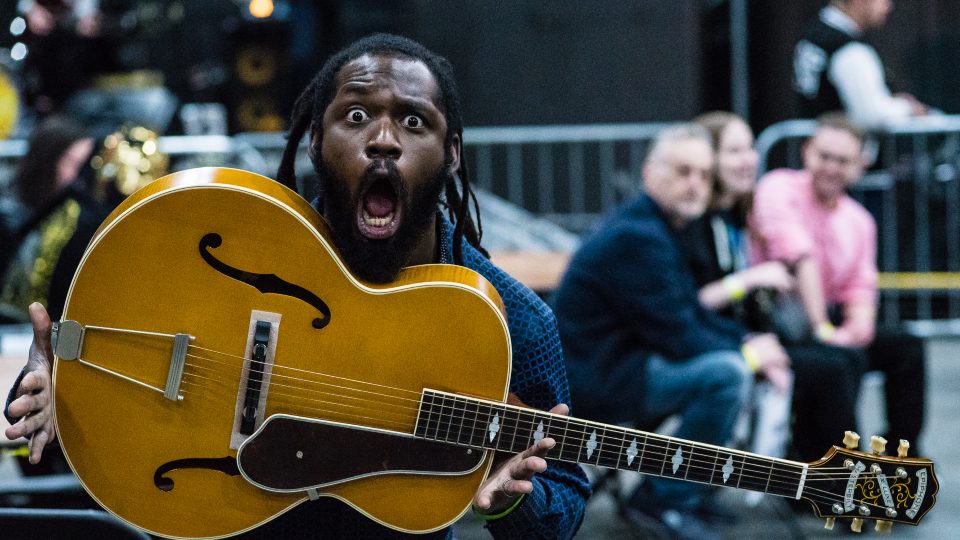 This past weekend was Wrestling Media Con in Manchester, England, and WrestleTalk's own Jamal Niaz sat down with former WWE Cruiserweight Champion and current IMPACT Wrestling star, Rich Swann at the event.
Swann was asked a variety of questions, ranging from his future in wrestling, IMPACT and its rise in popularity, to dream opponents.
When asked about Wrestling Media Con as a whole, Swann spoke about the positives of being able to integrate with fans.
"It's a very great experience, I mean, I wish when I was younger there were lots of media cons going on like this. I can't remember a time in wrestling where there were cons where guys from the past that would have the pictures you could sign, and take pictures with them and all that. This is definitely a great experience to have, especially if you're not a wrestler, you know what I'm saying? And if you've been a wrestling fan for a long time, like, especially here in the UK, come on out here."
I don't think so!!!!! https://t.co/IctSXZpfup

— Rich Swann (@GottaGetSwann) September 4, 2018
He went on to talk about joining IMPACT Wrestling and his views on the X-Division in the company.
"I found the X-Division exactly what I expected it to be, very fast, very furious competition. IMPACT Wrestling, it's been on the rise, people have been buzzing about IMPACT Wrestling, all throughout social media. Since I've been there, I've been given nothing but great opportunity after opportunity and I've been doing nothing but seizing that opportunity. IMPACT Wrestling, it's got great guys like Fenix, Pentagon, Sami [Callihan], Brian Cage, it's got all the guys you need for the perfect ingredient for the perfect wrestling show."
Speaking of those other wrestlers, Swann was then asked about how watching other wrestlers affects him, and whether it pushes him to work harder.
"When you see things like that, the Mexican Death Match, or when you see that international 4-way where Petey [Williams] took my spot, and it was Ishimori and Morrison and Fenix, oh my gosh. When you've got stuff like [Matt] Sydal and Brian Cage bringing the house down, especially because it's on TV and everybody can see it, it makes you want to go out there and make everybody want to watch you. It's so many people that are so good, you can't hate on them, there's no "oh I do that move", no no no, people are going out there and they're killing it, and if you belong there, you better kill it too."
The interview continued, talking about how wrestlers such as Swann like to watch other wrestling while they're not in the ring.
"I was off of Slammiversary, and I was given the option to stay at home, or – I had the concussion obviously and I couldn't wrestle – I was like, man, forget that, I'm coming to the show. Because not only am I going to get to see some amazing wrestling, I'm going to learn something as well, you never stop learning as a professional wrestler."
About to do battle with @MrGMSI_BCage @ReyFenixMx and @RealJeffJarrett for the MEGA CHAMPIONSHIP at @luchalibreaaa Triple Mania!!!#MACHINE #GYSI#RISEOFTHEFENIX!#SLAPNUTS#HOF#CANYOUHANDLETHIS?

— Rich Swann (@GottaGetSwann) August 24, 2018
When talking about future opponents, Swann mentioned one name in particular that he is yet to face in the X-Division.
"Matt Sydal is a guy I've never wrestled with and I'm looking forward to, because it looks like we're going to be heading in to something here now,  because he likes to test the waters, so I'm looking forward to getting in the ring with Matt Sydal. He's always been one of my favourites, and one of my favourites to study, and to get in the ring with him is going to be a dream come true."
Rich was then asked about his future, and whether he'd want to branch out to Japan at some point.
"I'd love to come to New Japan, obviously they're stacked full of talent, you know what I mean? But if the opportunity ever arises, I would definitely love to go to New Japan for sure."
You can watch the full interview with Rich Swann at the top of this article.
If you use any portion of this transcription, credit WrestleTalk with a link to this page.
Do you think Swann will become the X-Division champion by the end of the year? Let us know in the comments, on Twitter or on Discord today!