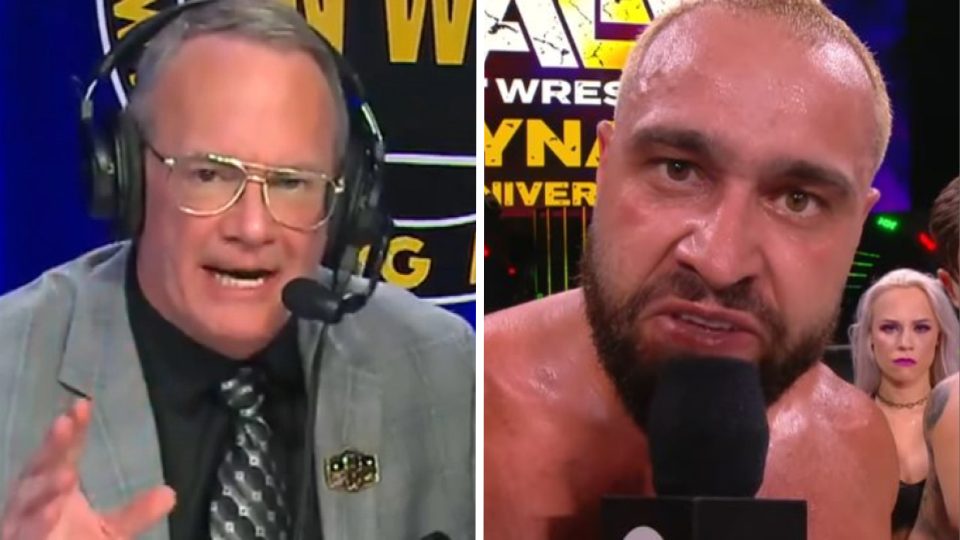 Jim Cornette has reacted to Miro's tweets, where he once again insulted the AEW star after his Penelope Ford comments.
As recently reported, Miro and Kip Sabian have blasted Jim Cornette on Twitter after his offensive description of Penelope Ford on his podcast. Cornette has now replied, noting that he's not done discussing the AEW competitors.
Retweeting a post quoting Miro's earlier tweets, Cornette insulted Miro some more, before revealing that he plans to talk more on this matter on his podcast.
Telling fans to wait until Tuesday, Cornette tweeted:
"Bluto, somebody that's known me for awhile better sit down & tell you why you're making a DRASTIC error trying to joust with me before I make you wish you'd never TRIED to learn English. You're a toothless lamb about to p**s off a wolf & I just want you to be aware of your peril.

"Aww, f**k it. This'll be too good to pass up. Somebody tell noted video game nerd and Popeye villain wannabe @ToBeMiro that I'm not gonna waste THIS tonguelashing in pieces on Twitter, it'll come this Tuesday on the Drive-Thru podcast–and it will be glorious. Don't tell Penelope"
Cornette would later compare Miro to Ryback and diss AEW as a promotion, tweeting:
"No, he's not even THAT talented. Just a Great Value brand Ryback on the generic brand show."
Miro and Cornette's recent twitter feud began after Cornette referred to Penelope Ford as "the sl**ty girlfriend". Kip Sabian (Ford's husband) also responded to this remark, pointing out to fans that this wasn't the first occassion that Cornette had insulted Ford.
Neither Miro or Sabian have responded to Cornette's latest comments.
What are your thoughts on the above story? Let us know in the comments on Twitter or Facebook.