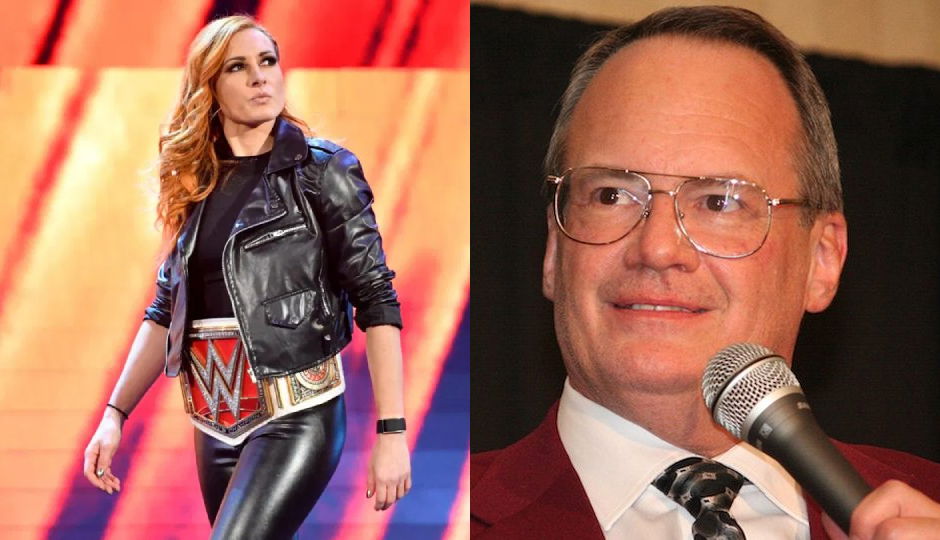 Last week on Monday Night Raw, Becky Lynch vacated the WWE Raw Women's Championship after announcing that she and Seth Rollins are expecting their first child together. The segment was one of the most real and emotional in recent WWE history.
The entirety of the wrestling community online has been very supportive of Becky and Seth and their decision to start a family. However, the ever-outspoken Jim Cornette has unsurprisingly taken issue with Lynch's decision to step away from wrestling to start a family.
Speaking on his podcast, the former NWA commentator and WWE manager revealed his true opinions on Lynch's pregnancy, and stated that she made the wrong call by giving up her top stop in the company in favour of starting a family:
"You can't always be on top of the wrestling business in a $1 million a year spot or more, but you can [have a baby] — what is she? Can she be 30? [Lynch is 33] Well, still she's got many more years before the f*cking Easy Bake Oven gets shut off. She can have all those problems like a descended stomach and stretch marks and hemorrhoids and hormones problems and mood swings and all those other joys of motherhood later on WHEN SHE AIN'T MAKING A MILLION DOLLARS A YEAR!!!

"She's got plenty of time left. What would you do if your wife came home and said instead of making a million dollars next year I'm gonna basically just be a raging bitch for the next nine months and then give you more sh*t to worry about around the house?!"
Cornette has implied that WWE won't be paying Lynch her usual salary of $1,000,000 per-year while she is on maternity leave. However, several top wrestling journalists including Sean Ross Sapp of Fightful and Dave Meltzer of the Wrestling Observer are reporting that Lynch will continue to be paid.
This is not the only time this week that Jim Cornette has said something incredibly controversial about a member of WWE's women's division. This weekend, Dana Brooke responded to incredibly nasty comments made by Jim Cornette about her appearance.
Interestingly, Cornette's sentiment and believes are very similar to what Shayna Baszler said during her promo on Raw. Before her match with Natalya next week, Shayna said "how stupid do you have to be to get knocked up when you're the champ" when asked about Lynch's pregnancy announcement.