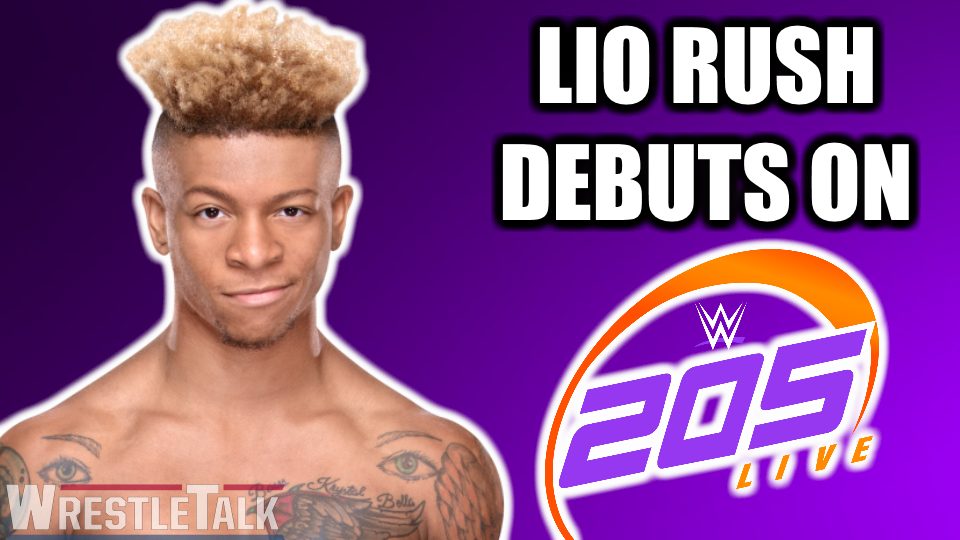 Last night's episode of 205 Live saw the much-anticipated debut of Lio Rush. The 'Man of the Hour' had been hyped in top quality promo packages for weeks and didn't disappoint. Although Rush joined the main roster as many do by facing a jobber, he did it with style and quickly showcased his talents… literally. His last name isn't "Rush" for nothing.
Before the match began, Nigel McGuinness called on commentary:
"He [Rush] doesn't actually do a lot of high-flying but he moves so fast, it looks like he does"
This was no joke as 'MOTH' repeatedly side-stepped his opponent and bounced around the ring seemingly ignoring the laws of physics. This was all made even better by Rush's entrance. I'm still not certain whether it was a botch or a work.
The newest member of the purple roster wandered down to the ring with swagger. He took his time and was covered in gold jewelry. Items which he needed to rid himself of before the match of course. Rush then proceeded to slowly take them off piece by piece, getting stuck on his bracelet. This riled up the crowd and his opponent but Rush – if it was a mistake – played it off very cool and continued to make us wait.
When the match finally got underway, it was like someone sat on the remote, hitting the fast-forward button. Every strike was followed up with another or a dash of flair. Rush soon landed a huge top-rope splash for the win and that was that.
Following the bout, the 'Man of the Hour' cut a promo with pure confidence like it was nothing. He called out the locker room for not being able to do what he can do with such style and it's hard not to agree. Current WWE Cruiserweight Champion Cedric Alexander comes close but I'm not sure even he could move that fast.
It will be interesting to see where Rush falls in line to 205 Live's throne. His talent and clear skill with a microphone in hand could see him to the top. It is still unclear, however, if the bridges he previously burned have been rebuilt. For his sake, and ours, I hope that any prior heat has been extinguished so that Rush can be the best he can be within a brand on the verge of greatness.
Do you want to see Lio Rush on top? Or does he still have some making up to do? Let us know in the comments below or on Twitter here. You can also join us on Discord to chat with Oli, Luke, the magazine team, the website writers and each other here!