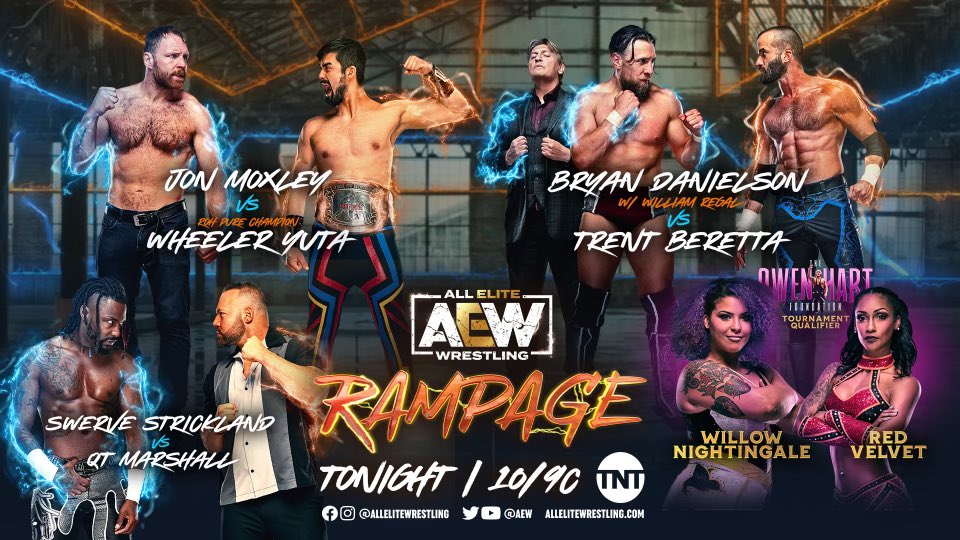 AEW Rampage is the fastest hour of wrestling television each and every week. Tonight should not be any different. WrestleTalk will have it all covered.
Tonight's show features:
Bryan Danielson vs. Trent Beretta
Jon Moxley vs. Wheeler Yuta
Swerve Strickland vs. QT Marshall
Willow Nightingale vs. Red Velvet
Moxley vs. Yuta
Wheeler Yuta gets us started very quickly by diving onto Moxley before the bell even rings. He isn't able to take much advantage. It isn't long before Moxley is unleashing his brand of violence on Yuta. Yuta is just getting beat up. He fights back, but it doesn't do a lot of damage.
Moxley pulled Yuta over to the steel steps. Moxley places him headfirst on the steps and gives him a curb stomp to the back of the head. Yuta is busted open and bleeding badly. He's got the crimson mask.
If Yuta bladed, then he went a little too deep. If he was busted open the hard way, then ouch. Yuta is covered in blood. Not just his head, but his whole upper body. Yuta climbs to the top rope and hits a massive crossbody that drives Moxley through a table on the outside.
I'm not sure what caused AEW to decide to push Yuta to the moon, but they appear to be going all in on him. He's making them look very smart. He doesn't feel out of place wrestling these guys. Yuta does the Danielson kick your head in stomps. He follows up with a huge splash. Then he locks in the crossface. Moxley looks in trouble.
He breaks it up. Moxley hits the King Kong Lariat. I just can't get over how nasty Yuta looks. He's just as bad as Dustin Rhodes in his Cody match. They go fighting spirit until Moxley bites his bloody face. Yuta makes one mistake and boom, Paradigm Shift. That's it. NO!!! Yuta kicks out.
Moxley locks in the Bulldog Choke. Yuta won't tap. He gets out or Moxley let go. Moxley drills him with knees to the head. Moxley goes for a big kick, but Yuta turns it into a roll up. Yuta locks in his own Bulldog choke. Moxley gest out, but Yuta locks in the sleeper. Moxley gets out and he does the repeating elbow. Moxley hits the Regal knee. Now another Paradigm Shift. HE KICKS OUT AGAIN!!!.
Moxley eventually locks in the Rear Naked Choke. He puts him out. Holy Crap!!! Moxley and Danielson put this kid over in his losses. Regal and Danielson come down to the ring. Regal looks like he's going to attack. Yuta gets up and says bring it on.
The crowd chants shake his hand. Regal puts the hand out. The two shake hands. That means he has Regal's respect, but will he be allowed to join the club.
That might be the best or most fun match on Rampage. I can't think of one I liked better. That was a great little show.
.@WheelerYuta giving it his absolute all in this main event against @JonMoxley! #AEWRampage is on @tntdrama right now! pic.twitter.com/UHPpuY8wXE

— All Elite Wrestling (@AEW) April 9, 2022
The Owen
Willow Nightingale is battling Red Velvet. This is the classic power vs. quickness story. Willow had a great showing against ROH Champion Mercedes Martinez. Wait…They just announced ROH TV Champ Minoru Suzuki will be wrestling Samoa Joe on Dynamite. That's the story in this one. Wow. That will be fun.
This tournament should help build the women's division. However, it also is showing the current lack of depth. Red Velvet is the veteran in this one. AEW seems to want to push Red Velvet. But, Nightingale seems like she's going to win this one. Willow hits a massive cannonball into the corner. In the end, though, the veteran overcomes the odds. She hits the spinning kick for the win.
That match was showcasing Willow Nightingale. Backstage, Tony Nese is upset that he doesn't get the respect he deserves. Smart Mark Sterling walks up and offers his services.
Next, it's TIME for the main event. Wheeler Yuta and Moxley get the Mark Henry chat 'em up. Yuta cuts a promo. I don't know that I've heard him really talk this much. He does pretty well. However, Moxley reminds us he's better. Moxley says it's not his job to show anyone respect. It's his job to rip his guts out. Okay. Nice.
Huge Cannonball by @willowwrestles! #AEWRampage is on @tntdrama right now! pic.twitter.com/0HmZnMEULg

— All Elite Wrestling (@AEW) April 9, 2022
Swerve vs. QT
QT is Jericho's Sports Entertainer of the Week. He's facing Swerve Strickland. A few moves into the match, we go to picture in picture. During the break, QT works over Swerve.
Right before we come back, Swerve picks back up the control. Swerve hits a few moves. He wins with the roundhouse kick to the back of the head. Nice win. Swerve looked pretty good.
After the match, Ricky Starks grabs the mic. He challenges Swerve and Keith Lee to a tag match on Dynamite. It will be Team Taz vs. Lee and Strickland.
We also get a video package on Marina Shafir. She looks awesome and a good challenger to Jade Cargill.
Huge shot by @QTMarshall! Watch #AEWRampage on @tntdrama right now! pic.twitter.com/A603FtGXlD

— All Elite Wrestling (@AEW) April 9, 2022
Lambert and the boys
Scorpio Sky is in the ring. He talks about how no one has been able to beat him in almost 400 days. He says no one has stepped up and proved their worthiness to challenge him.
Sammy Guevara is out. He runs down Sky, Lambert, and Page. They call Lambert a sexist pig. Lambert talks about being a dad and that he's trying to save Conti's parents from being embarrassed any more than she's already embarrassed them. Ethan Page cuts a great promo on Sammy not being a money match.
Sammy cusses a lot and demands a match. He promises to keep being a pain for the group until they give him a match. He makes a huge promise for something to drive Lambert crazy next week.
Swerve vs. Marshall is up next.
#DanLambert/@ScorpioSky/@OfficialEGO add insult to injury by not giving #SpanishGod @sammyguevara a match!

Tune in NOW to #AEWRampage on @tntdrama! pic.twitter.com/XHE4hhJvMP

— All Elite Wrestling (@AEW) April 9, 2022
Somebody's going to kick their head kicked in
Danielson/Beretta is kicking off the show. This is going to be a good one. Beretta doesn't get enough credit for just how good he is. He's not going to win, but he puts on bangers.
Holy cow. Beretta at one point goes for a spear on the outside. Danielson moves. Beretta goes 100 miles per hour into the steel stairs. This gave Danielson the edge. Danielson goes full heel and beats him up for a while. At one point, Danielson climbs to the top rope, but Trent recovers and hits a massive superplex.
Later, Trent lands on Danielson's head after they fall from the top rope. The way Danielson landed on his neck with another man landing on his head made me scared. Wow. That was a  landing.
Eventually, Danielson does his 5 moves of doom. Big Knee, head stomps, Gotch Piledriver, and finishes him off with a Labell Lock. Actually, he just wrenched his neck.
Backstage, Lexi Nair tries to interview Hook. As he walks away, Danhausen pops out of trash can and tries to curse Hook. Hook just throws trash at him. Danhausen picks up the chips and finishes off the bag.
Kicking off #AEWRampage right now, it's the #AmericanDragon @bryandanielson vs. @trentylocks on @tntdrama right now! pic.twitter.com/53EGkhNZIr

— All Elite Wrestling (@AEW) April 9, 2022
Tonight's show
Whether you're a new viewer or watching every Friday night #AEWRampage tonight's going to be a great show, hot start with Bryan vs Trent, the hour will fly by, Mox vs Yuta main event will be NUTS. If they go long, TNT will stay until we have a winner, even if it means an overrun! pic.twitter.com/OM3OjaxT3q

— Tony Khan (@TonyKhan) April 8, 2022