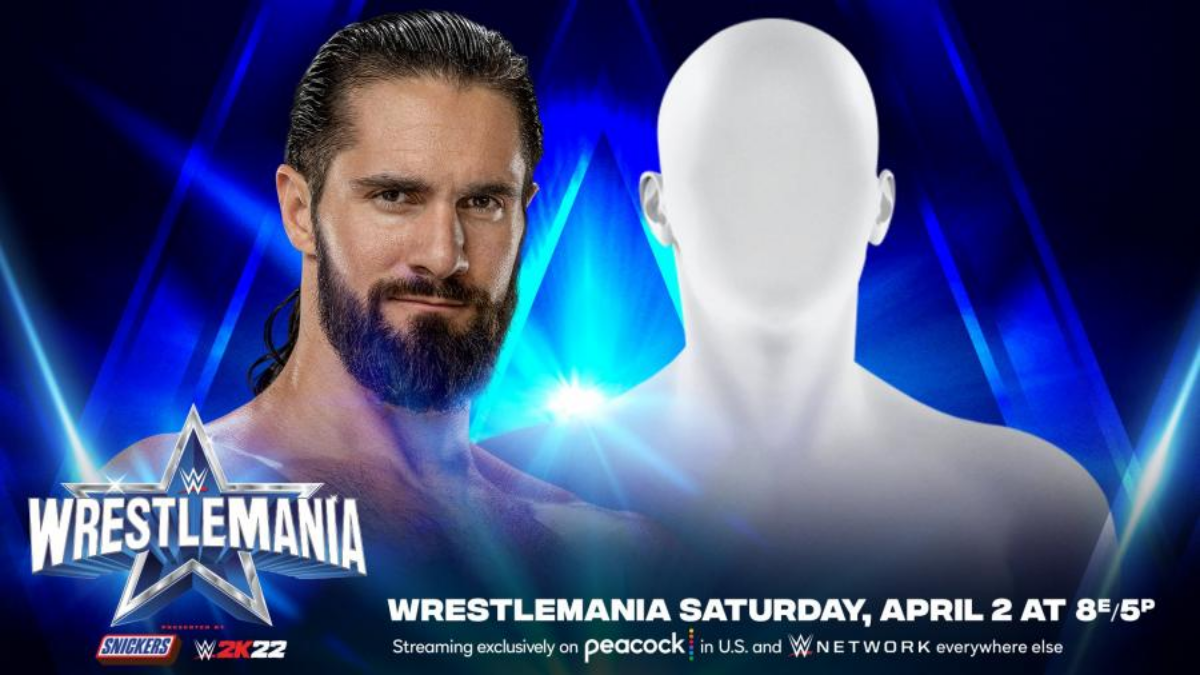 It's happening! It's finally here! WrestleMania 38 Saturday has arrived! Live on Peacock, the first of the two most stupendous nights in WrestleMania history!
On the card for tonight in no particular order ?
SMACKDOWN TAG TEAM CHAMPIONSHIP

Jey & Jimmy Uso (c) vs. Rick Boogs & Shinsuke Nakamura

SINGLES MATCH

Drew McIntyre vs. Happy Corbin

TAG TEAM MATCH

Dominik & Rey Mysterio vs. Logan Paul & The Miz

RAW WOMEN'S CHAMPIONSHIP

Becky Lynch vs. Bianca Belair

SINGLES MATCH

Seth Rollins vs. 'Opponent of Mr McMahon's Choosing'

SMACKDOWN WOMEN'S CHAMPIONSHIP

Charlotte Flair (c) vs. Ronda Rousey

TAG TEAM MATCH

King Woods & Kofi Kingston vs. Ridge Holland & Sheamus

KEVIN OWENS SHOW

Kevin Owens & 'Stone Cold' Steve Austin
To make sure you stay updated with all the latest wrestling news, add WrestleTalk.com to your Google Discover feed and follow us on Twitter!
Kevin Owens & 'Stone Cold' Steve Austin
The sounds of this glass shattering will never not delight me!
KO is challenging Stone Cold to a no holds barred match, right here and right now?!
It's real! It's a real match! Austin calls for ref and the bell rings, it's really real! They brawl around the outside of the ring and this is not a drill – they're really going for it.
What ensues is literal madness, Austin took a bump on concrete?! The entire time he is drinking beer, finally spitting one in KO's face before rolling him back in the ring.
Owens tries to get on Austin's quad but Austin hops on behind him and drives him up the ramp where they continue the fight and Austin returns the favor, delivering a giant suplex on the entrance stage to the left of the stage and then marches KO to the other side to give that side of the arena a better view of this particular ass whooping.
They brawl back to the ring where Steve gets yet another pair of beers before walking into a Stunner from KO – with Austin down, KO goes to the outside to get a steel chair and a woman in the crowd is heard to be audibly yelling "don't you dare!" KO does dare and it fails as he attempts to nail Austin but instead hits the ropes with the chair, bangs it back on his own face, and then eats a big Stunner from Stone Cold Steve Austin who gets the victory via pinfall.
After the match is the typical Austin shenanigans with copious beers but a nice touch with KO being escorted out by Texas Rangers and Byron Saxton eating a Stunner as well.
So good. Night 1 is done, see you right back here tomorrow!!
Get that piece of trash out of @steveaustinBSR's ring!#WrestleMania pic.twitter.com/y3MR1yNxFy

— WWE (@WWE) April 3, 2022
Charlotte Flair (c) vs. Ronda Rousey
Shock finish as Charlotte Flair retains to deliver Ronda Rousey her first singles loss in WWE!
While there were a variety of entertaining spots, the in-ring chemistry just isn't there in my opinion, making for sort of a boring match between what is objectively two elite-level athletes I should really enjoy watching but… fell a bit flat. Come for me on the bird app if you must but it's unlikely Rousey is slipping into obscurity after this match so we will probably see it again at WrestleMania Backlash, right?
Just when you think @RondaRousey has the momentum… SPEAR from @MsCharlotteWWE! #WrestleMania pic.twitter.com/49cJKNEsBD

— WWE (@WWE) April 3, 2022
Seth Rollins vs. Cody Rhodes
"The prodigal son has returned!" – Corey Graves
It's real, it's finally real… something, something Cody Rhodes – let's go!
A somewhat boring match that started to pick up in the final third with a big slam by Rollins slamming Cody into the barricade, an inverted superplex from the top rope, a dragon sleeper into a double leg hooked pinfall attempt but Cody still kicked out. Supportive of the hero booking here for Cody.
Cody hits two Cross Rhodes before stopping for some Dusty Rhodes classics including a Bionic Elbow, hits the third Cross Rhodes for the win!
????@CodyRhodes IS BACK and facing @WWERollins at #WrestleMania! pic.twitter.com/ST3B1EmfCx

— WWE (@WWE) April 3, 2022
Becky Lynch vs. Bianca Belair
Easily could have been the main event match itself –
Belair hits a 450 splash from the second rope on Becky for a close nearfall. Lynch able to battle back and nails her own big move off the top rope that looks like a partial botch, kicking Bianca in the face.
Becky gets reversed into Belair posed to hit the KOD but Becky grabs the ropes, Bianca throws her over and Becky begins to try and avoid the ring, is outside as she pulls Bianca by the braid into the turnbuckle, Belair "melting out of the ring" into a Manhandle Slam onto the stairs on the outside as the ref counts her out.
At the last moment, Belair slides back into the ring and Becky loses her mind, melting down that she can't get the job done. Her makeup sells the agony in a masterful addition to the storytelling, so good.
Backflip escape into a giant KOD and the NEW Raw Women's Champion, Bianca Belair wins! Lynch sells it by lying immobile before she herself, melting to the outside of the ring while Bianca has her big WrestleMania moment.
BIANCA DID IT!!!!!!!@BiancaBelairWWE is the NEW #WWERaw Women's Champion at #WrestleMania! pic.twitter.com/hs5tl8ocCs

— WWE (@WWE) April 3, 2022
Dominik & Rey Mysterio vs. Logan Paul & The Miz
The best entrances of the night thus far, the Mysterios were perfection and Logan Paul with a highly sought after and expensive Pokemon card on a blinged-out chain is hilarious.
Logan Paul and The Miz's matching gear is also A+
Got legitimately choked up about Dom's Eddie Guerero tribute gear for half a second, representing both his Dad's here at WrestleMania!! At least I didn't cry like I did this morning when Cameron Grimes won the North American Championship at Stand & Deliver!
There's some quality action going on in this match which sees Rey vs. Miz for an amount of the action, after interrupting a Three Amigos (after two amigos) The Miz tags in Logan Paul who now has a weakened Rey Mysterio, getting all Three Amigos in! Logan Paul has heel heat like no other going to the top rope with the shimmy and frog splash before Dom interrupts the pin.
Logan and the Miz outside the ring, Dom chases Logan back in and he gets set up for the stereo 619 and Father-Son frog splashes before The Miz breaks up the pin, makes a blind tag on Logan simultaneously breaking up the pin and hitting a skull-crushing finale on Rey for the pinfall victory.
However, The Miz and Logan Paul's celebration is short-lived as the Miz drops a skull-crushing finale on Logan Paul too and ends by blowing him a kiss.
WHAT DID WE JUST WITNESS?!?!?!?!?!?@mikethemiz just gave @LoganPaul a Skull Crushing Finale following their victory at #WrestleMania!!! pic.twitter.com/8Df7TIqcgJ

— WWE (@WWE) April 3, 2022
Drew McIntyre vs. Happy Corbin
Fun match despite the fact this story has been endlessly drawn out and at this point, WrestleMania 38 feels like an average episode of SmackDown?
Notable moments: McIntyre with an enormous dive over the top rope to take out both Moss and Corbin!
McIntyre kicked out of the End of Days – the first to ever do so! Next hitting Corbin with a giant Future Shock and then Claymore for the pinfall victory.
After the match, Drew McIntyre and Angela celebrate in the ring until Moss starts to creep in and Drew is holding Angela above his head and ferociously swings the sword, slicing the top two ropes in half, and then celebrates with a small baddie section holding Scottish flags in the front row. He then comes over to the announcer's desk which looks scary, especially after last night when he threw a chair at McAfee and Cole but instead he fist bumps them to stand tall on the ring steps to end the segment. ?
?????????@MadcapMoss narrowly escaped @DMcIntyreWWE at #WrestleMania! pic.twitter.com/tecc5Tg2y8

— WWE (@WWE) April 3, 2022
Jey & Jimmy Uso (c) vs. Rick Boogs & Shinsuke Nakamura
Let's go! First match of WrestleMania 38!
I wish we hadn't seen the same match so often in the lead up to tonight, Boogs' move to stand up with an Uso on his back is awesome, and was last night too.
Relatively early in the match, Boogs goes down after attempting to hoist both Usos at once.
Hopefully, Boogs is selling this knee buckle because otherwise, that could be grisly. Since they're showing staff "tending to his injury" and honestly, I believe all of their selling, always. I was genuinely sick this morning at Grayson Waller's ladder spot.
Jimmy and Jey pick up the victory relatively quickly to retain their SmackDown Tag Team Championships. Almost suspiciously quickly so it is possible Boogs' injury changed the end/sped up the match.
Usos retain SmackDown Tag Team Championship 
???@rickboogswwe #WrestleMania pic.twitter.com/6SMOwyheqn

— WWE (@WWE) April 3, 2022