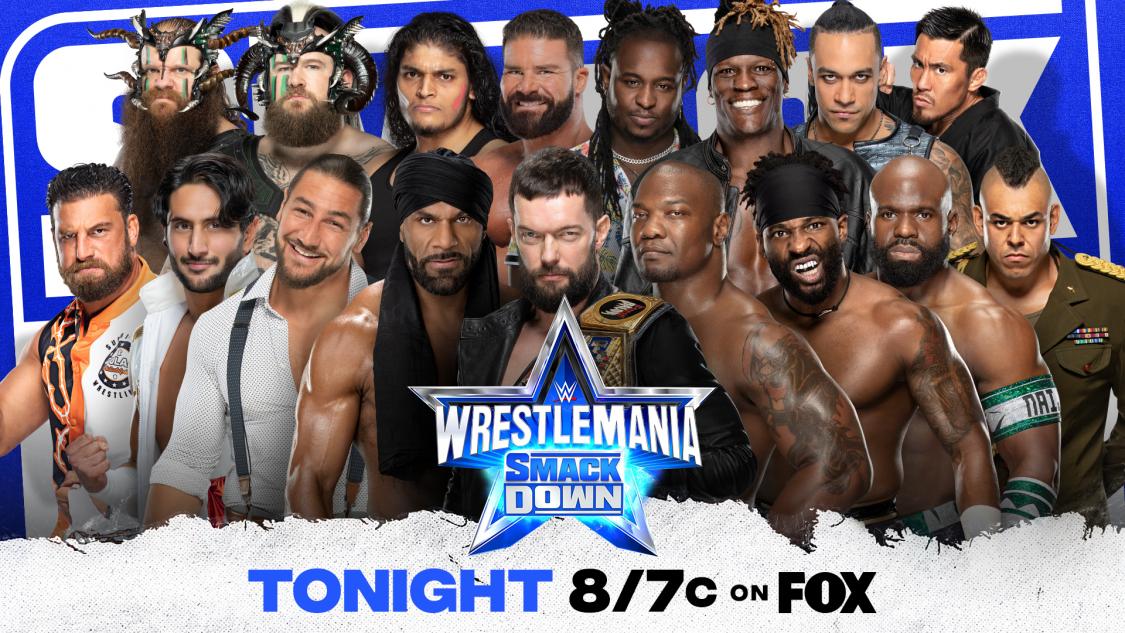 It is WrestleMania weekend. That means WWE will be presenting WrestleMania SmackDown tonight. We'll see what happens tonight, but the show should be a lot of fun.
Andre the Giant Memorial Battle Royal on WrestleMania SmackDown
Humberto and Angel to challenge Ricochet in Intercontinental Title Triple Threat Match
Don't miss "Happy Talk" with a special guest – Drew McIntyre's sword, Angela.
Happy Talk
We get a video package recapping the feud between Drew McIntyre and Happy Corbin. Corbin talks about taking Drew's sword. He makes a few ugly comments.
He then decides to make a joke. He asks what Drew's sword and mom have in common. He says Drew lost them both. Oof. That was a low blow.
Of course, this brings out Drew. Drew grabs a chair. He tries to hammer Corbin with it. Corbin gets out. Drew destroys the set. We then get a preview of WrestleMania. See you for Mania where we will be covering all of WrestleMania weekend.
.@MadcapMoss makes history!

A round of applause for the 2022 Andre the Giant Battle Royal WINNER!#WrestleMania #SmackDown pic.twitter.com/RH00jfgqj0

— WWE (@WWE) April 2, 2022
6-Man tag playa
We now have a 6-man tag match. Balor, Nakamura, and Boogs are on one side. On the other, we have The Usos and Austin Theory. McAfee is on fire on this one.
The crowd is chanting about Theory sucking. Meanwhile, Boogs gets his workout in using Theory as his dumbbell. Theory goes on the Boogs Cruise, but he kicks out.
This match was the typical 6-man tag. It had some nice chaos spots. However, the match was really about McAfee and Theory. Theory antagonized McAfee the whole time.
At one point, Balor hits a big dive. However, in the end, Theory gets the win. After the match, McAfee gets up on the apron, but Michael Cole stopped him from attacking and getting fired.
Up next, Happy Talk with Angela.
Don't throw it all away, @PatMcAfeeShow! @austintheory1 #WrestleMania #SmackDown pic.twitter.com/EIjYl5edqs

— WWE (@WWE) April 2, 2022
Nakamura and Boogs
We get another video package with Brock and Roman. They are wrestling at WrestleMania in case you've missed it. You know WWE has been very subtle about hyping it.
Meanwhile, Nakamura gets the Boogs intro. Pat McAfee is dancing on the table when Austin Theory jumps the barricade and knocks him down. McAfee chases him to the back and kicks the door down to McMahon's office where Vince walks out. He mumbles something about firing him and we cut back to the ring.
Boogs is going to fight one of the Usos tonight. It's Jimmy. Boogs does an impressive move where he curls Jimmy 10 times before slamming him.
Somewhere in this match, Austin Theory comes back out and bugs McAfee. Michael Cole stops Pat from going after him. For some reason, Finn Balor comes out and attacks him. Balor flings him in the ring and the ref calls the match off.
We head to commercial break.
.@rickboogswwe is curling Jimmy @WWEUsos!#WrestleMania #SmackDown pic.twitter.com/jmxNAei80e

— WWE (@WWE) April 2, 2022
Charlotte and Rousey
Another video package. This time we get to see Ronda Rousey training. Hey…Shayna Baszler got some tv time. She was sparring with Rousey. Rousey promises to either make her tap or rip her arm off.
We then get a video package about Charlotte. Everyone calls her the greatest. Lots of replays of Charlotte and Rousey talking.
We have to hype Mania tonight. So, in addition to a 10 minute video, we also get a Flair promo. Flair says all the women want to be her and the men want her. If you say so, Charlotte. That will be a good match tomorrow night.
Backstage, Moss and Corbin are goofing off with Angela, the sword.
?THE OPPORTUNITY?#WrestleMania #SmackDown @MsCharlotteWWE pic.twitter.com/7D6YyiKv2g

— WWE (@WWE) April 2, 2022
Tag Team Title Preview
Quick. Name the WWE Women's Tag Team Champions. If you did it fast, you are better than me. Every week, I forget who the champs are. In this case, Carmella and Zelina Vega will be defending their titles on Sunday.
Tonight, they face Sasha Banks and Naomi. If history is any indicator, the champs will probably lose this one.
Yep. Naomi and Sasha Banks get the win in a fairly short match. Not a lot to say about this one. Naomi and Banks looked pretty good. Wrestling logic says they get the win here, but don't get the win this weekend. My money is on Ripley and Morgan.
PS. Why is Carmella still wearing that stupid mask?
.@SashaBanksWWE & @NaomiWWE are ready for action on #WrestleMania #SmackDown! pic.twitter.com/PhUsx3AJ5y

— WWE (@WWE) April 2, 2022
Recap of Austin and Owens
We're getting a replay of the feud between Kevin Owens and Stone Cold Steve Austin. While I've enjoyed Kevin Owens in this story, I'm not sure that a talk show segment needs this much hype.
Although, I guess it will really just be a bit of a fight. Kevin Owens is definitely going to get a Stunner in this scenario. He'll probably get the ole' double bird butt whooping too. Either way, we got a very long video package about the story.
The Intercontinental Championship
Ricochet defends his Intercontinental Championship against Humberto Carillo and Angel Garza. Again, the IC title is not being defended at Mania. As an old school fan since the 80s, this hurts me.
After the Kiss Cam intro, Garza and Humberto double team Ricochet. The 2 on 1 beatdown continues through the first commercial break. Ricochet almost sneaks a win, but this leads to Humberto trying to roll up Angel.
The duo argues in the ring. This allows Ricochet to get back in it. He takes out both guys with some dives and such. He eventually gets Humberto out on the floor. Ricochet starts to go to the top and Angel is set up for the 630. Humberto stops the finisher.
Ricochet tosses Humberto onto Angel. He hits the 630 and a Recoil. Ricochet retains his title in an entertaining match. That was a fun match, but again, the Intercontinental Title deserves a real feud.
Hold on a minute… ?#ICTitle @humberto_wwe @AngelGarzaWwe pic.twitter.com/Pz67jYcg5W

— WWE (@WWE) April 2, 2022