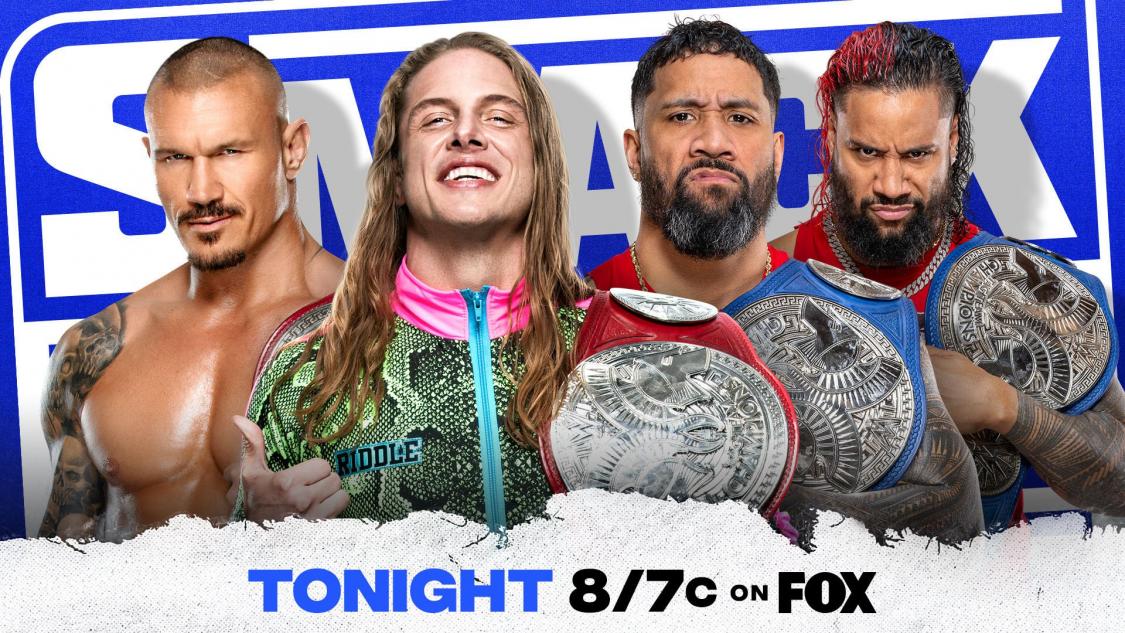 Welcome to WrestleTalk's live coverage of WWE SmackDown. We're headed to WWE Backlash where a lot of rematches are taking place. However, The Bloodline apparently doesn't do rematches. They have moved on from Lesnar and Boogs/Nakamura. What will SmackDown have in store for them?
Riddle looks for a second straight win over The Bloodline in a one-on-one match with Jey Uso
Nowhere for Sami Zayn to run from Drew McIntyre in Lumberjack Match
Charlotte Flair and Ronda Rousey sign the contract for their "I Quit" Match
Madcap Moss looks to make Angel the butt of his jokes
Nowhere to run
Sami is facing Drew in a lumberjack match. The point of this one is that Sami can't run away from Drew. WWE doesn't always book things that make sense, but in this case, they did very well. Sami has been running away from Drew every week. He can't tonight.
It also allows them to continue the feud with the Usos and RKBro. The Usos come down as lumberjacks. Sami immediately tries to get away, but he's tossed back in the ring. He tries to get out several times. Drew goes for a Claymore and Sami rolls out in front of RKBro.
As they try to get him back in the ring, The Usos take out RKBro. This leads to a brawl between the lumberjacks. Sami uses the distraction to try to escape. Drew gets out of the ring and pulls Zayn back in the ring, but the lumberjacks attack Drew.
Sami hides from Drew. Drew does the big dive to the outside on all the lumberjacks. Sami decides to run away. He is able to escape through the crowd. Adam Pearce comes out and announces for the 4th week in a row Sami will face Drew. This time it will be in a steel cage match. After the announcement, Jinder and Shanky attack McIntyre. McIntyre takes both men out. He hits a Claymore on Jinder Mahal.
Well, just when I praise them for their booking, WWE has Sami Zayn escape a lumberjack match which makes everyone but Sami look pretty dumb.
.@SamiZayn will be locked inside a Steel Cage with @DMcIntyreWWE next week on #SmackDown! pic.twitter.com/mJZPJWsFG1

— WWE (@WWE) April 23, 2022
Roman Reigns is disappointed and annoyed
Roman Reigns is shown in his locker room. He's very upset about Jey's loss. Jey is making excuses.
Sami Zayn walks in. He acknowledges Roman. He praises him and sucks up to him. He reminds him of the fact that Drew and RKBro were chumming around backstage. He also lies and says they were talking trash about the entire family. He is trying to get Roman and the Usos to help him beat Drew.
He says if he can get some help with beating Drew McIntyre he can return the favor. He says he can be a very useful ally. Roman is not happy about people talking about him. He tells the Usos to take them out.
We then move next to the tragic saga of Lacey Evans. She talks about the same story she's been telling. No mom. Loser dad. She had to do it all on her own. The first two segments were fine. I feel like it's a bit overkill at this point.
The Lumberjack match is next.
Could @SamiZayn be a valuable ally to #TheBloodline?#SmackDown @WWERomanReigns @HeymanHustle @WWEUsos pic.twitter.com/3NNc90Hl3A

— WWE (@WWE) April 23, 2022
Madcap Moss and Angel
Moss makes his way down to the ring. He'll be facing Angel. Before the match, we get a video package of Raquel Rodriguez. They actually show NXT videos of a wrestler two weeks in a row. I love they are doing that to build the hype around her. She's going to be a star and can bring some depth to the women's division.
We get the kiss cam before the match. The match is underway. Moss is off to a fast start. He's also off to a fast finish. He beats Angel with the punchline very quickly.
After the match, Happy Corbin comes down and attacks Moss. He leaves him laid out in the ring and then steals the Andre the Giant Trophy.
Wait a minute! #SmackDown @BaronCorbinWWE @MadcapMoss pic.twitter.com/aL8YLowbPg

— WWE (@WWE) April 23, 2022
Ladies Tag Team Titles
Naomi and Sasha apparently went shopping together. They are wearing matching outfits. The crowd chants you deserve it. Banks and Naomi talk about how they have had each other's backs since day 1. Banks even brings out a Unity title.
They don't know who will challenge them. Here comes Natalya and Shayna. Shayna says they are going to snap their limbs off their bodies. Naomi and Sasha make fun of Nattie for loving cats. That was a horrible segment. Utter crap.
Someone needs to write better for the women or they need to come up with some better stuff themselves.
Backstage, Moss is playing with his suspenders. Corbin approaches and wants them to get back together. Moss says that is as likely as Corbin getting his hair back and then he laughs annoyingly.
? You deserve it!!!#SmackDown @SashaBanksWWE @NaomiWWE pic.twitter.com/iT0LmdiHXU

— WWE (@WWE) April 23, 2022
Riddle and Uso
Riddle is taking on Jey Uso. These two will be part of the title unification match at WWE WrestleMania Backlash.
This match is good as you'd expect. Riddle starts off using his amateur wrestling prowess. Ultimately, Uso is able to counter and gain control. He works over Riddle in a brawling style. He stays in control for a big part of the match including dumping Riddle onto the announcer's table.
As the match was entering the home stretch, Riddle gets back in charge. Riddle hits the Floating Bro and Orton's draping DDT. Jimmy tries to cause a distraction, but Orton dumps him on the desk.
Riddle goes for the big RKO like last week, but Jey actually hits a pop-up neck breaker. Jey Uso gets invested in taunting Orton. When he turns around he gets a running knee in the face. Uso doesn't stay down for long. He catches Riddle with a big superkick. He goes for the Uso Splash. Riddle gets the knees up. He rolls up Uso for the win.
Riddle beats an Uso for the second week in a row. It sure would appear that RKBro winning now means a loss at Backlash.
☝️☝️☝️#SmackDown @WWEUsos pic.twitter.com/3Eh1m9AogV

— WWE (@WWE) April 23, 2022
Gunther is here to do some damage
Ludwig Kaiser introduces Gunther. Not sure who he's facing, but whoever it is will walk away with a sore chest.
Gunther walks away with a dominant win. Like always, Gunther hits a massive chop that could be heard halfway across the state. He finishes his opponent off with the powerbomb.
I know Gunther has gotten in incredible shape. However, I kind of liked his unique physique before. It doesn't really matter though. He's getting the big foreign heel push. You know. The one where he squashes a bunch of nobodies for weeks instead of getting put into a feud. That's one of the things WWE is missing. WWE needs a stable of guys who can take losses. They basically have gotten rid of guys like Curtis Axel who can take losses but look good doing it.
Backstage, Riddle and Orton run into Drew McIntyre. Riddle tries to play mediator. Drew says anyone who stands up to the Bloodline is good in his book. RKBro are going to be lumberjacks in Drew and Sami's match.
RING GENERAL #SmackDown @Gunther_AUT pic.twitter.com/1IR5OdIzeY

— WWE (@WWE) April 23, 2022
Butch is here
Butch and Xavier Woods are wrestling. Sheamus and Holland are here with Butch. Kofi is out with Woods. I'm sure this match will not end in some sort of melee.
Woods takes advantage early, but Butch goes off. He wrestles frantically at first with a bunch of quick strikes and violent offense. As the commercial break approaches, he switches into rest holds. Given the way they portray Butch, him switching to a slow-paced offense just doesn't fit with his persona of being this out-of-control hothead. His offense goes along more with a cold and calculated wrestler. The commentary put over his frantic and frenzied offense, while he's locked in a submission move.
Well, in WWE fashion, they pin Butch for a second time. He's 0-fer in his two singles matches. He's pissed. He attacks a security guard and leaves through the crowd. Michael Cole says they lost Butch again. Yet, there are Sheamus and Holland watching Butch leave. It would be nice if what they were talking about was what we see on the screen.
Backstage, Ricochet is talking to Aliyah. He says he wants to be one of the best Intercontinental Champs of all time. Mahal and Shanky walk up. Shanky challenges him to a match. Ricochet accepts.
Where are you going, Butch?#SmackDown pic.twitter.com/I6RM7jIG80

— WWE (@WWE) April 23, 2022
Flair and Rousey
Flair and Rousey are having the most exciting segment in professional wrestling. It's a contract signing. Pearce is out with the contract. He says Drew Gulak is his new intern.
The two of them have some pretty stilted back and forth trash talk. Flair is sticking to her adjusting her bra and not tapping out excuse. Meanwhile, Rousey is still pointing out the ref mistake. They both promise to make the other say I quit.
Eventually, Flair flips the table. They get physical and Flair escapes as Gulak steps in. Gulak wants Rousey to sign the contract. She does, but only after she hits him with a judo throw and an armbar.
.@RondaRousey makes it official for #WMBacklash!#SmackDown #IQuit @MsCharlotteWWE @DrewGulak pic.twitter.com/TvYO2S6sYG

— WWE (@WWE) April 23, 2022
Tonight's show: