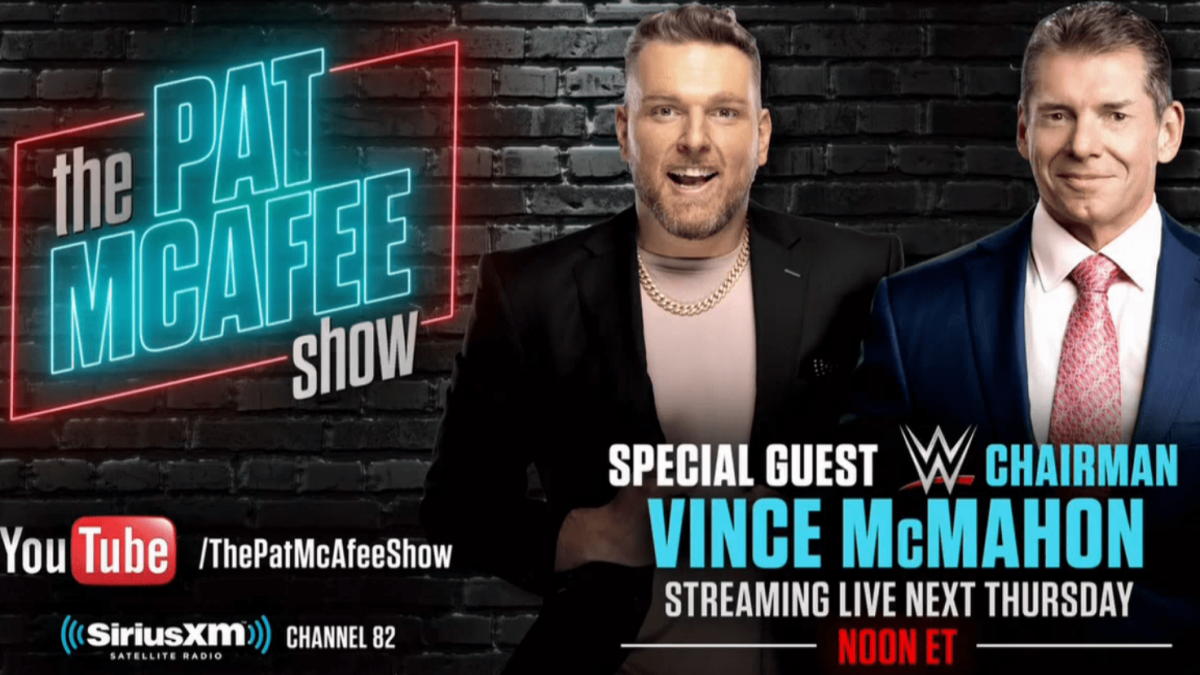 Vince McMahon will be making an appearance on the Pat McAfee Show for an interview today, and we'll have all the updates right here.
This is being touted as McMahon's first live sit-down interview in 15 years (his Broken Skulls Sessions interview wasn't live), and despite reports of a McMahon vs McAfee match being planned for WrestleMania and this interview likely being the start of the build to that, it is still reportedly expected to be a legitimate interview for the most part.
McMahon is slated to appear at 2:15pm ET (7:15pm GMT), so come back to this page and keep refreshing from then onwards as we'll bring you live notes including comments from McMahon and anything notable that happens, right here:
2:04pm – Pat McAfee said Vince will be showing up "at some point this hour", so it may not be exactly 2:15pm. Pat doesn't even know if Vince has landed yet.
2:05pm – Pat got a phone call about Vince. One of Pat's football friends joked that it could be Austin Theory, who teased on Raw that he could show up to the interview and cause some trouble. Pat says it was someone telling him Vince is 15 minutes away.
2:07pm – Pat says Vince doesn't want any prep and they haven't talked. He also said he got a text earlier that Vince wants to break some big WWE news during the interview.
2:12pm – They are talking about football and I have no idea what's going on. But they mentioned Gronk, we know him! Still no sign of Vince yet.
2:19pm – Still football talk and still no Vince.
2:20pm – One of Pat's football friends said Pat should ask Vince about Gronk and when he hosted WrestleMania 36, and the clip that went around of Vince taking a bump off the Performance Center platform to show Gronk it was safe.
2:21pm – Pat says he pitched a Zoom call, but Vince wanted to be there in person.
2:22pm – VINCE HAS ARRIVED!
2:23pm – Pat introduces him as "Mr McMahon", but Vince says, "It's Vince".
2:25pm – Pat asks if Vince knew when he was a kid if he'd be where he is today. Vince says he doesn't think about ceilings and milestones, he just thinks about doing things and enjoying things. So no, he didn't think that.
2:28pm – Pat says WWE received a lot of criticism when starting the WWE Network, but Vince was confident, and asked whether that was because he's just a "let's go do this" type of person. Vince says no, everything he does is calculated and he has smart people around him who he listens to and makes decisions based on that. He said Comcast gave him a great deal, but lawyers tried to tie his hands in terms of creativity, in terms of "owning you", and he's never liked that. So it was more about creative control and creating his own destiny and that's why WWE started its own network.
2:29pm – Vince says he doesn't pay attention to all the praise he gets, because if you listen to the positives you have to listen to the negatives, and he's "not big on negatives at all". He accidentally knocked the mic with his hands and joked "anything that's in my way, I knock it down". If people think he's an asshole, "congratulations, I guess I am".
2:31pm – He says it took him a while to stop paying attention to criticism he receives, but realised he just "can't care" because of how it would affect him if he did.
2:33pm – Pat asks why Vince doesn't like the word wrestling. Vince says he wanted to separate WWE from everybody else, and his dad had his own branding (WWWF), and liked that his dad was making himself different from everyone else, so he wanted to do the same.
2:34pm – He then talks about WWF becoming WWE. He said he didn't even know the World Wildlife Fund existed and the trial was in England, and he joked that he didn't think he would fit in in the environment with the judges that wear wigs, so he just gave up and said they'd change to WWE. He said it took about 30 minutes for him to decide to "get the F out".
2:37pm – Vince says, creatively, he listens well. He's also good at recognising whether people are listening to him and buying what he says.
2:38pm – Vince announces he will be inducting Undertaker into the Hall of Fame. He says it'll be one of the most difficult things he's done in his life because he likes Undertaker the person so much and they have such a close relationship.
2:41pm – Pat asks whether the Monday Night War changed him, and brought up the likes of TNA and AEW as competition too. Vince says he enjoys confrontation, it's something that revs him up and gets him going. He also talks about his story as a kid and how that taught him to never back down from confrontation and competition.
2:44pm – Pat asks Vince about his childhood dreams. Vince said he didn't really have any in particular, and talks about how he lived on a trailer park and lived without running water. He said he doesn't care how much money he has in his bank account, and Pat gets excited because he's come so far.
2:46pm – Vince says he doesn't do work, he just enjoys life and loves what he's doing. What he does isn't work because he enjoys it so much.
2:48pm – Pat asks Vince about decisions he makes in terms of releasing people, and outside people saying things like he doesn't have a heart. Vince says he's always concerned about what's best for the audience and what the audience wants. It's always about what's the best thing for business. He used the example of Hulk Hogan and how he never wanted to bring him back after he went to WCW. But the fans wanted him back, so he brought him back.
2:50pm – Vince says that since WWE went public, he now makes better business decisions because he has to worry about shareholders and there's nothing personal about decisions he makes.
2:52pm – Pat asks if WWE has a 'favourite WWE moment'. Vince says WrestleMania 1 was important to him because he went all in and didn't have any money, compared to competition who were millionaires.
2:53pm – Vince talks about how serious the wrestling territory days were and how you couldn't 'invade' someone else's territory, and he received death threats because of it.
2:55pm – The promoters who ran the territories had a meeting about how they were going to get rid of Vince to stop him from invading their territories. Jim Ross wasn't in the meeting but he was on the toilet at the time and thought "oh no, I'm going to be an accessory to murder", so had to stand squat on the toilet so they didn't know he was there.
2:58pm – Pat asks Vince about running shows in Saudi Arabia. Vince says Saudi fans are the same as fans everywhere else. He says people everywhere love western culture and WWE fits into western culture so Saudi people still understand and appreciate it.
3pm – Pat asks how Vince has time to do everything, and whether he has the same daily routine every day. Vince says he finishes training around 3am every day, after starting at about 1:30. He trains because it's his "only socially acceptable outlet for aggression", and admits he overtrains which he knows isn't good for him. But he does it for his head more than his body and it helps him mentally and psychologically.
3:03pm – Vince says every decision comes down to common sense. Pat asks if there's any decision Vince looks back on and regrets – Vince says he learns from his mistakes, but doesn't dwell on negatives.
3:05pm – Vince says he loves branding and marketing, and he tries to brand everything. "It's just fascinating to do that". The word stupendous isn't used very often so it creates intrigue and that's why they chose it for WrestleMania 38. It gets everyone's attention.
3:07pm – Vince says he's always coming up with ideas constantly, and he's "wide open" creatively. He has a "second wheel" going on in his brain all the time thinking of something else. And sometimes there's a third one as well, and it gets very confusing.
3:11pm – Pat asks how far into the future Vince thinks and how he keeps in his mind that the current product is how he's going to get to that point in the future. Vince says WWE can always fit into anything. He says talent leaves WWE knowing how to treat people, how to show respect. That comes from the trust and respect between wrestlers to not hurt each other and put on a great show.
3:13pm – Pat said everyone thinks Vince is a robot who will live forever. Vince played that down, and said that when he does die, he wants just one second to say thank you to everybody for everything.
3:16pm – Vince says he looks at family members the same way as other employees. He even says he expected more from his family members. "If this person isn't working out, they should not be a part of the company". Hi Shane.
3:18pm – Vince says before any more questions, he praises McAfee and OFFERS HIM THE CHANCE TO WRESTLE AT WRESTLEMANIA. Pat says "it'd be a dream boss". Vince says he'll find a worthy opponent for Pat.
3:22pm – Back to questions – one of Pat's football friends asks whether Vince creates superstars, or if it's up to that person to get themselves over. Vince says it's a "team effort". If it's a character, they have to really get into that character. Vince says Undertaker is the prime example.
3:24pm – Vince says he calls wrestlers "Superstars" rather than just wrestlers because anyone can wrestle – poorly or well. He joked in good fun about Pat being on the "poorly" side. Vince thinks being a WWE Superstars sounds a lot better than being a "professional wrestler".
3:27pm – Vince says when you're a character, you should really be into that character, but not be that character in your private life. Pat disagrees and says that's when it's at it's best, when the person IS the character. Vince says it's important for mental health to not be the character outside the ring.
3:31pm – One of Pat's football friends asks Vince about Covid and whether Vince ever considered missing a show. Vince said he likes WWE to do their own thing and not necessarily do what everyone else is doing. He was determined not to miss a beat. He praises the talent for continuing through the pandemic. Reiterates this is why they are Superstars, not wrestlers.
3:33pm – Vince says there is a focus group every night. If he has an idea and there's no reaction, it evidently isn't a good idea.
3:35pm – Vince says that he listened to social media as the audience during Covid because there was no live crowd response, but he can also tell just from watching whether something is working or not. He said the internet audience can sometimes be biased and "a bit harsh". So he doesn't listen to those.
3:36pm – Pat brings up an interview Aleister Black (Malakai Black) did where he spoke about a meeting with Vince about his new entrance music, and Vince said something like "well I don't get it, but if you like it…". Pat asks if Vince has always been like that, or what point did that mindset come into play. Vince admits he's never been cool but doesn't care, and tries to give people creative ability because it makes them more invested. If a performer disagrees with an idea, he asks what the alternative is. If the performer gives a better alternative, great, that's what they'll go with.
3:40pm – Pat says since the very beginning, Vince has just let him do his thing rather than 'being in his ear all the time'. Vince says if he didn't like what Pat was doing, he wouldn't be doing it. It's not about his personal taste, but if it wasn't getting over, he would be telling Pat what to do, or Pat just wouldn't be there. But what Pat is doing does appeal to the audience, so he just lets him do it.
3:41pm – Vince says Brock Lesnar is a one of a kind human being and "really f**king intelligent". It's a misperception that Lesnar is a neanderthal because he's so big. "He looks like a neanderthal, but he's smarter than you pal".
3:43pm – Pat talks about his interview with Brock and how much Brock praised Vince in the recent interview. He then talks about the likes of The Rock, Steve Austin, Goldberg, and asks whether Vince stays in touch with them. Vince says "some". It's not like he forgets people, he'd love for them to stay in touch with him, but he's so busy. He tries to make sure the company stays in contact with them. He says he's always appreciative for anyone who's ever stepped in the ring and helped WWE get to where it is now.
3:46pm – Vince says he loved the Attitude Era and it was "a blast". He specifically talks about getting hit in the head with a pan by Steve Austin. Austin was walking around "wondering whether" he should hit Vince with the pan. Then he starts hitting his own head with it to see if it would hurt. Vince loved that and said it was fun.
3:48pm – Vince said he loves live TV, because nothing can go wrong since no-one actually knows what was "supposed to happen", so if something goes 'wrong', people don't actually know that. There's pressure doing live TV, but it's exciting.
3:50pm – Pat McAfee mentions Michael Cole for the first time and Vince instantly interrupts with by joking: "Horrible human being".
3:53pm – Vince says it's difficult for the "corporate types" to understand things like the hours the crew puts in on the road because it's not done anywhere else in the world. He praises the production crew, cameramen, and says it's a family. It takes a toll to be on the road all the time. He tries to look at it like a privilege rather than a grind, but it can be a grind sometimes.
3:55pm – Vince says he doesn't try to bring emotions into meetings if he's had a bad day or stuff like that, because that affects the whole meeting and he doesn't want to be that kind of leader.
4:02pm – Vince said his school grades weren't good enough to get into college and he was a really bad student in that sense. He thinks he had learning disabilities even though there weren't names for them back then. He was expelled so many times for fighting. So he had to go to summer school to get into college. He graduated college with a Business Administration major. Vince says he was slightly off the grades he needed to graduate – if it went from a B+ to an A-, that would help. He wasn't going to graduate. He found out where the professors lived. He knocked on their doors, and one of them was kind enough to bump his grade from B+ to A-. The other one was "such an unbelievable asshole" and threatened to call the cops. Finally the professor did change his grade and that's how he graduated.
4:04pm – Pat tells Vince about people saying Mr McMahon is the greatest heel of all time. Vince says being a heel is all about wanting to make people really dislike you, and jokes that comes pretty easy to him. Vince says everyone lies, and people can relate to it. It was a "thrill" to mash people's emotional buttons as a heel.
4:06pm – Vince says that when he was performing, it was difficult for him to produce and direct at the same time because he had to commit to the performance. It's difficult to do both.
4:07pm – Pat brings up the time Vince blew his quads at Royal Rumble 2005. Vince jokes that it "takes talent" to tear both quads at the same time. He had to learn how to walk all over again afterwards and couldn't go too fast with rehab. He says he's had neck surgery, tricep surgery – too many injuries to name.
4:12pm – Pat says every conversation he's had with Vince, Vince has been so nice. He recaps the story from WrestleMania a couple of years ago when Michael Cole shouted at him for his clothes, and Pat wasn't ready to take that and he was like "f**k you then". But then Vince said something along the lines of "I appreciate that you wore those, and I respect it", and was basically on Pat's side.
4:15pm – And that concludes the interview! Some very compelling stuff indeed, and we might never hear Vince open up like that ever again.
After the interview has concluded, we will be posting full transcribed quotes as separate news stories on the site. This page will just be summarised notes rather than full quotes.
To make sure you stay updated with all the latest wrestling news, add WrestleTalk.com to your Google Discover feed and follow us on Twitter!