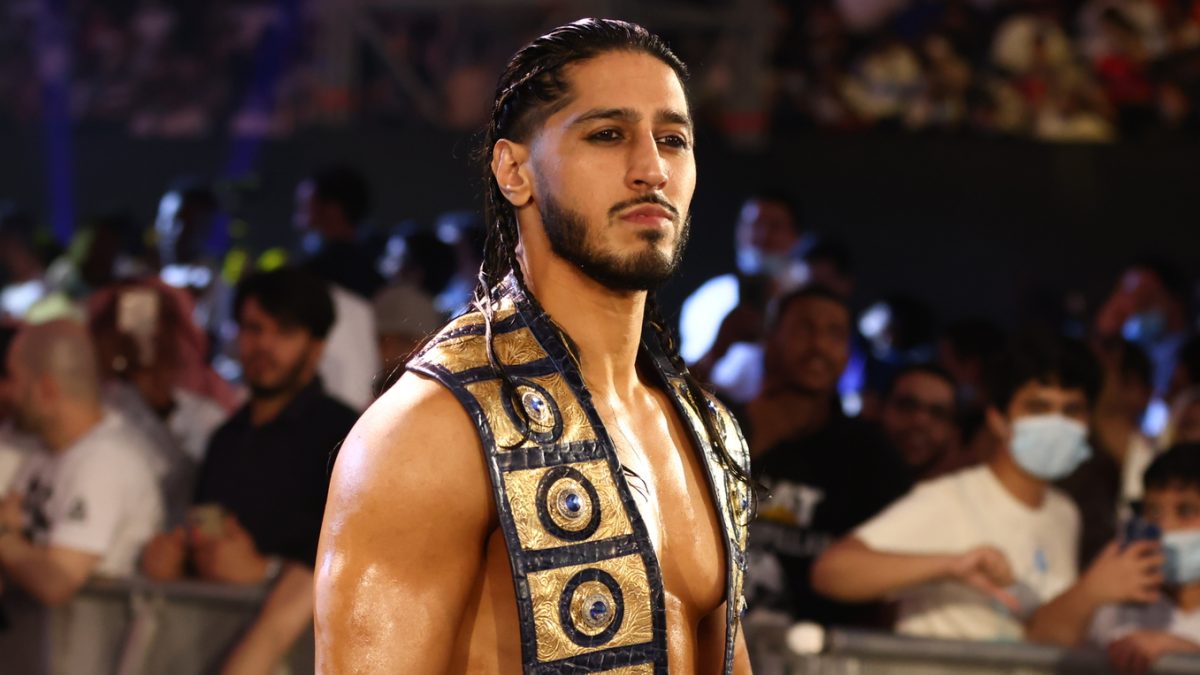 Mustafa Ali has requested his WWE release and reportedly had a heated argument with Vince McMahon recently, some news on the rumors that AEW could be involved in the Royal Rumble, WWE makes an… interesting statement about a recent AEW match, and more.
It's Monday morning, and what better way to start the week than catching up on this past weekend's news – I'm Liam Winnard for WrestleTalk.com, and this is our Audio News Bulletin for January 17, 2022.
Listen to this morning's round-up here:
Mustafa Ali Requests WWE Release, 'Heated Argument' With Vince McMahon
Mustafa Ali took to Twitter yesterday to publicly state that he was requesting his release from WWE. He said:
I have a message that is much bigger than my dreams in pro wrestling. Despite my best efforts, I will not be able to deliver this message while working with WWE.

Therefore, I am requesting my release from WWE.
Fightful Select then posted a report with more info on the situation, detailing a "heated argument" between Ali and McMahon that had taken place recently.
Ali had pitched a new gimmick, which he posted a teaser video for on Twitter a few weeks ago. The report states that WWE management had actually accepted that pitch at first, but then changed their minds.
Vince McMahon himself then pitched an idea to Ali that was said to be something that Ali "would never have done", and this is what prompted the argument between the two. Ali has not been at any shows since that argument happened. There's no word on exactly what Vince McMahon's pitch was.
A member of the SmackDown roster told Fightful that the fact Ali hasn't been at shows recently was viewed as a punishment, considering how hard he works on his craft and how many ideas he often brings to the table.
There is currently no confirmation as to whether WWE has granted Ali's request to be released, but Ringside News recently reported that WWE's current philosophy is to grant release requests… until someone the company really wants to keep requests one.
The idea is, and this was included in Fightful's report as well, that it would be a bad look to say no to release requests considering how many names WWE has willingly let go for budget cuts over the past couple of years.
Whether AEW Will Be Involved In WWE Royal Rumble
Ever since WWE announced IMPACT Knockouts Champion Mickie James for the Royal Rumble, fans have been getting excited about the possibilities of WWE working with other companies.
Ringside News had also reported that WWE was relaxing its policy on this, and WrestleVotes reported that WWE was discussing a big 'Forbidden Door' name for the men's Rumble match.
Well for those of you hoping an AEW star could get involved at Royal Rumble… Dave Meltzer of the Wrestling Observer has burst that bubble. He reported:
"There will be no AEW involvement at the Royal Rumble. Jon Moxley will not be at that show."
He specifically mentioned Jon Moxley, but the first part makes it sound like there will be no-one from AEW at all, despite a lot of people guessing that someone like Chris Jericho or Bryan Danielson could have been involved.
WWE Issues Statement On 'Gory' AEW Match
There was one interaction between WWE and AEW this past weekend though, albeit not a favorable one.
The Toronto Star published a story covering the rivalry between the two companies, and that story actually included a statement from WWE, specifically about the tag team street fight on Rampage with Tay Conti and Anna Jay vs Penelope Ford and The Bunny.
The statement was as follows:
"If you look at the gory self-mutilation that bloodied several women in the December 31 event on TNT, it quickly becomes clear that these are very different businesses. We had an edgier product in the 'Attitude' era and in a 2022 world, we don't believe that type of dangerous and brutal display is appealing to network partners, sponsors, venues, children, or the general public as a whole."
Well, WWE is just as entitled to its opinion as everyone else is, but as you can imagine, that statement did not go down too well.
The women involved in that match all responded by taking to Twitter to post images of themselves covered in blood during or after the match, seemingly mocking WWE's statement.
Other Stuff
In other little bits of news from this past weekend…
Bayley reacted to a report about her return from injury. Dave Meltzer reported in the Observer that Bayley was expected to be back in February or March, and then Bayley mocked said report by tweeting in all capital letters: "OMG GOOD TO KNOW!!!!!!!!!!!! THEY ARE ALWAYS ACCURATE". So take that for whatever you think that's worth.
Ahead of being involved in the Royal Rumble match, WWE Hall of Famer Lita returned on SmackDown this past Friday and laid out Charlotte Flair. PWInsider reported that the decision to have Lita on SmackDown was a "last minute" one, made the day before the show itself.
Fightful Select also posted a very interesting story about Lita, reporting that AEW had been in talks with her about a feud with Britt Baker around the time of All Out last year. The two sides couldn't come to an agreement, but did leave on good terms.
As reported in the Observer, the AEW originals' contracts would have expired by now, so the likes of Cody Rhodes, Brandi Rhodes, Adam Page and Chris Jericho have evidently re-signed with the promotion.
Following reports of the Elimination Chamber being planned for Saudi Arabia next month, WWE has discussed plans to rebrand the concept as the WrestleMania Chamber, or The Annual Elimination Chamber, according to Dave Meltzer.
Jon Moxley will be returning to action soon as he was announced for the January 23 GCW show where he will defend the GCW World Championship against Homicide.
Tommaso Ciampa and Pete Dunne once again worked a dark match before SmackDown on Friday, but according to PWInsider, are still listed on the NXT roster internally.
Former IMPACT X-Division Champion Rohit Raju made his AEW debut at this past weekend's Dark tapings.
The Hardy Boyz will be reuniting for appearances together at Zombie Hideout in Massachusetts for a signing on March 12, and then at Pandora's Box Toys & Collectables on March 13.
Be sure to stay tuned to WrestleTalk.com throughout the day to keep up with all the news from the world of pro-wrestling, and I'll see you tomorrow morning for another round-up.