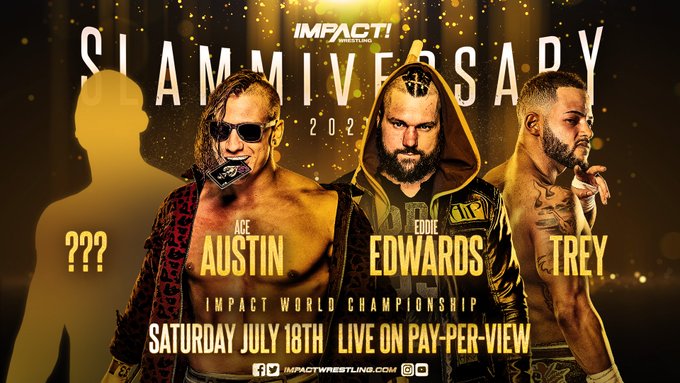 If you are reading this and you didn't watch Slammiversary, then you're probably expecting to read this article with the name of a Former WWE Wrestler as the new champ. It's not.
Eric Young debuted for IMPACT Wrestling and was the former World Champ in question. However, he wasn't the 4th man. He was the 5th.
Rich Swann was the 4th. Swann made a surprise appearance returning early from a knee injury. However, neither Young or Swann are your new world champ.
So, IMPACT went young and gave it to Ace Austin. Wrong again.
Eddie Edwards is your new IMPACT World Champion. Eddie Edwards pinned Ace Austin after hitting the Die Hard Fusion for the win.
Eric Young eliminated Trey Miguel. Rich Swann eliminated Eric Young in a quick roll-up. Young snapped and then destroyed Swann's recently injured knee.
AND NEW IMPACT World Champion – @TheEddieEdwards! #Slammiversary

ORDER HERE: https://t.co/cjK3GrKZ0H pic.twitter.com/CAi9iiFMcp

— IMPACT (@IMPACTWRESTLING) July 19, 2020
Swann would fight valiantly, but Austin would eliminate him. Edwards would then eliminate Austin to become the new World champion in a finish almost no one was picking.
After the match, Austin's heater Sawyer Fulton would come down to the ring and attack Edwards. Moments later, The Good Brothers would come down to the ring. They teased being with Fulton and Austin before taking them out.
The Good Brothers and Edwards celebrated Steve Austin style with some beer in the ring. As the show was going off the air, the video cut to a vignette.
ECIII was standing in front of a concrete wall. He threw his glass against it and didn't say a word. Nothing. That's it. That was his re-debut. Not the ending anyone was expecting.
We'll have to tune in Tuesday night to see the fallout from Slammiversary.