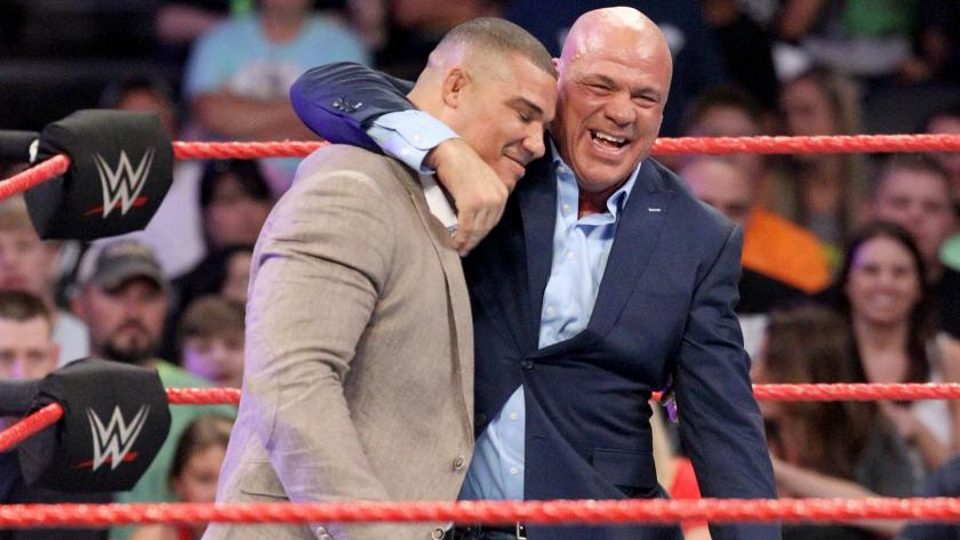 A possible reason why WWE higher-ups made the decision for Jason Jordan to be Kurt Angle's illegitimate son instead of Chad Gable during their WWE storyline in 2017 may have just been revealed.
Speaking on his Kurt Angle Show podcast, the WWE Hall of Famer speculated that WWE may have thought it was more "politically correct" to have Jason Jordan play the role of his son instead of Chad Gable:
"Well, I was excited because I wanted to pair up with Jason and Chad when they were tag team partners and I wanted to wrestle and I wanted to be the World Champion and have them be the Tag Team Champions, just like Team Angle, and I thought it made a lot of sense.

"They decided that I was going to have an illegitimate son and they weren't sure who it was going to be and they decided to pick Jason over Chad and, you know, I'm not sure why. It might have been a politically correct move, but I was happy I was excited about it because Jason is a great talent and he was improving every week, his chops were improving, his work was improving. He was getting a lot better. He was on his way to main event status until he hurt his neck. That's where the program ended and I was stuck high and dry without a partner for the next WrestleMania because that's who I was going to wrestle was Jason."
In the midst of the storyline, Jason Jordan was taken off TV due to a neck issue. The injury has kept Jordan out of the ring since, with his last match coming over three years ago at the 2018 Royal Rumble.
Prior to his injury, it was speculated that WWE was going to have Jason Jordan eventually turn heel on Kurt Angle, leading to a WrestleMania match between the two. This has since been confirmed in interviews.
What are your thoughts on the above story? Let us know in the comments on Twitter or Facebook.
Thanks to Ringside News for the transcription.