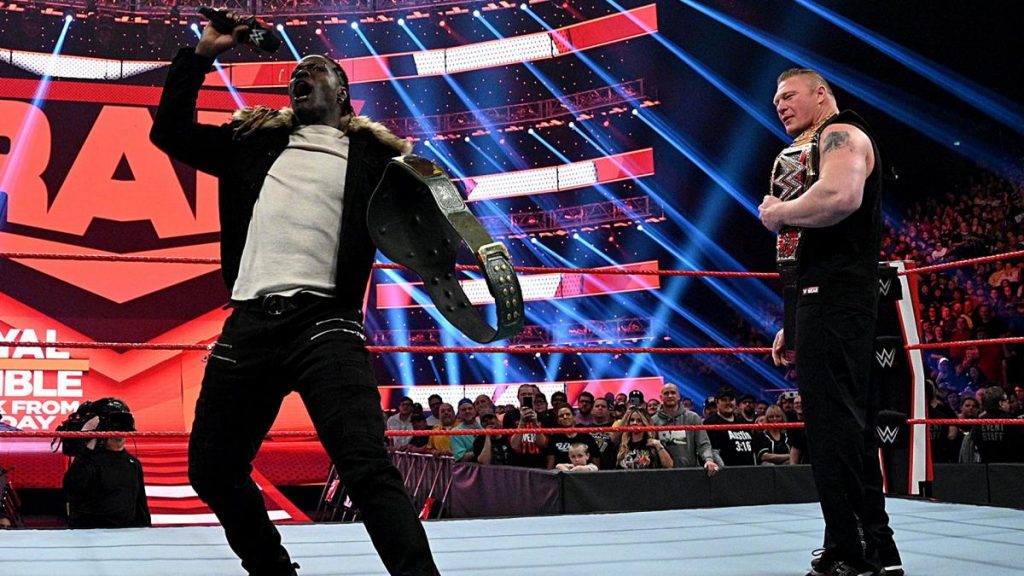 At the beginning of this year before the Royal Rumble, R-Truth and the then WWE Champion Brock Lesnar were involved in one of the most funny and entertaining segments in recent Raw history.
The segment was so naturally funny that R-Truth has revealed that Brock Lesnar approached him backstage after their interaction and said he'd love to work more with the 24/7 Champion. You can read more about that by clicking here.
It seems like we might have figured out why the segment was so funny, and it's because R-Truth was not given a script and was actually part of a bet to try and make Brock Lesnar laugh.
While speaking to talkSPORT, Truth recalled being approached by Paul Heyman backstage without a script and being told just to try and make Brock Lesnar laugh during their segment. He noted that this was part of a bet.
"I remember Heyman called me to the Gorilla [Position], and this is like 20 minutes before we had to go out. I had no promo, they didn't give me nothing, and I'm like, 'What am I supposed to say?' Paul was like, 'Well, we have a bet going on. We don't want Brock to know what you're going to say. We want you to make Brock laugh.' I said, 'huh?'

"'Truth, you're a funny guy and we have a bet you can't make Brock laugh. I think you can, but they think you can't. So, just wing it.' … Once Brock came in, I'm like, 'Damn, I think we should tell Brock what I'm going to say.' You know? It's Brock Lesnar! We should tell Brock what we're going to say. I don't want him to be surprised by anything. Paul's like, 'This is going to be great.'

"I remember the moment in the ring and I'm going on, and on, and making stuff up in my head. I saw when Brock looked at me — as in that look of 'What the hell is he talking about?' Because I'm just babbling! I knew I had him then. I did all I could to hold myself from laughing when I saw Brock bust out laughing because of Paul Heyman's facial expressions. The magic just kept going on, man."
We have not seen Brock Lesnar on WWE TV since WrestleMania 36, and he is reportedly a free agent after allowing his WWE contract to expire after the big show in April. However, there is reportedly no fear that Brock Lesnar will work for another promotion.