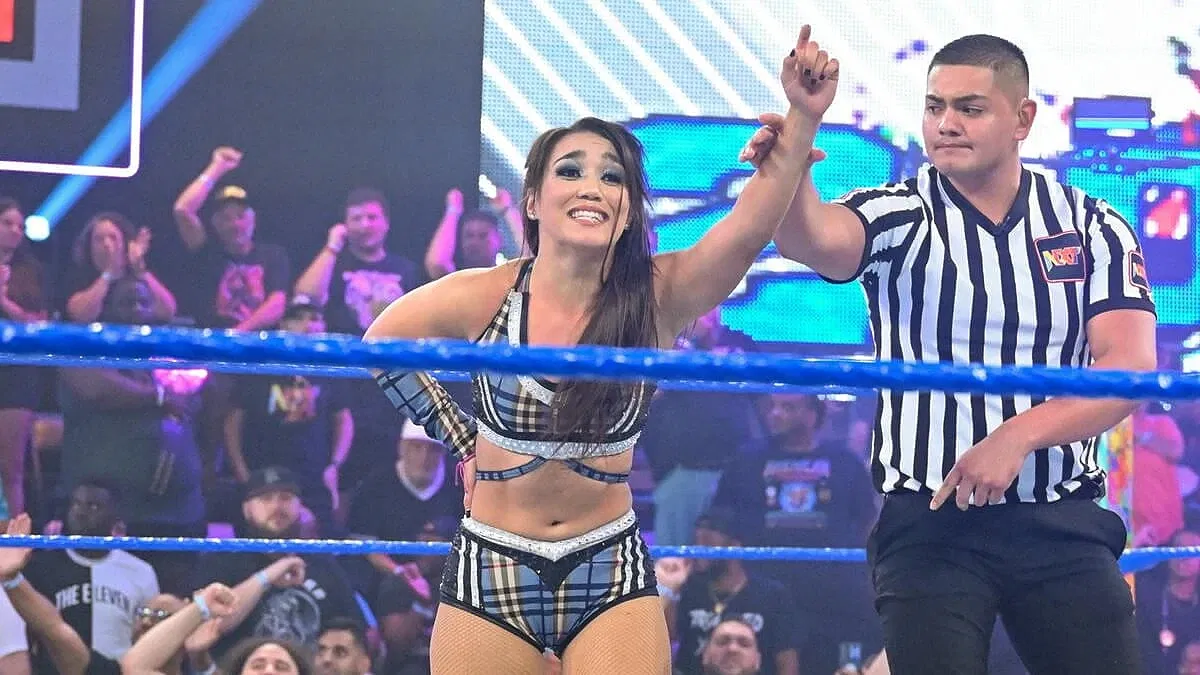 Roxanne Perez has reflected on her NXT 2.0 run so far.
Perez has been one of the fastest rising stars on the NXT 2.0 brand. The former Rok-C is coming off a breakout year in 2021 where she won the ROH Women's World Championship.
In 2022, the former ROH star appeared in MLW and IMPACT Wrestling during their Ring of Honor's hiatus before signing with WWE in March.
In a new interview with Denise Salcedo during the WrestleMania 39 Launch Party, the former NXT Women's Tag Team Champion reflected on her journey in WWE so far.
She stated:
"I feel like it's so surreal, honestly. I still have moments almost every day, I'm like driving to the PC and I'm like, 'Wait, I'm a WWE Superstar. This is crazy.' But yeah, I still feel like a little kid every single day that I go to work. I feel like everything has been happening so fast, but I feel like everything happens the way it's meant to happen. It's so cool getting to work with Shawn Michaels. Literally the first time that I met him, I was like a little kid. I was like, 'Oh my god, don't cry, don't cry.' But yeah, it's so cool. He's awesome, he's helped me so much, and Matt Bloom, he's like our head coach there, and he's been so awesome. Just like the environment there and all the girls that I get to work with. I get to work some of the girls that I knew from the indies like Indi Hartwell, Cora Jade, so yeah, it's really cool."
Roxanne Perez has won the first Women's Breakout Tournament and the NXT Women's Tag Team Titles with Cora Jade in just four months on the brand.
Perez continued on to described how it seems crazy to be in WWE now as it was always her dream, saying:
"It's crazy, it's surreal because I'm only 20, so I have done a lot in my wrestling career, but it's so surreal to me because I would have never thought that, when I was younger, I always knew like okay, I'm gonna be a WWE Superstar. There was no ifs, ands or buts about it. I was like I don't how I'm gonna do it, but I'm gonna do it. But I never thought that I would be friggin' NXT Women's Tag Team Champion within like four months. Honestly, I don't know, it just feels like my love for WWE and this business, it just makes the little 10-year-old me so so happy and proud because I just never would have thought that all of this would be happening so, so fast, but I'm thankful."
After winning the NXT Women's Tag Team Championships, Cora Jade subsequently turned on her former best friend Roxanne Perez during her NXT Women's Championship match.
The two former tag team partners will clash on the August 16 Heatwave edition of NXT 2.0.
Keep track of Roxanne Perez's win-loss record in 2022 (for televised matches) at this link.
Transcription via Fightful
If you're in the UK but didn't manage to get tickets to Clash at the Castle on September 3, WrestleTalk is hosting a watch party at The Joiner on Worship in Shoreditch, London, and we'd love for you to join us! Click here for more details.