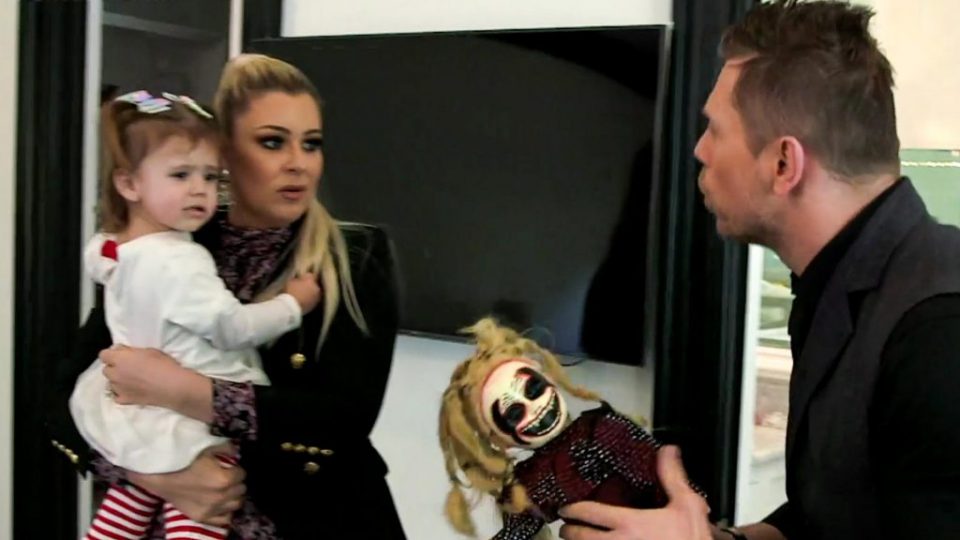 Miz sat down with Renee Young tonight on WWE SmackDown for an in-home interview.  If you've ever watched a wrestling show before you knew Bray Wyatt was going to show up.
Well, he didn't exactly show up but some of his friends did.  Bray's Firefly Fun House puppets showed up in the Miz's daughter's room.
As you can see in the video above, Maryse is shown screaming because their daughter Monroe is seen on a baby cam playing with Ramblin Rabbit.  Then, the Firefly Fun House music hit and interrupted the security cam footage.
We cut back to the baby's room and we now see all the puppets in her crib.  This is where some of the logistics of the filming made it a bit hard to believe.
As Miz and Maryse ran up the stairs to check on their daughter, the camera crew was following them up the steps.  Great!
There's a red light coming from behind a hall door.  Miz sends Maryse in first.  Guess that's why Daniel Bryan called him a coward.
Snitches get stitches, @mikethemiz.

P.S. #TheMarine 5 was ?????!! *chefs kiss*#SmackDown @WWEBrayWyatt #WWETLC pic.twitter.com/Sv1M4Gd0e4

— WWE (@WWE) December 14, 2019
As Miz and Maryse round the corner, we switch from the following camera crew to an already placed camera crew in Monroe's bedroom.
If there was a camera crew in her room, why didn't they stop Bray from messing with the kid?  Miz kicks them out and a doll is left behind.
Back in the arena, Bray then has a fantastic Firefly Fun House.  Basically, he says he's taught himself not to feel pain.  The Miz seems to be in trouble come Sunday.