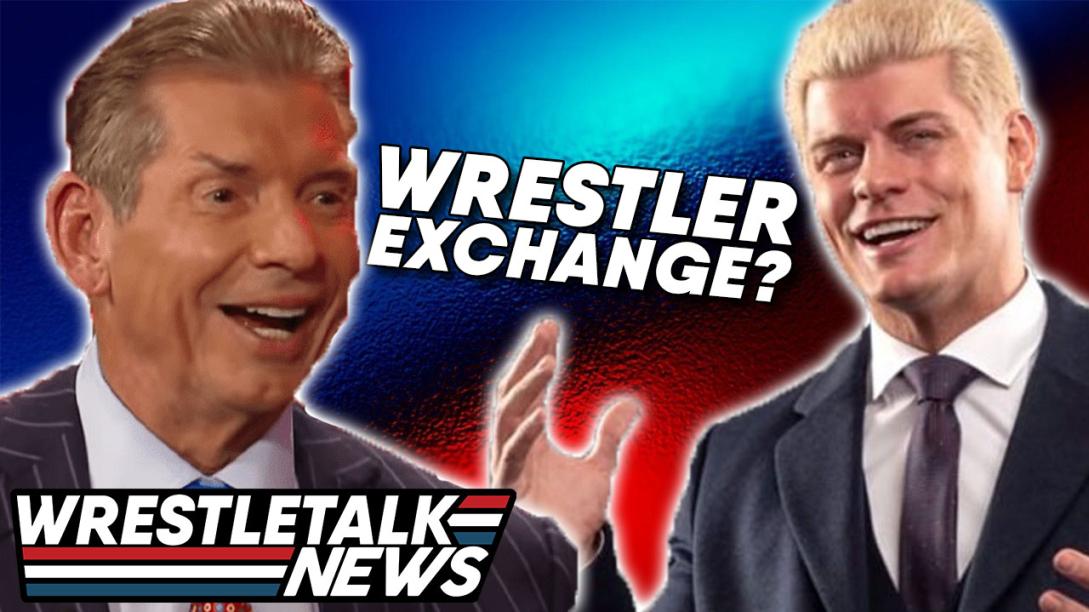 Potential WWE & AEW Working Relationship?
Last year Tony Khan teased that "the balance of power in wrestling would shift". And, for once, that wasn't just promoter exaggeration for Bram has signed a multi-year deal. Just two months later, AEW has forged genuinely industry-shaking relationships with IMPACT and New Japan, in addition to their partnerships with AAA and NWA. The Forbidden Door wasn't just opened, KENTA was trying to double footstomp Job Moxley through it.
But there's an even more forbidden door out there for AEW. The wrestling equivalent of Marvel doing a crossover with DC. And that door belongs to Vince McMahon.
In an interview with the New York Post to hype his upcoming Dynamite match against Shaquille O'Neal – that's the name of AEW's weekly TV show, they're not having a match with actual explosives. Yet. – Cody Rhodes said that partnerships with other promotions was key to the success of the AEW prologue pay-per-view All In, and he thinks more crossovers could happen – specifically name dropping Jacob Fatu and MLW. He also added, "There's no reason that there couldn't be a potential WWE crossover one day… Our doors are open if the business is right, if the moment is right, if the time is right. Our bridges are down." Pointing out that Eddie Graham and Vince McMahon Sr – Vince's dad – used to trade talent all the time to keep their products in Florida and New York fresh for fans.
Cody did make sure to say, "I don't mean that's a thing that's been discussed or happening, but none of those rules that exist for other places exist for us." But it's the first we've heard of at least one side being open to working together.
So let's get carried away and fantasy book all the WWE vs AEW dream matches? If you could have only one singles match, who would it be? Let me know in the comments down below because I'll be replying to people FROM OUTTA NOWHERE saying Orange Cassidy vs Roman Reigns. 
Unfortunately WWE are so controlling of who their 'independent contractors' work with, they've now even banned them from specific 3rd party mentions on their social media.
More WWE Talent Bans?
Last year WWE banned their talent from using third party sites like Cameo and Twitch, which provided wrestlers with extra income during a global pandemic while WWE weren't touring. This was reportedly very lucrative for some, with Zelina Vega apparently earning 6 figures from her Twitch channel. She refused to stop streaming, so WWE released her late last year. Her non-compete clause expired last week.
And now, according to WrestlingInc, WWE's bans are becoming stricter.
The site – who first reported that Twitch ban news – is now reporting that WWE are issuing "violations" to talent if they simply name third party brands, businesses, persons or charities on their social media feeds. This will start as a warning, then become a fine, and finally suspension if talent continue to violate the new rules. There's no word on whether the 3rd party persons could include interactions between WWE and AEW talent, like Kenny Omega and Xavier Woods bantering on Twitter.
WrestlingInc have learned that, "The company is claiming ownership of talent Twitter and Instagram accounts via a clause in their contracts that grants WWE the exclusive use of their likeness."
But just how lucrative can this type of content be for WWE talent? Well according to LoveUX, Mandy Rose made an estimated $490,000 sponsored posts in 2020, while Lana earned an estimated $625,000.
WWE Raw Review
But stuff my hole, it's only the Elimination Chamber this Sunday. What is time anymore? I don't know, so here's my review of last night's Raw… in about 5 sandwiches.
Raw opened with MizTV, but no John Morrison. So when he announced his guest as WWE Champion Drew McIntyre – schwing – I just assumed it would be Morrison dressed in a kilt, or that guy with his bum hanging out, or a little person, or a woman dressed up as a man, or any number of awkwardly bad taste heel tactics. But no, it was actually Drew. Miz explained Morrison is working with a producer far better than Bad Bunny, as he was nowhere on this show.
Miz called McIntyre 'Andy' – he went there, he used his real name – so Drew headbutted him and threw the briefcase all the way up the ramp again. Miz then cut a decent psychotic promo after Drew left about cashing in, with the big reveal: he's removing himself from the Chamber match!
This was definitely their plan all along. Not because they realised having the Money in the Bank holder in the Chamber was stupid, and you've got a perfectly good Kofi Kingston sitting right there.
Miz petitioned definitely not Raw General Manager Adam Pearce to replace him with the quote 'young up and comer', ECW World Champion John Morrison. Bonus troll points. But the New Day wanted KofiMania Part Deux. So Pearce booked a match like its 2010 all over again.
While I feel like I've seen Miz vs Kofi a hundred times, the stakes of Kingston getting in the Chamber really heightened the emotional investment. Making it all the better when Kofi won.
The actual first match of the show was a six man between The Hurt Business' MVP, Shelton Benjamin and Cedric Alexander against Riddle and Lucha House Party – complete with terrible Riddle 'comedy' about who his favourite president is; choosing Harrison Ford, a reference to 1997's Air Force One, because he saved Chewbacca, a reference to 1977's Star Wars. Pop culture! 
Riddle pinned MVP in some really good in-ring action, as you'd expect, but just in case Matt got any momentum going, Bobby Lashley then utterly destroyed him with the Masterlock, as you'd expect.
Ok, we're three weeks into the Damien Priest push. Just stick with Bad Bunny, you'll be fine. Wait… is that the 24/7 title? Oh dear god, run Damien Priest, run!
Bad Bunny is your new 24/7 champion, likely so he can wear it on his SNL appearance this weekend. Hopefully this doesn't derail Priest and Bunny with the jobber division. 
Best friends Charlotte and Asuka then took on also definitely best friends Lacey Evans and Peyton Royce next. Evans avoided being against Charlotte for the whole match. And when she was finally tagged in, she just hopped off the apron and revealed to the world she's pregnant. You were with her for one month, Ric. One month!
Much like this feud so far, this was mad awkward. While WWE didn't explicitly say it's Ric's kid, that's certainly the storyline implication. And the match itself just finished. No countout, no DQ. And who's going to face Asuka for the title at Elimination Chamber now Lacey's out? PWInsider is reporting the pregnancy is a shoot, and WWE only just found out about it, explaining the last minute change. 
Lana and Naomi talked about being best friends backstage. I don't believe them. And then Shayna Baszler had to sell for Lana in a singles match. This is what awaits you in the main roster women's tag division Dakota Kai and Raquel Gonzalez. Stay in NXT.
Surprisingly we didn't get any hole action. Nia Jax just beat up Naomi at ringside, letting Shayna choke Lana out.
Braun Strowman made his Raw return backstage after recovering from a blood infection, and went straight for 'Last but not Least' Adam Pearce. 
Strowman wanted Shane McMahon to make it right that he was never added to the Chamber match. Which implies we're getting Braun vs Shane at WrestleMania. 
I give WWE a lot of criticism, because, mostly, their main roster shows make me want to put my head in a Nutribullet. But one thing they've excelled at over the last few years is their gauntlet matches. And this episode's main event, which took up the last hour of the show, was no different – having the significant stakes of deciding who will come out last in the Chamber.
It began with AJ Styles vs the just qualified Kingston. That tall guy Omos got ejected from ringside after throwing Xavier Woods over the barricade, from which Woods never returned, which I thought was setting up an AJ loss. But he ended up beating Kofi clean – which wasn't the most effective use of getting over Kingston as a credible contender. Retribution's Ali should've cost him the match, to further their feud, and give AJ the heel heat.
The best part of the gauntlet came next, as Drew McIntyre came out – schwing! – for a great bout with AJ. I was so into them one-on-one, I kind of forgot I was watching a gauntlet match. After almost 20 minutes of struggling, Drew put AJ away with the Claymore.
Jeff Hardy went right at Drew, but he got the knees up on the Swanton Bomb and hit a Claymore.
And then in came Randy Orton to finish that unfinished business they haven't yet finished… again… but he quickly got counted out. And it wasn't actually bad.
Orton's promo earlier in the show had been interrupted by Alexa Bliss going full Satanism, attempting to summon The Fiend from the dead. While I've not been a fan of the supernatural stuff closing Raw through January, this was far less imposing, and I really enjoyed it – particularly the visual of Bliss' face taking over the Thunderdome, which caused Orton to get counted out.
The final opponent was Sheamus, who went right for Drew before the bell. McIntyre stubbornly told the referee he'd still compete, and they had a dramatic final five minutes before Drew succumbed to both fatigue and a Brogue Kick. This was very well done to build Sheamus' heel heat, and his blood feud with Drew the Chamber is based on.
What did you think of Raw? Let me know in the comments, and vote in our Poll on a Pole match on our community tab to give your rating: where 78% of you went for 'So Lacey Evans is pregnant with Ric Flair's child?'
This was the best Raw in ages, helped by one third of the show being taken up by a typically great gauntlet match. Switching out the Miz in the Chamber was a good touch too, but the women's division has found itself in even more of a mess. This week's Raw is 3 out of 5.
What are your thoughts on the above story? Let us know in the comments on Twitter or Facebook.