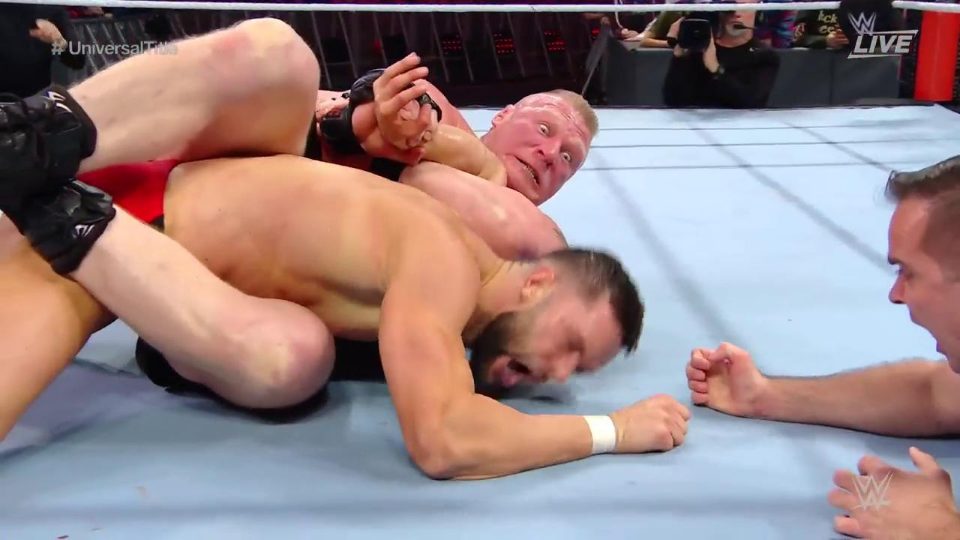 Full Results
Bobby Roode & Chad Gable def. Rezar & Scott Dawson (Pre-Show)
Shinsuke Nakamura def. Rusev (c) – WWE United States Championship (Pre-Show)
Buddy Murphy (c) def. Akira Tozawa, Hideo Itami, Kalisto – WWE Cruiserweight Championship (Pre-Show)
Asuka (c) def. Becky Lynch – WWE SmackDown Women's Championship
Shane McMahon & The Miz def. The Bar (Cesaro & Sheamus) (c) – WWE SmackDown Tag Team Championships
Ronda Rousey (c) def. Sasha Banks – WWE Raw Women's Championship
Becky Lynch wins the 30-woman Royal Rumble match
Daniel Bryan (c) def. AJ Styles – WWE Championship
Brock Lesnar (c) def. Finn Bálor – WWE Universal Championship
Seth Rollins wins the 30-man Royal Rumble match
30-Man Royal Rumble Match
Just like with the women's Rumble, I'll be updating with every entrance and elimination, so keep refreshing this page!
Entrant #1 – Elias
Entrant #2 – Jeff Jarrett
Jeff Jarrett eliminated by Elias
Entrant #3 – Shinsuke Nakamura
Entrant #4 – Kurt Angle
Entrant #5 – Big E
Kurt Angle eliminated by Shinsuke Nakamura
Entrant #6 – Johnny Gargano
Entrant #7 – Jinder Mahal
Jinder Mahal eliminated by Johnny Gargano
Entrant #8 – Samoa Joe
Big E eliminated by Samoa Joe
Entrant #9 – Curt Hawkins
Entrant #10 – Seth Rollins
Elias eliminated by Seth Rollins
Entrant #11 – Titus O'Neil
Titus O'Neil eliminated by Curt Hawkins
Curt Hawkins eliminated by Samoa Joe
Entrant #12 – Kofi Kingston
Entrant #13 – Mustafa Ali
Shinsuke Nakamura eliminated by Mustafa Ali
Entrant #14 – Dean Ambrose
Johnny Gargano eliminated by Dean Ambrose
Entrant #15 – No Way Jose
No Way Jose eliminated by Samoa Joe
Entrant #16 – Drew McIntyre
Entrant #17 – Xavier Woods
Xavier Woods eliminated by Drew McIntyre
Kofi Kingston eliminated by Drew McIntyre
Entrant #18 – Pete Dunne
Entrant #19 – Andrade
Entrant #20 – Apollo Crews
Entrant #21 – Aleister Black
Dean Ambrose eliminated by Aleister Black
Entrant #22 – Shelton Benjamin
Samoa Joe eliminated by Mustafa Ali
Entrant #23 – Baron Corbin
Apollo Crews eliminated by Baron Corbin
Entrant #24 – Jeff Hardy
Aleister Black eliminated by Baron Corbin
Pete Dunne elimimated by Drew McIntyre
Entrant #25 – Rey Mysterio
Entrant #26 – Bobby Lashley
Bobby Lashley eliminated by Seth Rollins – Lashley puts Rollins through the announce table
Entrant #27 – Braun Strowman
Baron Corbin eliminated by Braun Strowman
Shelton Benjamin eliminated by Braun Strowman
Entrant #28 – Dolph Ziggler
Drew McIntyre eliminated by Dolph Ziggler
Entrant #29 – Randy Orton
Entrant #30 – R-Truth – Truth is attacked by Nia Jax, who enters the match instead… okay then
Mustafa Ali eliminated by Nia Jax
So with all entrants in, we're left with Nia Jax, Randy Orton, Rey Mysterio, Andrade, Dolph Ziggler, Braun Strowman and Seth Rollins
Nia Jax eliminated by Rey Mysterio
Rey Mysterio eliminated by Randy Orton
Randy Orton eliminated by Andrade
Our final four are Andrade, Ziggler, Strowman and Rollins
Andrade eliminated by Braun Strowman
Dolph Ziggler eliminated by Braun Strowman
We are down to Rollins and Strowman!
ROLLINS DID IT! SETH ROLLINS WINS THE MEN'S ROYAL RUMBLE MATCH!
,
Brock Lesnar (c) vs. Finn Bálor – WWE Universal Championship
Bálor kicks off right from the first bell with a dropkick and a flurry of offense, but a Slingblade attempt is caught by Lesnar who flings Finn out the ring with a belly-to-belly.
Brock beats down Finn at ringside, chucking him into the barricade and hits another belly-to-belly on the outside, before exposing the announce table. The 'Beast' goes for a powerslam through the table but Finn slides out and pushes Lesnar abdomen-first into the corner of the announce table. The commentators play up Lesnar's previous diverticulitis with him favouring his midriff.
Back in the ring, Lesnar still selling the mid-section on top of Finn, taking the Irishman to Suplex City. Brock's hesitation allows Finn a momentary shot at a comeback, but it's cut short by a vicious Lesnar clothesline.
F5? THINK AGAIN!#RoyalRumble #UniversalTitle @FinnBalor pic.twitter.com/w7AnmiBGVc

— WWE (@WWE) January 28, 2019
Lesnar continues going for belly-to-bellies but he collapses, and an F5 attempt is countered by Finn into a DDT. Lesnar rolls out and Finn lands three dives over the top to the outside onto the 'Beast'. This is truly excellent selling from Lesnar here.
Bálor lands a Coup de Grace from the top on Brock's mid-section, but the champion kicks out at two, and pulls Finn into the Kimura lock and Finn tapped out.
That was a lot shorter than I'd hoped, but still a decent outing. Lesnar continues to beatdown on Bálor after the match is over. Will we see Finn in the Rumble? Potentially resurrected as the Demon?
Daniel Bryan (c) vs. AJ Styles – WWE Championship
Styles started this one aggressively going straight for Bryan until the pace was slowed down with a few holds and Bryan took a little breather on the outside.
AJ was the one on the offense on Bryan's return to the ring until the champion launching him into the ringpost in the corner down to the outside with impact on AJ's shoulder. Bryan targeted said shoulder by chucking Bryan into the cornerpost and using a few kicks for a nearfall.
#TheNew @WWEDanielBryan has @AJStylesOrg COMPLETELY grounded… #RoyalRumble pic.twitter.com/io5My4knIg

— WWE Universe (@WWEUniverse) January 28, 2019
Bryan continued doing damage to the shoulder area with some submission holds. AJ began to fight back but a burst of momentum was halted momentarily by Bryan who connected with a corner dropkick. The second was blocked but Bryan managed to connect with a Dragon Suplex for a nearfall.
Styles attempts a Styles Clash from the second rope but Bryan manages to escape, and the action soon spills to the outside where AJ executed a reverse DDT off the barricade. Styles attempts a springboard 450 back in the ring but Bryan got his knees up.
The pace slow here, with Bryan still working over the arm. He was using his left leg for kicks but it gave way as Styles was going for a bit earlier to weaken it for the Calf Crusher.
The two go to the top turnbuckle, but Bryan squirms out. He climbs back up though, and goes for a back superplex, but AJ manages to flip out, land on his feet, and locks in the Calf Crusher. Bryan gets out but Styles transitions into a pin for a nearfall.
The two are back-to-back in the ring, doing their best to leverage momentum their way, and it's AJ who manages to do so with a Brainbuster for a two-count.
It's… @ERICKROWAN? #RoyalRumble pic.twitter.com/Jt12V1CqP8

— WWE (@WWE) January 28, 2019
Bryan and AJ both go down in the ring and… erm… Rowan turns up. He just walks out and stands there. The ref gets knocked down, Rowan gets into the ring, chokeslams Styles, and Bryan gets the win.
Oh. I dig this. Bryan recruiting followers of sorts? I like this a lot. Rowan picks AJ up after the match for Bryan to hit the running knee.
30-Woman Royal Rumble Match
It's time for the first of two Rumble matches tonight with the women's Rumble up next. Make sure you keep refreshing this page as I'll be updating with every entrance and elimination.
#1 entrant – Lacey Evans
#2 entrant – Natalya
#3 entrant – Mandy Rose
#4 entrant – Liv Morgan
Liv Morgan eliminated by Natalya
#5 entrant – Mickie James
#6 entrant – Ember Moon
#7 entrant – Billie Kay
#8 entrant – Nikki Cross
#9 entrant – Peyton Royce
#10 entrant – Tamina
Mickie James eliminated by Tamina
#11 entrant – Xia Li
#12 entrant – Sarah Logan
Nikki Cross eliminated by Billie Kay & Peyton Royce
#13 entrant – Charlotte Flair
Billie Kay & Peyton Royce eliminated by Lacey Evans
Xia Li eliminated by Charlotte Flair
#14 entrant – Kairi Sane
Tamina eliminated by Charlotte Flair
Sarah Logan eliminated by Natalya
#15 entrant – Maria Kanellis
#16 entrant – Naomi
Mandy Rose eliminated by Naomi
Naomi eliminated by Mandy Rose
Lacey Evans eliminated by Charlotte Flair
#17 entrant – Candice LeRae
#18 entrant – Alicia Fox
Maria Kanellis eliminated by Alicia Fox
#19 entrant – Kacy Catanzaro
#20 entrant – Zelina Vega
#21 entrant – Ruby Riott
Alicia Fox eliminated by Ruby Riott
Candice LeRae eliminated by Ruby Riott
#22 entrant – Dana Brooke
Kairi Sane eliminated by Ruby Riott
#23 entrant – Io Shirai
#24 entrant – Rhea Ripley
Kacy Catanzaro eliminated by Rhea Ripley
#25 entrant – Sonya Deville
Dana Brooke eliminated by Rhea Ripley
Zelina Vega eliminated by Rhea Ripley – Vega is now being chased by Hornswoggle because she hid under the ring. Amazing.
#26 entrant – Alexa Bliss
Sonya Deville eliminated by Alexa Bliss
#27 entrant – Bayley
Ruby Riott eliminated by Bayley
Rhea Ripley eliminated by Bayley
#28 entrant – Lana – Lana is injured and hobbling to the ring after being injured in Rusev's match one the pre-show – Becky please
#29 entrant – Nia Jax – Jax just attacked Lana on the ramp – Becky please
Io Shirai eliminated by Nia Jax
Natalya eliminated by Nia Jax
#30 entrant – Carmella
YES BECKY'S HERE!!!!!!! LANA IS UNABLE TO COMPETE AND BECKY IS TAKING HER PLACE
Becky, Bayley, Ember, Alexa, Nia, Carmella and Charlotte are left with no more to enter
Ember Moon eliminated by Alexa Bliss
Alexa Bliss eliminated by Bayley
Carmella eliminated by Charlotte Flair
Bayley eliminated by Charlotte Flair
Nia Jax eliminated by Becky Lynch
We are down to the final two – Charlotte Flair and Becky Lynch
YESSSSSSSSSSSSSSSSSSSSS BECKY DID IT!!!! BECKY WINS THE WOMEN'S ROYAL RUMBLE!
Ronda Rousey (c) vs. Sasha Banks – WWE Raw Women's Championship
Ronda starts the match on top, screaming "you think I can't wrestle? I'm gonna show you some wrestling" before going for the Three Amigos that Banks often uses to pay tribute to Eddie Guerrero. Banks blocks the third suplex though, and begins to wear down the champion in the center of the ring.
For the record Ronda pal, I think you're bloody brilliant at the wrestling.
Banks lands some Andrade-esque knees to Ronda in the corner for a two-count before again locking Ronda in a couple of submissions and wearing her down.
Rousey counters out and transitions into a pin which for some odd reason Rod Zapata the ref decides not to count making everyone look like a mug for a couple of seconds.
Sasha focuses her offense on Ronda's right arm, using the ropes to gain leverage. Rousey fights out and goes for the Piper's Pit, but Sasha rolls through and transitions it into an armbar on the weakened right arm. Rousey tries to break free but Banks turns it into a Bank Statement.
Is it, in fact, BOSS TIME for @SashaBanksWWE?! #RoyalRumble pic.twitter.com/dUKPBZZCfT

— WWE (@WWE) January 28, 2019
Ronda eventually gets out and lands the Piper's Pit before climbing to the top rope. Banks meets her and sets up for a superplex. Rousey kicks her off momentarily but Sasha climbs back up and lands the superplex for a nearfall. The 'Boss' went straight into another hold on the right arm.
Rousey recovers and goes to set up for an armbar, but Banks shoves her out the ring before going for a suicide dive. Rousey catches her, gives her a death stare, and locks in the armbar on the outside. Banks taps but obviously it's on the outside so nothing doing.
When the two are back in the ring, Sasha takes the initiative but gets a bit cocky and Ronda tries to pull her into yet another armbar, but her injured arm means it can't be locked in fully.
.@RondaRousey's arm is NOT supposed to bend that way!!!#RoyalRumble @SashaBanksWWE pic.twitter.com/HFqSLdnBzx

— WWE (@WWE) January 28, 2019
Banks locks in the Bank Statement, and uses some straps off her attire to apply the crossface… which is cheating. That's… that's cheating. Nonetheless, Rousey gets to the ropes and breaks the hold.
Sasha re-applies it but Ronda powers out into a Piper's Pit and picks up the win via pinfall. Rousey retains in a good match but a slightly flat finish. I think just because she doesn't regularly win with that move. That's actually Rousey's first ever pinfall win in WWE.
Rousey tries to show Sasha her respect after the match, but the 'Boss' is having none of it, walking away and throwing up the Four Horsewomen sign. Seeds.
The Bar (Sheamus & Cesaro ) (c) vs. The Miz & Shane McMahon – WWE SmackDown Tag Team Championships
Miz and Shane made their entrances in matching t-shirts… except Miz has both their names on and Shane's only has Shane's because he's Shane.
McMahon starts the match with Sheamus, and immediately launches out the starting blocks, leading Sheamus to retreat and shout "he's a bloody lunatic" which I found hilarious for some reason.
The Bar utilized some heel tactics early on when the ref had his back turned, and they cleared the announce table like they did on SmackDown. Shane saves Miz from being put through it and rests Cesaro on it. Miz holds the 'Swiss Cyborg' in place but Sheamus intervenes before Shane can land a massive elbow drop.
High-flying, hard-hitting, and MUST-SEE! This is what happens when #TheBar defends the #SmackDown #TagTitles against @shanemcmahon & @mikethemiz at #RoyalRumble 2019! @WWECesaro @WWESheamus pic.twitter.com/RYIpJpv3vH

— WWE (@WWE) January 28, 2019
Shane does take out Sheamus with a diving clothesline on the outside, only to be downed by Cesaro as the Bar take the initiative working over Miz efficiently.
Sheamus hits the 10 Beats of the Bodhrán ripping Miz' shirt away exposing his chest, as he and Cesaro continue to isolate the 'A-Lister' for a short while.
Eventually Miz tries to make the tag and Cesaro tries to take Shane out. Shane dodges though and Miz hits a back body drop allowing him to tag Shane in, with Cesaro tagging in Sheamus too.
Shane strikes with a flurry of punches before planting the 'Celtic Warrior' with a float-over DDT. He's clearly been practicing that, he almost did it properly this time.
Both Sheamus and Cesaro end up downed in the corner and Shane goes for the Coast-to-Coast, but Cesaro catches it into a swing.
WE'RE GOIN' SWINGIN'!#RoyalRumble @WWECesaro pic.twitter.com/Tdrsiouyft

— WWE Universe (@WWEUniverse) January 28, 2019
Shane eventually locks Cesaro in a triangle and he looks to be fading until Sheamus dives in and breaks it up before the Bar hit the double White Noise for a nearfall.
They go for an assisted Brogue Kick, but Miz shoves Cesaro into it before hitting a Skull Crushing Finale. Shane climbs to the top rope and lands a Shooting Star Press on for the win! We have new SmackDown Tag Champions!
Another pretty good match (largely thanks to the Bar), and I expect the Bludgeon Brothers to take the titles from Miz and Shane as soon as they're back. It'll be a fun couple of weeks. Possibly.
Asuka (c) vs. Becky Lynch – WWE SmackDown Women's Championship
We kick off the main show with SmackDown Women's Title action, as the most popular star in all of WWE currently Becky Lynch takes on the defending champion Asuka.
Asuka starts the match aggressively with some strikes but Becky retorts with some early offense of her own. Asuka begins cockily toying with Lynch, but this only fires the 'Man' up, and Asuka retreats to the outside. Becky leaves the ring to join her but Asuka counters with a hip attack.
With both on the outside, it's Becky who gains the advantage first using the apron to her advantage, but after she rolls in to break the count, Asuka turns the tables and takes the upper hand. The same thing happens again but with the roles reversed as Becky hits a Bexploder launching Asuka into the barricade.
Lynch works over Asuka for a short while with a couple of nearfalls, specifically targeting the left arm to weaken it for her Dis-Arm-Her submission hold. She goes for said hold but Asuka scrambles her way out with some kicks.
#AsukaLock on the ropes? #DisArmHer within the turnbuckles?

Serious damage is being done as @WWEAsuka & @BeckyLynchWWE clash for the #SmackDown #WomensTitle! #RoyalRumble pic.twitter.com/odiyVBLOOL

— WWE (@WWE) January 28, 2019
Asuka gets caught up in the ropes after Becky dodges a hip attack, but the champion manages to lock in the Asuka Lock in the ropes. Lynch escapes and does the same with the Dis-Arm-Her. Lynch gets a bit desperate and goes for a dive off the middle rope but Asuka counters it leaving both competitors down.
Asuka takes the upper hand when they get back to their feet with a few kicks and a German suplex followed by a hip attack for a nearfall.
Asuka goes for a missile dropkick, but Becky manages to dodge it and lands a uranage of sorts for a nearfall.
Becky's wondering what she has to do to win, and Asuka capitalizes by locking in the Asuka Lock. The challenger managers to get to the ropes to break the hold.
The two end up on the apron where they exchange blows and Asuka goes for a German to the floor. Becky prevents it, and goes for a Bexploder but Asuka holds on. Asuka eventually plants Becky with a gnarly DDT of sorts to the outside, with Lynch managing to get back into the ring at nine.
The two fire up and exchange blows, with the 'Empress' connecting with a back kick for a nearfall.
? SUPER BEXPLODER ?#RoyalRumble @BeckyLynchWWE pic.twitter.com/YrrAQ6G0cM

— WWE (@WWE) January 28, 2019
The two fight to the corner, and Becky lands a Bexploder from the top turnbuckle, but again, the defending champion manages to kick out and save the match, prompting "this is awesome" chants.
Becky then climbs to the top rope and goes for a leg drop, but Asuka catches it into an Asuka Lock. Lynch gets out but Asuka transitions into a Dis-Arm-Her of her own before Lynch counters into an Asuka Lock on Asuka. Becky then locks in the Dis-Arm-Her but Asuka escapes.
Asuka once again rolls Becky into an Asuka Lock, bridges over, and Becky taps out. Asuka retains, and hopefully we see more of Becky in the women's Rumble match later tonight.
Buddy Murphy (c) vs. Akira Tozawa vs. Hideo Itami vs. Kalisto – WWE Cruiserweight Championship (Pre-Show)
Kalisto carried a Fortnite pinata to the ring. Dearie, dearie, dearie me.
Anyway, the match kicked off with Itami rolling out the ring leaving the other three men to exchange some quick pinfalls.
The match spills to the outside, as Kalisto tries a dive on Murphy, but the Aussie catches it into a suplex. Itami then gets into the ring for a one-on-one exchange with Murphy, with the two trading strong strikes and Itami coming out the better of the two.
Murphy has Kalisto set for a powerbomb on the outside, but Tozawa dives through Itami's legs to take them both out in a cool spot.
https://twitter.com/WWE205Live/status/1089670313464422400
Itami now has control of the match, slowing the pace down until Kalisto monkey flips Tozawa into Murphy out the ring and unleashes a flurry of flippy offense on Itami for a nearfall.
All men now back in the ring, and Murphy lawn-darts Kalisto into Itami in the corner taking them both out. Tozawa attempts to capitalize with a missile dropkick but Murphy kicks out at two.
Murphy launches Kalisto onto the two Japanese stars on the outside, before executing a dive of his own over the top rope to take out all three adversaries.
On returning to the ring though, Kalisto connects with a spike-rana on the champion for a nearfall.
Murphy connects with a powerbomb on the LHP member, but Tozawa breaks up the fall. He goes for a crossbody, but Murphy rolls through, but Tozawa turns it into a gnarly frankensteiner.
Kalisto then connects with a Salida Del Sol on Itami, but the latter manages to kick out at two.
EVERYBODY GETS A KNEE.#RoyalRumble #CruiserweightTitle @WWE_Murphy pic.twitter.com/6y3ze48mk4

— WWE (@WWE) January 27, 2019
Murphy and Itami are left standing in the ring, but Kalisto and Tozawa get back to their feet and all four men exchange a ton of strikes including Murphy's trademark knees. Murphy goes for the pin on Kalisto, but he rolls out, and Murphy and Itami are left in the ring. Murphy hits Murphy's Law on Hideo to retain the title in a good bout. Not sure about Itami taking the fall, but that's just being picky.
I hope Murphy goes on to hold the title into WrestleMania, where he drops it to… Ricochet. Fight me.
Rusev (c) vs. Shinsuke Nakamura – WWE United States Championship (Pre-Show)
Rusev started this one hot until the action spilled to the outside and Nakamura managed to dodge the ringsteps and chuck the Bulgarian into the barricade to turn the tables.
Shinsuke connected with Good Vibrations and a knee strike in the corner for a nearfall before locking Rusev in a front facelock until the champ powered out.
After a nearfall from a Rusev spin kick, he fires up and looks to set up for the Accolade but Nakamura rolls out the ring. Rusev goes for a suicide dive, Nakamura blocks it with a kick, but Rusev connects with a kick of his own for another two-count.
After this, he goes for the Accolade again but Nakamura squirms away connects with a few kicks for a nearfall. Shinsuke then sets up for the Kinshasa, but Rusev goes for the Machka Kick instead. Nakamura dodges it but Rusev still catches him with a double axe handle and then did connect with the Machka Kick.
The #USChampion @RusevBUL just cannot seem to break the grip of @ShinsukeN! #RoyalRumble #USTitle pic.twitter.com/0H6qzZGs0i

— WWE Universe (@WWEUniverse) January 27, 2019
The 'Artist' manages to pull Rusev into an armbar before transitioning into a triangle hold and Rusev looks to be fading, but manages to power out. However, Shinsuke holds on with a guillotine until Rusev connects with a suplex for an excellent nearfall.
The two end up on the top rope, but Shinsuke pulls Rusev down and hits a Landslide for another nearfall. Shinsuke exposes the turnbuckle pad, which prompts Lana to get up on the turnbuckle and shout at Shinsuke. Shinsuke confronts Lana and Rusev attempts to attack him from behind, but inadvertently knocks Lana off the apron before the challenger connects with a Kinshasa to pick up the win and become a two-time United States Champions!
Personally, I thought that match exceeded expectations but the finish let me down. We've seen that sort of conclusion a million times and Nakamura's last US Title reign was dreadful, and Rusev only held the belt a few weeks. It was a pretty good match, though.
. 
Bobby Roode & Chad Gable vs. Rezar & Scott Dawson (Pre-Show)
This match was announced by Drake Maverick earlier in the pre-show, with the idea being that because Rezar's teammate Akam is injured, this was a chance for both the Revival and AOP to earn a future title opportunity.
Dawson and Roode start thing off and a quick tag to Gable allows the Raw Tag Champions to control the early stages. Dawson hesitated to tag Rezar in at first, but he eventually did, but tagged himself back in after a short while, with Maverick screaming at them to "work together".
As the match went on, the pair did begin to show more of an understanding, working over Gable with some double-team offense and ensuring Gable can't make the tag to Roode.
Finish the sentence: This back body drop is _________.#RAW @REALBobbyRoode pic.twitter.com/aEzzU27lM6

— WWE Universe (@WWEUniverse) January 27, 2019
After a couple of minutes, Roode does get into the match, and counters a double-team attempt with Dawson inadvertently striking Rezar with a missile dropkick.
This took Rezar out of the match and allowed Roode and Gable to hit their finisher on Dawson for the win.
That match was largely pointless but it was a few minutes that we didn't have to listen to Coachman, which is only a good thing.
Watch The Royal Rumble 2019 Pre-Show Live:
Are you excited? Because I am. Welcome to WrestleTalk.com's live coverage of the 2019 Royal Rumble, the most exciting pay-per-view of the year!
Not only have we got two Rumble matches, but we've also got title matches aplenty. Daniel Bryan will defend his WWE Championship against AJ Styles, while Finn Bálor will challenge Brock Lesnar for the Universal Title.
The full card is as follows:
Buddy Murphy (c) vs. Akira Tozawa vs. Hideo Itami vs. Kalisto – WWE Cruiserweight Championship (Pre-Show)
Rusev (c) vs. Shinsuke Nakamura – WWE United States Championship (Pre-Show)
The Bar (Cesaro & Sheamus) (c) vs. Shane McMahon & The Miz – WWE SmackDown Tag Team Championship
Asuka (c) vs. Becky Lynch – WWE SmackDown Women's Championship
Ronda Rousey (c) vs. Sasha Banks – WWE Raw Women's Championship
Daniel Bryan (c) vs. AJ Styles – WWE Championship
Brock Lesnar (c) vs. Finn Bálor – WWE Universal Championship
30-woman Royal Rumble Match
30-man Royal Rumble Match
We'll be providing live coverage of the entire show right the way from the start of the pre-show at 5pm ET/10pm GMT, so bookmark this page and refresh throughout for live match-by-match results and opinions!