ROH Episode #403 is headlined by a 4 Corner Survival match featuring Jay Lethal, Jeff Cobb, RUSH, and PCO.  Hirooki Goto and Hikuleo wrestle to open the show.  LifeBlood and PJ Black face Shinobi Shadow Squad.  The Allure also debut this week.
---
ROH Quick Results
Hirooki Goto defeats Hikuleo
The Allure vs. Kelly Klein and Jenny Rose is a no contest
Mark Haskins, Tracy Williams, and PJ Black defeat 3S
Jeff Cobb wins the Four Corner Survival Match against Jay Lethal, PCO, and RUSH
---
Hirooki Goto vs. Hikuleo
The story of this match was the grizzled veteran versus the young up-and-comer.  Most of the matches I've seen of Hikuleo have been multi-man tag matches.  The few singles matches I've seen he has looked a bit green.  This match just goes to show you the benefit of having an experienced craftsman in the ring with a new star.  Goto was able to make Hikuleo look really good in the defeat.
Hikuleo is 6'8" and is the younger sibling of the Tama Tonga and Tanga Loa.  His size and family history could help make him a big star.  He looked impressive in this match.  He took some stiff shots from Goto.  As we see in a lot of NJPW matches, the two men had a fighting spirit stand-off.  As they traded shots back and forth, Hikuleo actually made Goto drop to a knee.  Something, I haven't seen him do a lot in these exchanges.  Ultimately, Goto hits a Ushigoroshi and his GTR finisher for the win.  This was one of the better opening matches we've had on ROH in a while.  Nicely done!
---
ROH Women's World Champion Kelly Klein and Jenny vs. The Allure (Angelina Love and Mandy Leon w/ Velvet Sky)
Klein and Rose make their entrances.  The Allure come out and sneak attack them from behind.  The match never starts.  Instead we'll be getting the match at Best in the World.  Well, alrighty then.
I would expect Kelly Klein to defend her title on one of, if not the biggest, ROH show of the year.  Instead we're getting a meaningless tag-team match.  I would have rather seen the Allure cheat to win setting up a singles match for Klein.  Klein versus Love would be a better match at BITW.
---
Shanobi Shadow Squad vs. LifeBlood and PJ Black
HASKINS, WILLIAMS, BLACK CHALLENGE VILLAIN ENTERPRISES FOR ROH SIX-MAN TITLES AT BEST IN THE WORLD!

Read More: https://t.co/BgrjxqmK94#ROHBITW LIVE ON PPV JUNE 28TH! ALSO STREAMING LIVE FOR #HONORCLUB! https://t.co/KrfEyQvw2Y OR DOWNLOAD THE #ROHAPP ? pic.twitter.com/oBXRuv80Ec

— ROH Wrestling (@ringofhonor) June 19, 2019
The story over the last few months has been PJ Black trying to join LifeBlood after having a change of heart from his cheating ways.  This was a fairly basic squash match.  Cheeseburger and Nova got squashed.  Isom got in some offense after a hot tag.  The finish happened when Williams hits a Death Valley Driver.  PJ Black then his a Moonsault Foot-stomp for the win.
During the match, PJ Black had some tactics that aren't in line with LifeBlood values.  However, after the match, all 6 men shook hands and cordially parted ways.  As 3S left the ring, Williams challenged Bully Ray and whoever he can find to a match anytime, any place.  I'm assuming at some point we'll see Williams, Haskins, and Black versus Bully Ray and Soldiers of Savagery.  Although, it won't be at Best in the World.  Williams, Haskins, and Black are challenging Villain Enterprises for the ROH 6 Man Titles.  ROH has teased the unveiling of the 4th Member of Villain Enterprises at Best in The World.
Could it be PJ Black?  Probably not.  I'm guessing PJ Black is the man who has brought the SOS into ROH.
---
ROH 4 Corner Survival Match: Lethal, Cobb, RUSH, and PCO
This ought to be a great match. PCO got us going with his "hit me" routine against Jay Lethal.  Lethal deposits him on the outside only for PCO to scream at him to dive on him.  Lethal hesitates and Cobb takes him out.  Cobb's up next.  He hesitates and RUSH takes him out.  Eventually, Lethal hits suicide dives on everyone except PCO.  PCO catches him for a choke slam on the hardest part of the ring.
We then get a bunch of near falls.  Cobb wipes out everyone and tries to pin Lethal.  PCO hits a pop-up Powerbomb for a 2 count.  Cobb makes the save.  Cobb hits the Samoan Drop into a standing moonsault.  RUSH makes the save.  RUSH hits an impressive release German suplex on Cobb.  Lethal makes the save.
After the fast and furious sequence, PCO somehow gets back in control.  He lays out RUSH on the apron and goes for his flipping senton from the top rope.  RUSH moves out of the way and PCO takes a hard bump.  I don't care how many times I see this move, I cringe every time.
The final sequence saw Lethal hit Lethal Injection on RUSH.  However, Kenny King comes down to the ring causing a distraction.  Cobb snatches lethal up into the Tour of the Islands.  That's the 1-2-3.  Cobb is the winner.
---
Final Take
I gave ROH Episode 404 a 3.5 out of 5.  The opening match was great.  The 3S/LifeBlood match was booked inline with the direction they are headed.  Advertising the in-ring debut of The Allure and then not delivering is a page right out of WWE's playbook.  We had a pretty good main event, but it was soiled by a screwy finish. All in all, not a bad week of TV, but ROH has put on better shows.
I know ROH is feeling the need to keep pace with WWE and AEW.  They are going through a monumental shift right now.  Bully Ray is helping Delirious book the show.  They're trying to find their way after the departure of the entire top of their card.  They seem reluctant to give mega-pushes to talent who are associated with the Being the Elite YouTube series.  Your hope would be this doesn't play out during the television shows.  However, it seems to be showing up every week.  It's as if ROH is going through an identity crisis.
We get an opening match between Hikuleo and Goto reminiscent of the height of the NJPW/ROH partnership.  A solid in-ring match with no shenanigans.  We, then, get The Allure and WOH Women's Champion Kelly Klein in a "sports entertainment" type angle.  While the main event match had some really bright moments, we get a silly distraction finish which tarnishes the quality of the in-ring action.  In this storyline, Kenny King has pretended to be blind to allow him to scout Lethal's matches.
ROH needs to determine if it wants to be entertainment, wrestling, or a nice-blend of both.  WWE more often than not is strictly sports entertainment.  NJPW has storylines, but at it's heart produces a sports like wrestling product.  AEW blends the two, but does it in a way where the entertainment portions are separate from the serious in-ring action or let you know they're in on the joke.  ROH hasn't found that balance yet.  Based on their roster, I feel they'd be better off trying to be the US Counterpart to NJPW.
Best in the World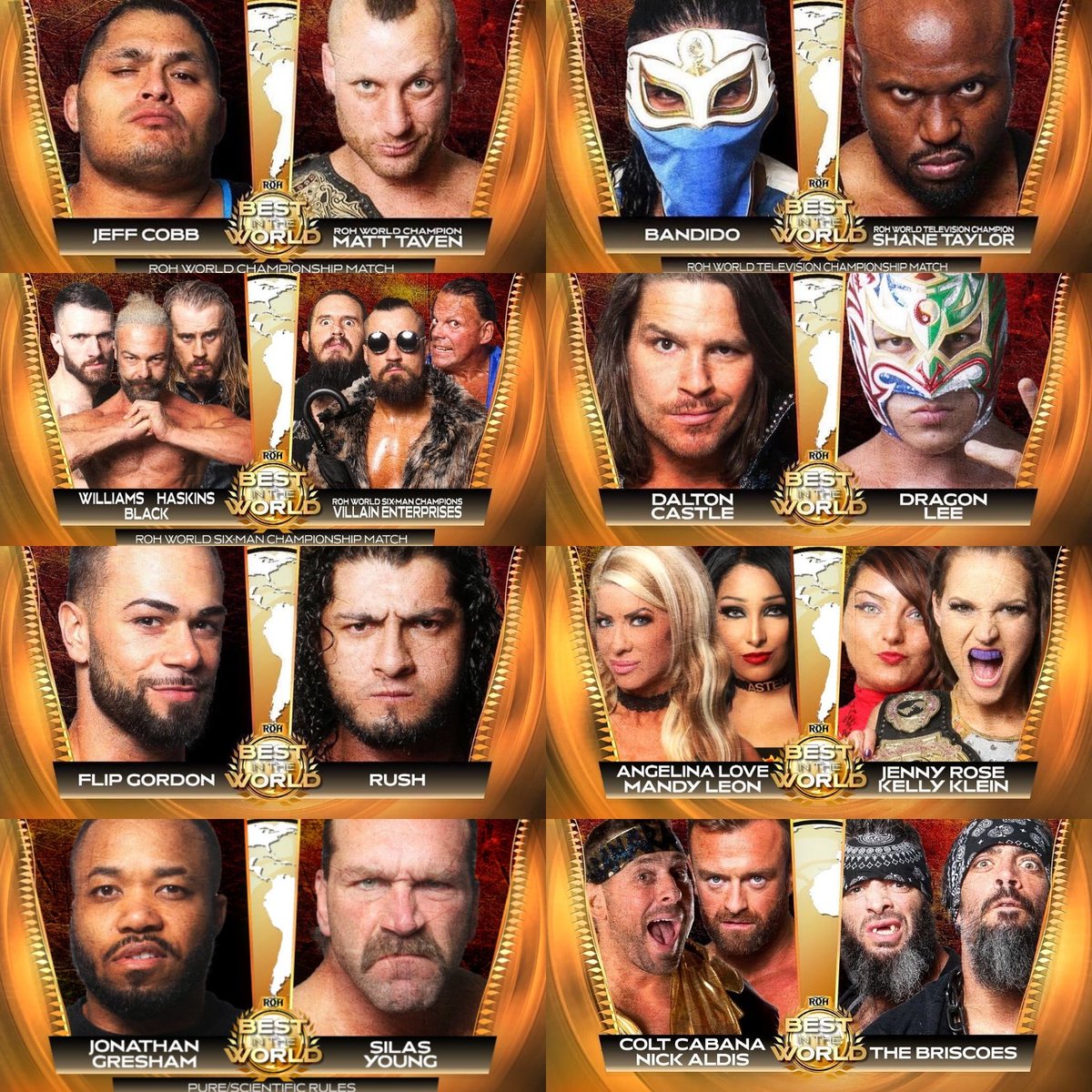 Whatever they are trying to do, Best in the World is going to be a critical show.  The ROH portions of SuperCard of Honor were not critically well received.  This is their next "big show."  They need to have this one be a critical success.  I believe it's going to define them as a company moving into the future.
Will Cobb or Taven come out victorious?  Will Bandido capture the ROH TV Title?  Can Dalton Castle recapture some of his fire?  Will RUSH or Flip establish themselves as the next contender?  When will ROH gain back their World Tag Titles?  Lots of questions to be answered in the next couple of weeks.  As a fan of ROH, I hope they come out with a clear direction and solid plan to build around.
Check out more reviews at WrestleTalk.com