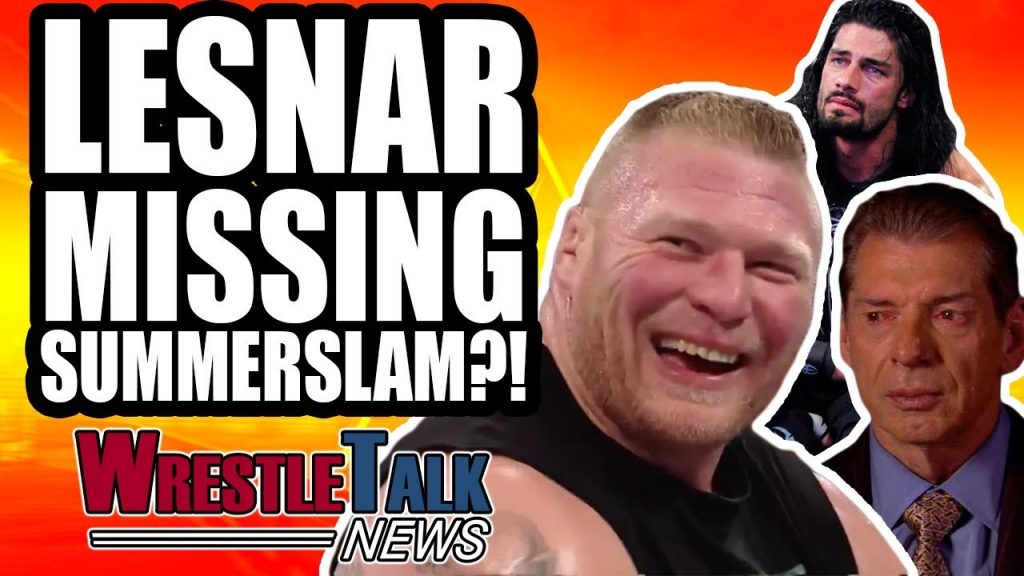 For more essential WrestleTalk News Updates and video content and to join our PULL TRICKS FOR SIX (Hundred Thousand Subscribers) please SUBSCRIBE to our YouTube channel HERE
Enzo Amore Reveals WWE Heat
Ever since criminal charges were dropped against Enzo Amore due to a lack of evidence last month, the former WWE Cruiserweight Champion – or hip hop legend Real1 as he's known to us rap fans  – has since broken his four months of media silence with numerous interviews, Instagram posts and debut singles about possessing a "consensual penis".
And now that Enzo's firebombed all bridges back to WWE, he can be rather candid in those aforementioned interviews, like his recent appearance on the Store Horsemen podcast – where he revealed the consensual penises don't just stop in instant classic rap lyrics; they're also scrawled on the Performance Center walls courtesy of him – which Amore's former trainers Billy Gunn and Bill DeMott weren't too fond of.
"So I walk in, Bill is pissing in my ear – gimme a f****** mouthful about this bulls***: 'We got corporations walking in and out here, Nike is gonna be here next week and you're drawing dicks on the wall." 
And it wasn't just Gunn in NXT that Enzo garnered backstage heat from, as – amongst reportedly many others – he also angered Triple H once on the main roster.
Just before the Miz promo segment that began to sow the seeds for Amore's heel turn last year – which Enzo didn't know was the plan at the time – he recalls being furious backstage about having to read a scripted promo, as he had already written a babyface one.
"I'm backstage losing my s***, and Hunter comes up to me and was like 'you say what's on that script if you wanna keep your job.' And they didn't tell me I was turning heel so I get it, but at the time and in the moment, I was like f*** this man I'm quitting." 
But are we be about to see the wrestling return of the Bona Fide Stud?
Enzo Amore Wrestling Return?
Last week independent promotion House of Glory tweeted:
"BREAKING:@real1 will be LIVE at House of Glory's biggest event of the year "High Intensity 7" August 17th at the NYC Arena!"
But hold your collective consensual horses, as that tweet has since been deleted, and none of what I just said is actually happening.
According to WrestlingNews.co, the certified G's lawyer Tom Cargill has said Enzo will not be performing at the House of Glory show. But at this rate, he'll still wrestle again before current WWE Universal Champion Brock Lesnar.
Brock Lesnar Missing SummerSlam?
https://www.youtube.com/watch?v=TmCSBl7_Nas
After UFC President Dana White told TMZ Lesnar's WWE contract was expiring at the end of the Summer, and he's interested in fighting Jon Jones, the latest Wrestling Observer Newsletter is reporting that – while it's not yet decided on – it's currently under discussion that Brock will show up at the end of the UFC 226 show on the 7th July, where he'd challenge the winner of the Stipe Miocic vs Daniel Cormier fight for the heavyweight title. That match would then take place on the 30th December in Las Vegas, as Lesnar still needs to re-enter the USADA testing pool and serve the rest of his 2016 drug test failure suspension.
The Observer goes onto say that Lesnar vs Reigns is the current "working plan for the SummerSlam main event, and that it would be the last fight Lesnar is now contracted for". However, Dave Meltzer points out this is not a "done deal" and Lesnar "is not confirmed by Vince McMahon for SummerSlam, or any dates for that matter… the green light hasn't been given for whatever reason." 
It's almost like we should all give up on WWE…
WrestleTalk's Crap Gimmick Wrestling
…and start following WrestleTalk's latest venture Crap Gimmick Wrestling! 
Over the last year of WrestleRamble episodes, hundreds of crap gimmicks have been sent in by you, the SWAFT Nation – which is where Luke and I are in search of the best rubbish wrestling character ideas. Some of them are genuinely too good, a lot of others are way too bad. But occasionally we stumble upon greatness. I'm talking Beastmaster, I'm talking Chris P. Bacon. I'm not talking Fishmonger, because that's a terrible gimmick.
And now we're very proud to announce SWAFT Nation member and illustrator Lewis Tillet will be bringing these Crappiest of Gimmicks to life – starting with CGW headliner WrestleBot 1000.
Look at him, in all his crappy glory. How does he even wrestle while wearing a steel-reinforced cardboard box?!
Make sure to tune into WrestleRamble tomorrow and every Saturday for all your Crap Gimmick needs.
For more essential WrestleTalk News Updates and video content and to join our PULL TRICKS FOR SIX (Hundred Thousand Subscribers) please SUBSCRIBE to our YouTube channel HERE